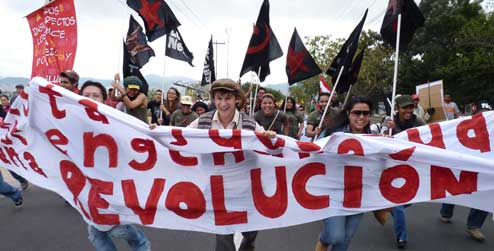 Walter Tróchez was a 27-year-old Honduran with a childlike face, shy smile, a cap on his head and eyes invariably glued to his laptop screen.
Judging by his appearance, no one would suspect that Walter was a blunt critic of the military coup last June, or an active member of the Resistance Front which is now calling for a more participative Constituent Assembly and a more inclusive Constitution.
Yet Walter's e-mails ferociously condemning the government that took power after the coup were widely known in the Honduran capital Tegucigalpa and beyond.
One day in December his e-mails stopped bombarding my inbox. A week later, I found out why: Walter had been killed in the centre of Tegucigalpa from a bullet wound to the chest.
In Honduras, it seems repression has continued even as a newly elected government took office.
The Inter-American Commission on Human Rights condemned the murders in February of three people who were active in the resistance to the coup or were relatives of activists.
The Commission also reported on over 50 detentions, eight cases of torture, two kidnappings and two rapes, all apparently politically motivated, in the month since President Porfirio Lobo took over in late January.
And, at the end of March, it denounced the murders of five journalists so far in 2010, the the lack of information about police investigations, and the absence of any measures to prevent these crimes.
"Even if the Government is not encouraging those attacks, the fact is there exist paramilitary groups in our country who are carrying them out," says Yadira Minero, from the Women's Rights Centre, an organisation which manages the political coordination of the Honduran Coalition for People's Action (CHAAC), a Progressio partner organisation with which I am based.
What we find now, she says, is a less visible and "much more selective pattern of repression, aimed at targeting the people and communities that continue to be active in the resistance movement claiming for a real change."
Yadira cautions: "This is worrying and it is the Government's responsibility to investigate these cases and ensure they do not fall into impunity."
Despite this situation, the international community seems to be willing to give the new government a chance. Diplomatic ties and development aid have started to be restored. Most ambassadors have returned to Tegucigalpa, while the European Commission, which froze 65.5 million Euros on budget aid last year, has resumed its payments. And so have the United States, the International Monetary Fund and the World Bank.
The EU believes the time has come to be pragmatic and opt for a fresh start. A telling decision has been to resume Association Agreement negotiations with Central America, which remained stalled since the coup.
In parallel, it has pushed for the establishment of a truth and reconciliation commission and a national unity and reconciliation Government – made up of representatives from various political parties – to "reconcile" an extremely polarised country.
However, the truth and reconciliation commission tasked with investigating the events leading up to, during and after the coup has met with serious criticism from the Honduras Human Rights Platform and international human rights groups. They say there has been no consultation process to define its mandate, and so far, neither the victims – who should be at the core of the reconciliation process – nor human rights organisations have been called to take part in it.
Meanwhile, political repression of social activists continues. Some journalists, resistance movement members and human rights campaigners still receive threats and feel their phones are tapped. It is no coincidence, they think, that after the generals directly involved in the coup were granted immunity, the general who led that military uprising, Romeo Vasquez, has just been appointed head of the state-owned telephone company, Hondutel.
One active member of the Resistance Front told me recently how five hooded men tried to kidnap him on 26 February. "Everything happened very fast but my survival instinct allowed me to escape," he says. This young man says he does not want to be a martyr like Walter Tróchez. He will lower his public profile, but he remains stubborn in his convictions: "They may take our lives away, but not our ideas."
Nuria Zayas is a Progressio development worker in Honduras