So, here we are in the "muy bonita" Ahuachapan… Never have we experienced so much hospitality and love from strangers, made even more amazing by the fact we communicate in smiles, head nods and a little bit of Spanish.
We've all had to embrace the rural goodlife since arriving… Our first visit to the latrines is summarised in the immortal words of Lucy Shepherd: "is it possible for flies to travel up yer bum?" We might not have all of our favourite creature comforts (for girls from England we're not too hot on the cold showers) but it's all repaid with the epic scenery and the joy of spending time with the local community.
As of tomorrow we start our hard graft, a collection of six british chicas and 4 from El Salvador risk breaking nails (and burning nostril hairs) making organic fertiliser. Fun Times Man!
But why are we poo-shoveling all day tomorrow? Well, this community is self-sufficient, it's scarred by natural disasters (like the flooding seen below) and gets little to no help from the local government… We're here to support all of the lovely madres y padres who sustain their families and get on and do without batting an eyelid, especially the women of AMIGA (local women's association supported by IMU) who work so hard and still give more. So… let's combat some of their misfortune with new eyes, new ideas and a new set of muscles!
Flooding in El Llano la Laguna, Ahuachapan.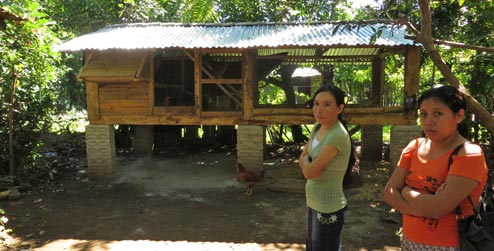 What we will be constructing.. CHICKEN MANSIONS!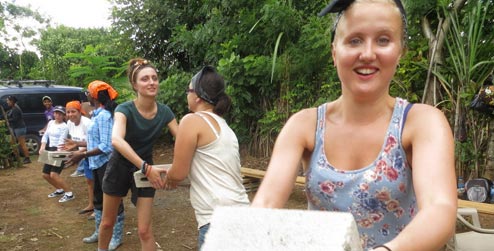 Making chicken coops!
---
ICS volunteers in El Salvador. Words by Millie Rowswell and photos by Elam Forrester.