This week we started one of our scheduled activities, to teach classes at a local secondary school; Marco Aurelio Soto Escuela. Early Friday morning we went down to the school to have an introduction session with the two classes that we'll be teaching every week. We expect the classes, for 9-12 year olds, to focus on aspects of the environment such as sustainable natural resources, contamination, pollution and recycling. We also hope to deliver classes on gender equality and communication.
We kicked off the class with a spider web icebreaker, a fun way for the kids to all introduce themselves. They told us a fact about themselves and their name's, which we could never catch - as they'd list off a whole assortment of names at high speed. They are all the loveliest children, well behaved and enthusiastic.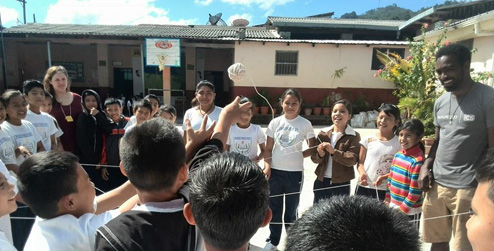 We also showed them all where we lived on a map of the UK and how it's split between England, Ireland, Scotland and Wales. We discussed things they knew about the UK, the monarchy, football teams, London landmarks, most knew more than they expected. They were all shocked when we talked how about how multicultural England is, how around 300 languages are spoken in London. We brought some Pounds and Dollars in and they were excited to see foreign money. On Friday we'll give our next class at the school on communication; focusing on phone use, social media and emailing. We're all really looking forward to going back to the school again!
---
Written by: Holly White