We've just started to settle into our English classes with the local community. We hold the classes, which we deliver twice a week, in the offices of our partner organisation COMUCAP and they're open to anyone who fancies coming along. We weren't really sure what to expect from our first lesson. The partner organisation had spread the word around the community and we weren't sure what the age, knowledge and confidence level of our students would be when we started. For our first class we planned an easy alphabet activity and as 10 young children arrived, we realised that was a good idea. Some of the children had studied some English while others were younger still and barely knew any English at all, but each young student benefited from the session.
Since then we have been holding separate 1 hour-long classes for both children, and young adults twice a week. In the classes with the children, we have been covering the alphabet, numbers, and how to ask and answer basic questions. The children are usually well behaved and suprisingly aren't at all that shy, considering the youngest are 5 years old.  They are however generally quite hyperactive, as it's socially acceptable for children to drink coffee here! It's still shocks us to see children holding mugs of strong, but we incorporate loads of games into our classes to try and tire them out. 'Papa caliente' – 'hot potato', 'pato pato ganso' – 'duck duck goose' and card match up games (which all use the English we have taught during the classes) are the most popular.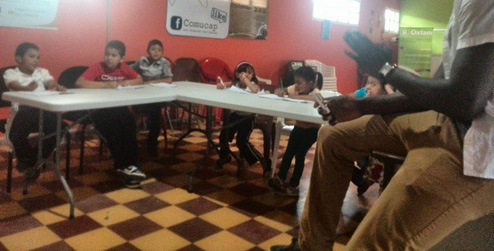 For Valentine's day, known as the day of love and friendship in Honduras, we gave our lesson a Valentines theme. 'Pictionary' and 'Hangman' included love and friendship words and there were plenty of opportunities to win tasty prizes! Our children's classes are steadily becoming more popular and at most lessons, one of the children will bring along someone new. There are currently about 12 children a lesson ranging from age 5 to 10.
The numbers attending the young adults class are also steadily increasing and are often followed by an hour of conversation with Amelia or Fiona. The class includes students with varying levels of English knowledge. Verbs and sentences are practiced in past, present and future tenses, as they are useful for everyone and challenging for all abilities. In the classes, everyone is encouraged to speak, to practice their pronunciation and to make sentences using the verbs they have been taught. The conversational hour is less structured and students often talk about their interests, work or their families. This is a really good opportunity for them to get used to hearing English pronunciation and also to increase their confidence in using the language.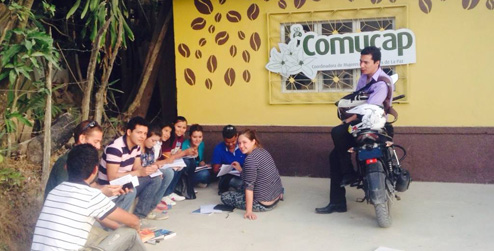 A few of those attending the classes are interested in setting up different tourism opportunities in Marcala. They are interested in providing English-speaking tours to foreign tourists. They already have a pretty good grasp of English and are taught specific vocabulary in the conversational class to help them achieve their aims. For instance, they are taught directions, descriptions for local attractions and have been reading articles already written about Marcala and translating their content. The students interested in giving tours accompanied us to local waterfall, El Chiflador, where they practiced their English, telling local stories, pointing out flowers and plants and describing the site of the waterfall.
The whole group feels the English Classes will be one of the biggest impacts we have on the community. Most of our structured activities are targeted at specific groups, children, women or members of COMUCAP and are not open or applicable to all. However the English Classes are frequent and available for all ages, abilities and all members of the community. All those attending the classes will learn basic English, and in addition to this, will have a chance to socialise, become more confident and experience a different culture through interaction with the UK volunteers. The classes also improve our community relations with the people of Marcala and help to increase participation (both ours and theirs) in local community activities. We are also keen to facilitate the members of the group interested in creating tours of attractions, and hope to support this effort by creating Wikipedia and Wikitravel pages for Marcala, making an online presence for the area and hopefully encouraging tourism.
---
Written by Holly White