In Honduras, women have to cope with a host of sexist and macho attitudes from men. In rural society, women are often expected to stay indoors and are often not welcome to contribute their opinions when matters are being discussed. It is estimated that 500,000 Honduran women suffer from physical abuse at the hands of men each year. Men often leave their wives for other women, as marriage is not formal, and even men that stay married are expected to have affairs. This often leaves women alone, with young children and no income to support their future. However, not all women are happy to sit back and accept this. A group of women are trying to change this attitude and are working together to combat domestic violence.
In Marcala, 256 Lenca women are part of the Cooperative of Rural Women of La Paz (COMUCAP), an organisation set up to raise awareness of women's rights and to support the marketing and sale of its members' coffee and aloe vera products. Founded in 1993 by Dulce Marlen Conteras with seven of her friends, COMUCAP has grown from initially being seen as a threat to family and traditional values, to being widely accepted as a positive agricultural cooperative that has given its members economic and emotional stability.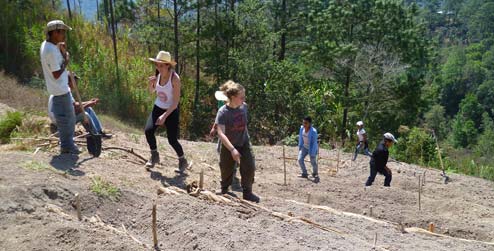 ICS volunteers in the COMUCAP fields 
Life in Marcala revolves around coffee. At 1,300 meters above sea level, the altitude and climate is perfect for growing coffee. By implementing a strict control of altitude around Marcala, beans have an export quality which is rare in Honduras. Over 90% of coffee grown by COMUCAP is exported. Due to the added appeal of supporting women who have worked together to escape domestic violence, COMUCAP coffee is sold to buyers in Germany and the USA.
COMUCAP offers women opportunities they wouldn't otherwise have. The 256 women are given a plot of land to grow crops on, either to sell at market, or to process aloe vera or coffee products. Not only do they grow organic aloe vera and award winning organic, fair-trade coffee, COMUCAP also offers a much needed support network for women experiencing violence.  By producing orange wine and honey, selling organic fertilizer, running a bakery and eco-tourism cabins, the women have developed ample business skills, and ensure their families are supported without having to solely depend on men. All children of COMUCAP women attend school, something that is rare for rural children in Honduras.
COMUCAP is our partner organisation during our cycle in Honduras, and we are going to be working alongside the women to improve their marketing, accounting and planning skills, to ensure that their future is sustainable. Our aim is to get COMUCAP coffee to be used in more coffee shops and public spaces in and around Marcala, and to spread the word about COMUCAP coffee to the UK, further improving their incomes and livlihoods.
Written by an ICS volunteer in Marcala.
To find out more about our work with women in rural communities, check out Progressio's International Day of Rural Women page.