From Monday to Thursday we spend our time working on farms in partnership with COMUPL, with Saturdays split between visiting a children's home in La Paz and working towards creating a mural, but as a group we always look forward to Friday mornings, the one day of the week that we teach at Marco Aurelio school, in the centre of the town. The whole morning is split between 5th and 6th grade classes, children aged between 10 and 12, with lessons spanning across English, sports and arts and crafts.
We have found that the more imaginative our lesson ideas, the more impact we see on the children that we teach: the opportunity to let go and express themselves is very much appreciated. Sport particularly is a subject lacking in the weekly timetable, especially with minimal resources and space, and so the children always react to the hour we spend with them doing outside activities with energy and excitement. The English lessons, although the most academic of the subjects we focus on, are met with just as much enthusiasm, with the kids wishing us 'good morning' not only at the school but when we see them in the town centre. They have thrown themselves into role plays based around the English names of clothes items, assault courses, building an explosive volcano and a typically English castle out of recycled materials, learning the rules of cricket, playing football and basketball, and learning how to bow and courtesy to the Queen of England. With anything that we teach we go into the school every Friday knowing that the children will love to learn it.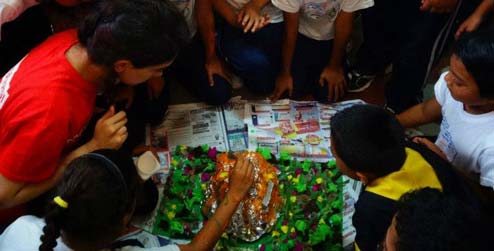 Even with our limited Spanish, a barrier which we have had to overcome during the sessions, the kids of Marco Aurelio are nothing but welcoming and appreciative and have provided us with a valuable link to the local community. Every time we hear our names shouted in the streets of Marcala, we are reminded that our teaching has given us the opportunity to have an impact on the lives of another section of the community.
What we hope to achieve through our sessions at the school varies between the volunteers, but there are some things that we can agree makes the whole experience all the more worthwhile. At the end of a lesson or even weeks later the children have retained what we have taught them. We see  the confidence that is growing week by week in the quieter of the children as they express themselves through our activities, and being able to give the children of Marcala an experience which they would otherwise have limited access to due to a lack of funding. When, first thing on a Friday, it takes us ten minutes to get to the classroom because of the kids running up to us, shouting our names and chatting to us, we are reminded that every week we give them something to look forward to.
---
Blog written by Emma Justice
Photos taken by Maddie Dicks