On Wednesday 25 November, eight Progressio volunteers had the exciting opportunity to head to the capital, Tegucigalpa, for a meeting with the UK Ambassador to Honduras, Caroyln Davidson. During the drive to Tegucigalpa, we all felt a little apprehensive and unsure what to expect from the meeting but also really excited to share stories of our work and experiences in Honduras with such a prominent figure. 
On arrival to the Progressio offices after a 5am start, we were delighted to find Peter and Carmen waiting for us, coffee at the ready! After a brief catch up with the Progressio family, the Ambassador arrived at the office and we began our meeting. 
Yesmi, Franklin, Chris and myself, from the El Carrizal team, spoke about our work on the café project: installing water pipes and a septic tank, painting the walls and constructing a security fence around the perimeter of the café. We spoke of how we hoped the café would create some steady employment for the young people of El Carrizal and become a thriving hub of social enterprise for the community. 
Pippa, Rose, Juan and Diana, from the La Esperanza team, filled us all in on their successful workshops with Lenca women; building their confidence and running sessions where the women can produce Lenca crafts to sell at a fair in La Esperanza. 
After hearing all about our work in our respective Honduran communities, Carolyn noted, "What really impresses me about ICS volunteers, aside from their limitless enthusiasm and good cheer, is their commitment to making a real difference. And it's clear that the Progressio volunteers (both British and Honduran) are indeed doing that here. As ambassadors for the UK in their local communities, they are building the relationships and links to which we professional diplomats only aspire".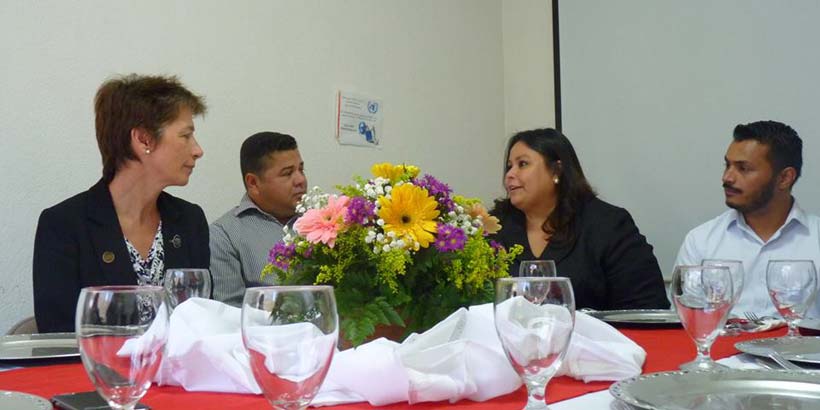 It felt great to receive such glowing feedback from the Ambassador, who is a very prominent figure in both Honduras and the UK. I believe we returned to our host communities with an added boost of motivation, determined to meet and exceed our project targets. 
The day was a wonderful experience overall and it was very interesting to share our stories of Honduras with a fellow Brit; we all noted that the Honduras we know, with kind, hardworking people, rich with culture and beautiful mountainous scenery, is very different to the picture painted by the troubling statistics of the country. We British volunteers vowed to return to the UK as unofficial ambassadors for Honduras, to spread the word of the "real Honduras" beyond the headlines. 
Written by ICS volunteer Mahalia Carroll