Three numbers:
- 22 bucket showers
- 5 hours teaching with the community
- Six kitchen appliances transported, washed and installed in the cafe 
Three things we've learned:
1) How to remove tree trunks from the ground relatively quickly (for us UK volunteers that's relative to something reasonably slow.)
2) Tortillas are to food what water is to drinks. Pasta, potato, rice? Will it go? No need to worry; the answer is always yes. 
3) The Honduran hour is real. However, being the flexible and adaptable volunteers we are, we now have a dedicated team of catcher-uppers, enabling our workshops to run smoothly, and have gained greater appreciation for our national volunteers for their punctuality.
This week we've really started to feel at home, establishing our work and day-to-day routine and looking forward to each meal even more as our stomachs settle and appetites grow (especially exciting now lots of us have seen the fields, which provide a huge proportion of our diet). 
We've started our work with the community, and following approval from our partner organisation - World Vision, our major achievement this week has been hammering out the plan of exactly what it is we're aiming to achieve in our time here. Having a concrete list is as satisfying as it is scary and means we are now nice and busy, but already it's great to see ideas we chucked about solidifying; whether in the children carefully practising English colours, or in the gradual accumulation of furniture, which is fleshing out the bare building into something, which more and more really resembles a working café.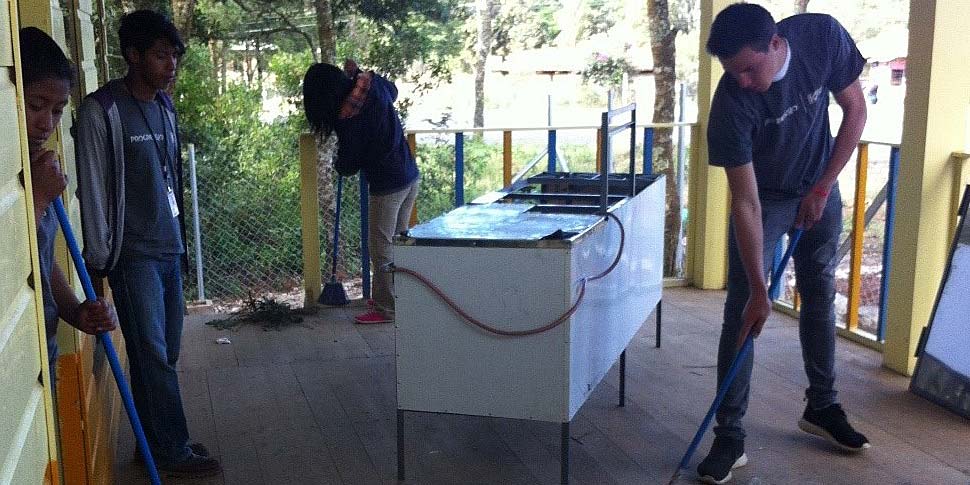 Through our trips, last weekend in La Esperanza and next weekend to Yamaranguila, we've loved expanding our boundaries and gaining a bit more context to life in Honduras outside of El Carrizal. Nevertheless, small victories - from our secret handshake with the nationals, to hugs with our Honduran families - make us glad that this is our home for the next 10 weeks and we're excited to move forward and see what we are able to make happen in that time. 
Team Plan:
- An anti-bullying campaign with students, teachers and parents
- Litter/cleaning campaign throughout the community
- Getting the café up to functioning order
- Training the youth network to be able to work in and run the café business
- English classes for kids, adults and our national volunteers
- Community activities with young people
- Learning and language sharing sessions for us volunteers
Written by ICS volunteer Gemma Welsh. Photos by Nikki Corney.