Imagine, if you will, a life without an electricity supply to power an oven, a hob, or even a light bulb? Having to collect wood every day to create a fire to cook food, the smoke in your eyes, and the slow process of cooking whilst having to make sure your children are safe. Many women within communities in Mzuzu face this balance on a daily basis to enable them to cook food for their families. 
Ungweru, a Progressio ICS partner organisation, are tackling this obstacle of families having to create a large fire to cook food with the creation of clay cook stoves. Progressio's previous cycle from March to June worked on a special project in addition to their placement activities. The special project taught woman in local communities within the city how to make Clay Cook Stoves, providing them with a more efficient way for them to cook. The stoves insulate heat for longer resulting in less firewood being necessary to cook food, eradicating the need for a large amount of wood. 
The Ungweru organisation commented saying 'that in the future they wish for every household within Malawi to be using Clay Cook Stoves, helping to cut down on deforestation here in Malawi, which is proving to be a challenge that we are now having to face'. 
Equipment the communities needed to create the stoves was provided by the organisation so that in the future they can become self-reliant with a viable business. The skills will then be passed onto other communities so that in turn they can also create businesses for themselves. 
To make the stoves it takes a month and is completed by hand. Clay is sourced from two separate locations and is left for two weeks so that it can become more manageable to mould. It is then removed from the hole where it was placed, laid out on the floor and stood on with the heels of the feet to make it even more manageable. Twigs and stones are removed manually, and packed down into a metal mould where the inside is them removed creating the base for the stove. Finally it is smoothed, left for three days to dry and handles are then applied; it is then ready to be burnt and sold, helping to provide an income for the families.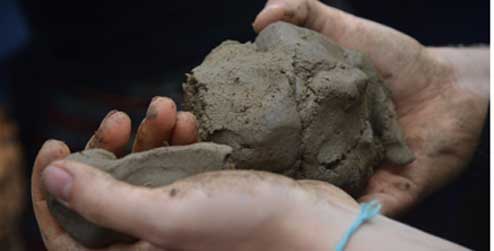 Agnes Nkhata chairwoman for the Slaughter community where the stoves are made commented saying: 
'The Clay Cook stoves have helped create sustainability for the group which consists of eighteen females and one male. Money collected from stoves will help the families' income and also help the members set up businesses of their own. Ungweru has helped open the way for the members to have business skills which is essential here in Mzuzu. With Ungweru's help they will find viable markets where these stoves can be sold'. 
As one way of making a positive change to the environment Ungweru has trained its ICS (International Citizen Service) volunteers in Clay Cook Stove making.
Having completed training the ICS volunteers will now look to pass the skill onto two new communities. The objective of the programme is to teach people how to make and use clay clean cook stoves within Ungweru catchment area while simultaneously promoting the benefits of using them. The innovation in question uses less firewood and can help mitigate climate change problems.
ICS-volunteer representative Dexter Barnes, 25, a graduate in Media Technology from Manchester Metropolitan University says the training has been interesting especially getting the opportunity to work with such joyous and humble people, though volunteers had to overcome some challenges of working with limited resources.
Ungweru-ICS volunteers pointed out that, 'There are many benefits a community can get from switching to clay clean cook stoves as they are much more energy efficient compared to the traditional three stones method, this means that less fire wood and charcoal can be used while cooking. Using less firewood can contribute towards a decrease in deforestation.'
Written by ICS UK volunteer Charlotte Kennedy and national volunteer Joackim Nthala