One of the most unique aspects of the ICS programme is the opportunity to exchange culture with a group of national volunteers. For Team Zeneko in Mzuzu, Malawi, both the UK and national volunteers have learnt a lot from each other already. For the UK volunteers, living and working alongside local people has provided a wholesome and authentic view of Malawian life.
Within our first month at our local partner organisation CEGI (Centre for Girls and Interaction), our learning volunteers Jacob and Anna facilitated workshops on British and Malawian life. Each group suggested what they'd like to know, and learning sessions were designed for the group. Jacob's presentation on Malawian culture was an interesting insight into how different relationships function here - Malawians generally treat their elders with a great amount of respect and consider their parents and families in every facet of life. Also, the presentation focused on lots of cultural norms and expectations of women. The session led to an interesting discussion on standards of dress, which allowed some female UK volunteers to express their frustration at the pressure female members of society are under to conform. Nevertheless, the UK female volunteers do enjoy wearing chitenje now and again!
Anna, Ellie and Kitty wear chitenje, a skirt worn by all Malawian women
The following week, it was Anna's turn to present British culture to the group. First, there was a quiz on holidays celebrated in the UK and various definitions of family and sexuality. We are already planning a learning workshop on sexuality, which I'm sure will lead to fascinating discussion, as British and Malawian interpretations of sexuality tend to be very different. However, most of our national volunteers seem open minded. The most exciting part of the workshop was a tea drinking session! Everyone was taught how to orchestrate the 'perfect dunk' of a biscuit into Britain's favourite hot drink.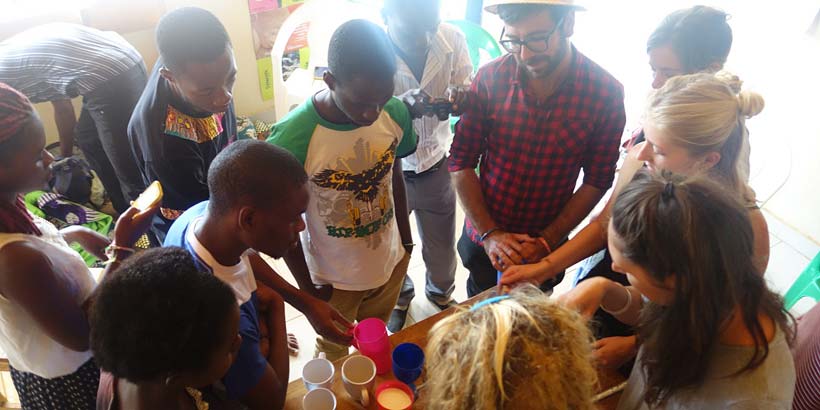 Team Zeneko come together to master the art of the perfectly dunked biscuit!
For some volunteers, food has been a challenging transition. However, I have struck very lucky with my host family, as my host dad enjoys cooking a mixture of British and Malawian food. Nsima is the staple of Malawian diet. We have been taught how to eat the maize dish 'properly' - with our hands, which is actually a lot easier and more fun. Every meal is washed down with a cup of pineapple sobo, the sweetest squash on the planet. My roommate Joe has taken a liking for 'thobwa', a watery porridge that has a very strange consistency, but definitely worth trying! Every Sunday, Joe and I cook for our host family, with  delicacies including Chinese stir fry, Thai green curry, beef stew and mash, bananas with melted chocolate and our host brother John's personal favourite - cheeseburgers!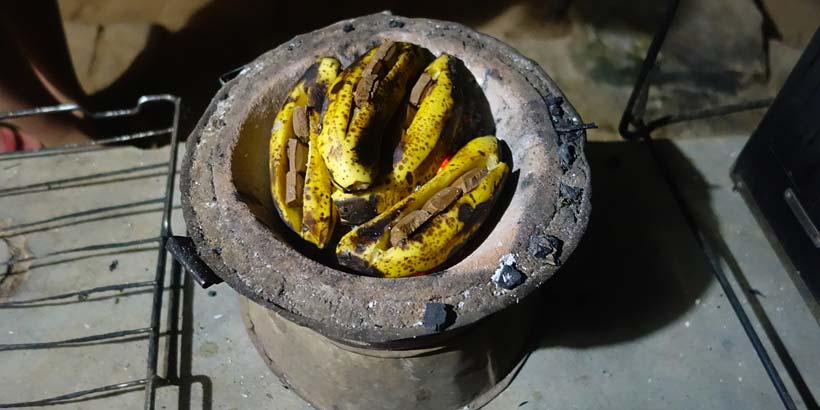 Banana's with melted chocolate – delicious!
We have also begun a tradition of Monday morning yoga sessions. Led by yoga expert Sara, it's a calming start to the week and allows us to live up to our name of 'Team Zen'. Our downward facing dogs are improving every week…but I still can't touch my toes.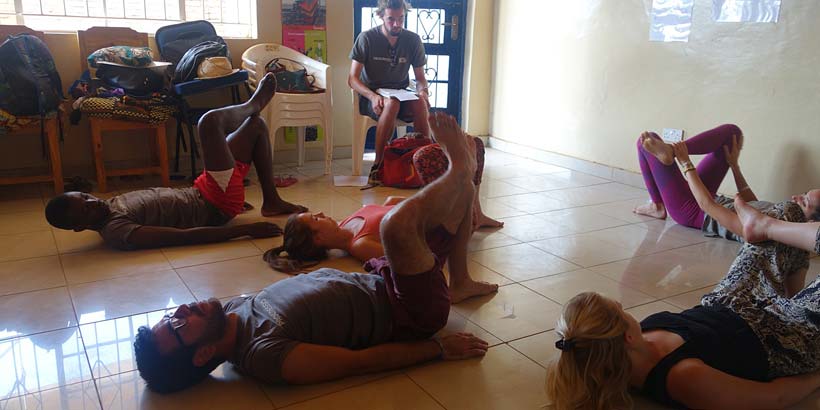 Monday morning yoga sessions at CEGI – Namaste!
Our national volunteers always bring music to the office, blaring from the mobile phones. We mostly dance around to R&B and Hip Hop, but there is the occasional Celine Dion ballad (?!). My personal favourite is 'Dance, Dance' - please YouTube it! The cultural exchange doesn't stop there; fellow Scot Kitty and I are desperate to teach some Scottish country dancing to the group!
Learning from one another is a great part of the ICS experience, and cultural exchange activities are loads of fun when our outreach work in schools and youth groups gets stressful. Most importantly though, they allow the group to bond and understand one another better, which means the work we do is even better! (I promise we do actually work)
Written by ICS volunteer Nathan Penman