Upon arriving in Mdeka the team were anxious to begin work immediately. Our first assignment was to service several of the community boreholes, some of which also provided water for a number of schools. Lead by our Borehole technician, Mr. Harold Danger, we successfully restored life to 18 boreholes over a period of two days. The local communities were all very keen to watch and help where they could. It was shocking to see the condition of some of the pumps and it was obvious that some had not been serviced since they were built. Although the task was strenuous; most boreholes contain over 30m of steel rods to remove in order to service, as a team, progress was made quickly. A sense of achievement was shared by all once the boreholes were serviced and clean water was flowing again!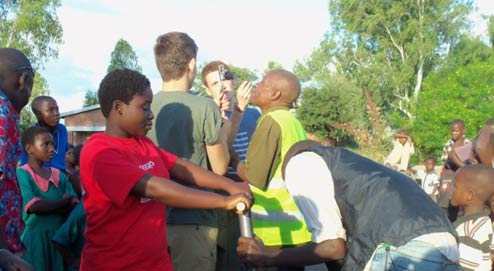 During the previous placement, construction of four pit latrines at Namwiri Primary School had begun. There is currently only one pit latrine, but after 12 years use it is both over-used and unstable. The aim of this project is to provide the learners with somewhere more sanitary to go to the toilet and also to encourage learners to come to school; often, no pit latrines are the reason children do not attend. The construction progressed at a good speed and we are now building the entrance wall and awaiting materials for the roof to complete the project! As a team we are overjoyed at the development since first undertaking this task and are keen for the handover ceremony.
Following the previous group's work with the Women's HIV support group and the construction of an oven, we visited the group who welcomed our new faces with open arms. They were keen to tell us about themselves and the people they are currently caring for. As we were leaving, Sarah Monk presented the group with a sum of money to buy products and start baking in their new oven. The women were so overjoyed by this that they burst in to song and dance (to which we joined in) and invited us back to try some of their bread once they had made some! We also offered our services to some of the people they care for suffering with HIV/AIDs to help with tasks such as cooking or cleaning. It was inspiring for us to see the positive attitudes of the women and how excited they were to really get this bakery off the ground.
Life-planning skills and W.A.S.H clubs (Water and Sanitation, Hygiene) are the classes we will be taking at the four chosen schools – Muonekera Primary, Chinambiya Primary, Mdeka Secondary and Christian Liebic Secondary. We carried out the planning for these classes and brainstormed new ideas that could improve the learner's basic hygiene. Sarah explained to us why these classes were so important so we can pass the information on in smaller groups.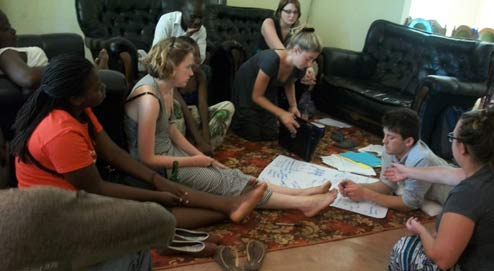 During the week we arrived in Mdeka, PSGR field officer, Frank Pyzon showed us the recently-acquired building that is to be used as their office following decoration. We chose to undertake the task of painting the office as a team and once more materials have arrived, we will be completing the project ready for Frank and Caleb, Executive Director of PSGR, to move in.
It's been a whirlwind fortnight here in Mdeka, and adjusting to life in Malawi has been very rewarding experience. We, the team, are very excited about the coming weeks and we look forward to sharing our progress in more blogs like this one. Stay tuned!
---
Blog by Daniel Lowman and Alice Moore. 
Photo 1: Singing and dancing whilst visiting the Women's HIV Support group.
 Photo 2: Mr Harold Danger, Jacob Stone, Daniel Lowman, Kennedy Makumba and Tinenenji Chapotera servicing one of the boreholes.
Photo 3: Kennedy Makumba, Daniel Lowman, Alice Moore and Isla Scott-Pearce mixing cement.
Photo 4: Team Blantyre brainstorming for life-planning and W.A.S.H clubs.