In the past two weeks Progressio volunteers in Mdeka, have begun visiting the sick, the elderly and people living with HIV and AIDS. Each visit includes speaking with the vulnerable person and their family, finding out about their health and current condition, their life and their specific needs. Although health care is free in Malawi, it is hard for the poor to afford transport to the hospital, and once they get there, the health care they receive is questionable. One of the visits took us to the home of a man suffering with the effects of Parkinson's disease. The man had no knowledge of his condition and was told by doctors that he may have had a stroke or contracted HIV. Another woman we visited has slowly become blind over the past ten years and been told by doctors that this is simply a consequence of growing old, she is 54.
The volunteers have decided to make up care packages with their personal project money for each individual person visited. Each care package will include a blanket, mat, new donated clothes and buckets for washing and cooking. We have also organised a day for a bus to take the majority of the people we have visited to hospital for a check-up to evaluate their situation and hopefully receive some clarity on their condition and medication.
During these visits we met Lalio Salad, a man who after losing his wife and children began to have increasing difficulty walking and now cannot walk at all without aid. After visiting a hospital he was sent away with almost no medical care or help. His mobility continues to deteriorate as now he has issues moving his hands and arms. Now he sits outside his house every day listening to the radio and not moving for hours on end. After meeting Mr Salad the volunteers have decided to use donated money to build him a new house. A new house with more room will greatly improve his quality of life and raise his spirits. His current living situation is unacceptable for anyone living with a disability: currently he lives in a one roomed shack with a collapsing roof next to his sister's house. His sister cares for him, feeds him and provides as best she can in her own limited circumstances.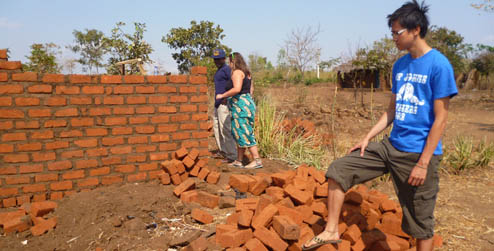 After locating a local builder and bricks, work is now underway for his new two-roomed home and hopefully will be finished sometime next week.