One of the most rewarding and inspiring experiences of the ICS placement is living with a local host family. However, at our in country orientation it was the part we were all the most nervous about, flying half way round the world to live with people we had never met before was a seriously daunting prospect. A few weeks in we are all very close to our host families, with many of us being referred to as their sons and daughters! We decided to all write about our varied experiences to reassure future volunteers' about living in a host home. It is truly one of the highlights of the placement and will totally immerse you in the local culture!
Emily and Keira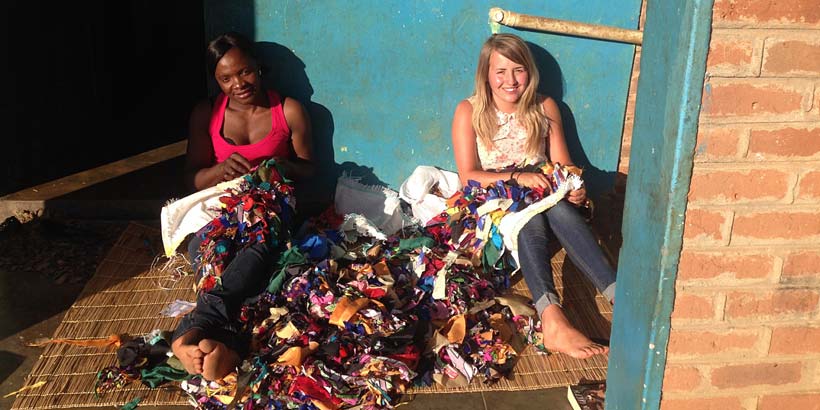 'We live with a family of five, our Amama Agness and Adada Gabi, along with their three children Tapewa, Emmanuelle and Gabito. Our host father is a local politician and regularly hosts meetings at home with community leaders and the Mayor of Mzuzu.  Most nights we cook with Agness, an entirely new experience! We cook over an open fire without a table or a chopping board, we have made local dishes and even taught Agness some dishes from home, including fajitas and chilli. In the evenings we play cards and sometimes Agness teaches how to make local arts and crafts such as mats and elephant figures. We have also been taught how to wash our clothes the Malawian way!  
During our time in Mzuzu we have attended a wedding with the family, there was lots of dancing and money gifts, it was really nice to feel part of the community. We didn't expect to settle into the family so quickly, but after two weeks we felt as if we were part of the family. Initially we were nervous and apprehensive, perhaps the culture shock would be too much and the language barrier would be really hard. However, our host family speak very good English and are so kind and welcoming, we will be really sad to leave them!' 
Rosie
'I am living on my own with my host parents Brenda, Akalee, their baby son Sean and their nephew Daoud. I was quite nervous about being on my own, however the family were so welcoming and spoke such good English, I settled in quickly. Most nights I play with Sean and chat to Brenda, who is really interested in my life back home in the UK and the work Progressio are doing with the Centre for Girls and Interaction (CEGI). Their house is really nice and we always have lots of visitors coming over to meet me or play with Sean, so it is always busy and everyone is so friendly and kind. Brenda has been exceptionally accommodating, always making sure I have a hot bath/shower every morning and evening, and making me popcorn for when I get home from work! The frequent blackouts can be quite frustrating but Brenda has enjoyed using my head torch and we entertain each other listening to Malawian and UK music, with some dance lessons included so that I can go home dancing like a true Malawian! I have really enjoyed getting to know their family and especially understanding what life is like for mothers like Brenda in Malawi.' 
Jenny (living with Tilly)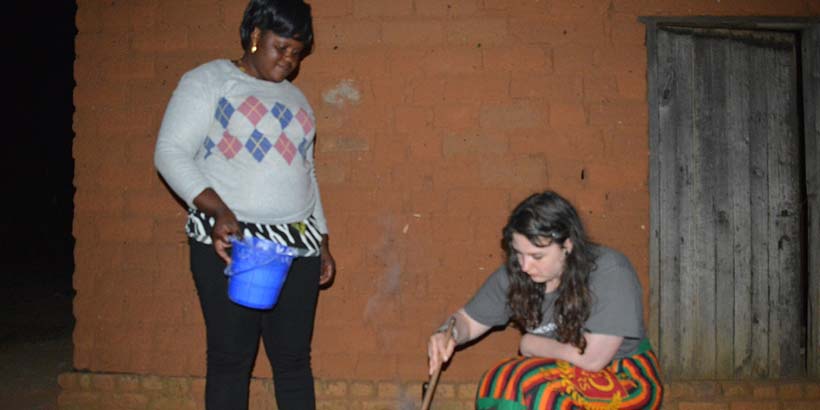 'Arriving in Mzuzu I was really nervous about meeting our host family – would they like me? Would we be able to communicate properly? Would I be able to adapt to differences when we are essentially living with strangers? However, soon after meeting our Amama Mphatso and Adada Leonard I realised these worries were not an issue. The language barrier is not an issue and when it is for example with the younger children, it is easy to communicate with them as they are very eager to teach us and play with us. 
The family have welcomed us with open arms and told us to be free in their house, this is definitely the best thing to do, as soon as you can relax the more they will too and the easier it will be to integrate and settle. We have done many things with our family, learning how to cook nsima (local dish), sweeping, dancing, celebrating birthdays, going to church, meeting friends and family and teaching them about how to cook English food. I have loved every minute staying with my host family, and have learnt so much along the way about their way of life and hopefully taught them about mine. The main things I would advise is to be yourself and relax, learn some phrases to greet people, don't hesitate to ask for things – they are very accommodating, take initiative, start conversations and ask questions. They will be nervous too at the start but most of all have fun, be respectful and be open to change and trying new things! '
Tilly (living with Jenny)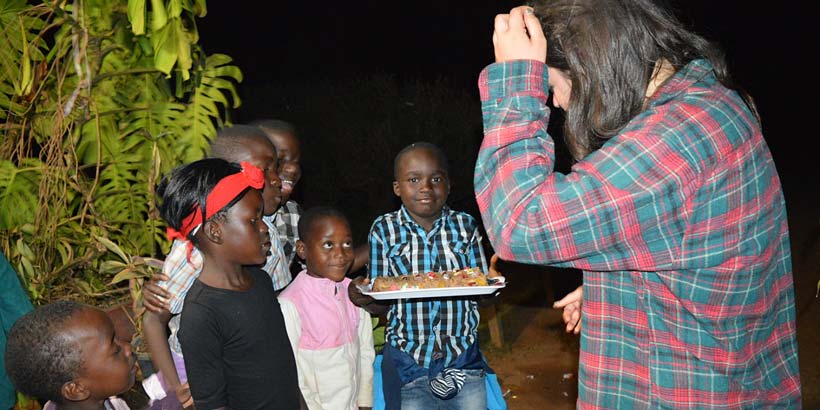 'Prior to arriving in Chibavi, I allowed my imagination to wonder in terms of host homes; from rudimentary accommodation, to houses not dissimilar to that which I live in the UK, I had created all manner of images in my head, but had no fixed notion of what to expect. The prevailing sentiments on arrival were nerves and excitement. To give a generalised overview of the host home experience of those in our team would be misleading; we have all had very different experiences, as to be expected. The economic situations of our families are different and thus the houses vary. However, I am confident that despite these discrepancies, we would all agree that Malawi certainly lives up to its title of 'The Warm Heart of Africa.' All of us have felt the kindness, generosity and inclusivity of our host families and speaking personally I have felt a real warmth from my Amama Mphatso that I could not have envisaged. From teaching us to cook nsima (even if mine was 'lumpy') to shaking our bums to Tanzanian music (a move which I am determined to crack, but trust me it is not an easy task), Jenny and I have been included in every aspect of family life, indeed Mphatso has said 'You two are like my children' and that is exactly how it has felt.
Our family of five includes at least five-10 other kids from the surrounding houses and there is never a dull moment with them around. A highlight for me was definitely the eldest son Prosper's 10th birthday, we attempted to bake a cake, the majority of which ended up on the kitchen floor, however we salvaged it with copious amounts of sugar and Haribo and luckily the kids didn't seem to mind. The kids then taught us some of their dance moves and all in all it was a great evening! Jenny and I have our own bedroom, which is modest but very comfortable. Every morning we have a hot bath (a washing up bowl of hot water), which I have grown to love. Expect to eat a fair amount of nsima - the staple food in Malawi, made from maize flour accompanied by dende (relish) and either meat, fish, eggs or beans. Chips and rice also feature heavily, and while meals revolve heavily around these ingredients, our family have continually asked us what we like and tried to accommodate us. We've also cooked for our family on numerous occasions including chicken fajitas and 'TJ Surprise', which although not exactly the chilli con carne we had planned, still seemed to go down well! In the evenings we are usually pretty tired so we often read and go to bed early! We are lucky enough to have a TV and sometimes manage to catch an episode or two of 'Husband for Hire' (quite possibly the most entertaining programme I have ever watched!) but this might not be the case for everyone so make sure you bring some form of entertainment (books, DVDs, cards, music). Lastly I want to make what may seem to some a near impossible request – please don't worry! Your fears will dissipate as soon as you arrive!'
Harrison - Jack and Ryan's host dad answers some questions: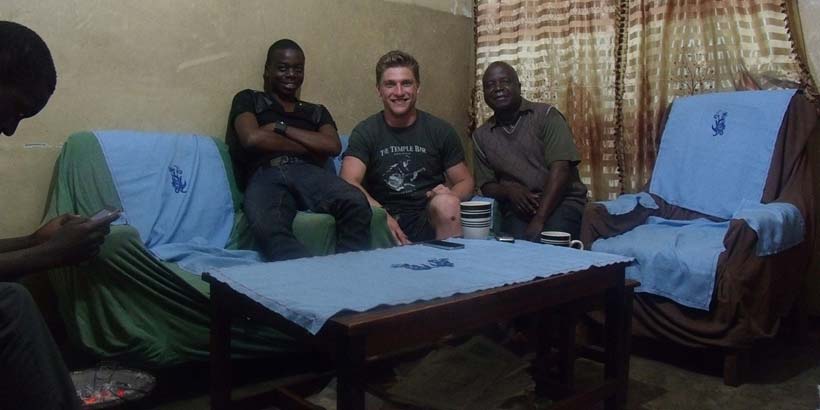 Why did you want to have Progressio volunteers?
I wanted the volunteers to have exposure to a different culture and to experience how the Malawians live - if you were to stay in a lodge or hotel, life would be very different from the real experience and your approach to your placement work would also have been affected. I wanted you to have face to face interaction to show the "warm heart of Africa."
How did you feel when you first met the volunteers?
So excited, I didn't believe that they were sat waiting for me! I was told with only a few days to go that the volunteers would be arriving, we couldn't believe that they were coming we thought it was a joke. 
How have you found the experience of having volunteers?
Very good, it has been good to share our culture and for us to share their culture with us. I feel very proud at the moment to be able to keep some friends in the home for such a long time, it is quite good.
What has been the best experience so far?
When we all celebrated Ryan's birthday and we had everyone together to celebrate in my home, it was wonderful - people were amazed that we were celebrating a birthday - I called them to come over and they couldn't believe who were doing the birthday for!
Written by ICS volunteer Rosie Martin