ICS has three main objectives: project impact, personal development and active citizenship. Really, though, all three come hand in hand. While of course I embarked on this adventure, in part, to make a positive difference to the lives of the poor and marginalised people Progressio work with, in truth I largely wanted to develop my own personal skills (forgive me). But I do believe this should be part of every ICS volunteer's motivation, because working on our own personal development makes us more equipped and more likely to become active citizens to the best of our ability, and to make a longer lasting change within our own communities and within the world.
My main personal goal was to gain more confidence in myself, especially with regards to speaking in public/in front of groups of people. We're now half way through our placement, and I cannot emphasise enough how much my confidence and belief in my own ability has increased, and I know many of my fellow teammates feel the same.
Our project is based in Mzuzu city and we work with a local organisation called Tovwirane, which aims to raise awareness and reduce the stigma surrounding HIV & AIDS and other sexual health issues within the target groups of youths and bicycle taxi operators (a high risk population). We as ICS volunteers contribute to this aim by conducting peer education sessions with youths in schools and with bicycle taxi operators out on the street. This requires not only in-depth knowledge about the topics we are discussing, but also confidence in delivering our message, managing a (sometimes loud, sometimes rowdy) audience, the ability to facilitate the learning and engagement of a group and also being creative in how we choose to conduct the sessions. These are all very valuable skills, and ones which I was far from certain I had before I came here.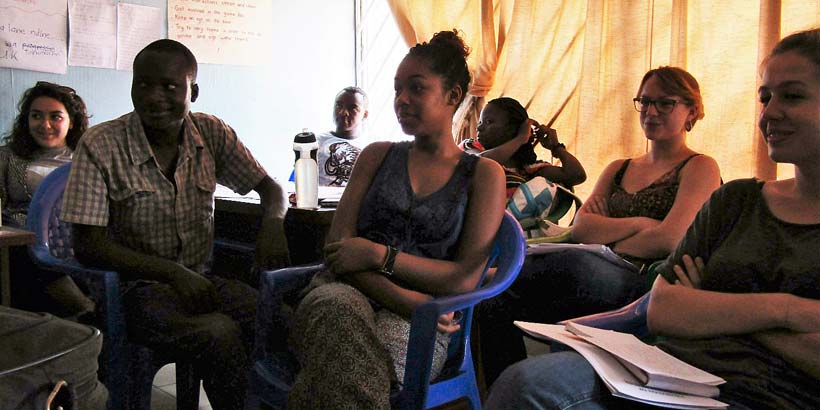 During our first week we learnt techniques of how best to conduct peer education sessions, and we spent hours rehearsing our presentations in front of our group. This increased our confidence as we received support and constructive criticism from each other. In the second week we got out into the field and did it - it wasn't easy, but as we started to see the audiences become engaged and ask questions, we relaxed and really started to enjoy ourselves. Our confidence has grown with each session, and we can see the positive effects as more and more people ask to get referred for HIV testing and counselling.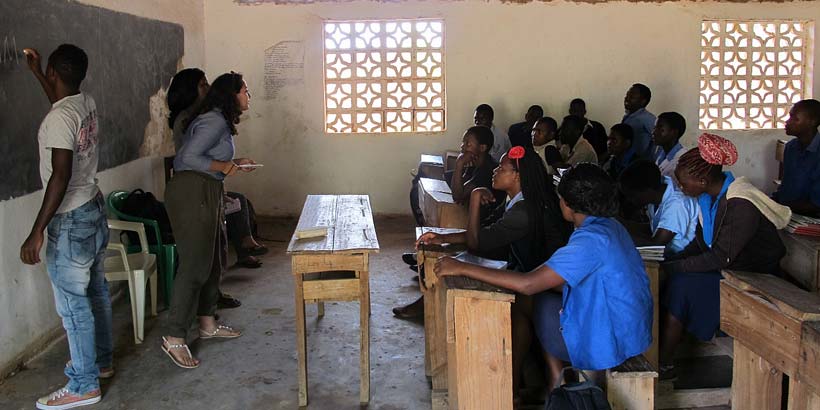 Last week, to supplement our learning, two UK volunteers Ikram and Kate organised a learning workshop on Public Speaking. Their host mother, Mrs Chimango Gondwe, who is an ex-politician and currently works for numerous NGOs within Malawi, kindly agreed to come and give us some tips on how to become pro public speakers! She is truly an inspirational woman – dressed in the most glorious gold and orange handmade outfit, she greeted us warmly and began disclosing her secrets to success in the form of eight key points. We all scribbled down notes profusely. She has such an open and passionate way of speaking, and her calm confidence and positivity was infectious.
One of Mrs Gondwe's tips which I found to be particularly useful was to 'remember that your audience wishes you well'. When public speaking, we are often faced with a sea of blank faces, and often people can look bored. This is because, unlike when we speak to an individual one-to-one, an audience does not usually nod in agreement, or smile to encourage us, and therefore we do not see the support in their faces which we might hope for. But this is most likely just because they are paying attention, and blank faces within an audience do not necessarily mean bored faces. Sure, perhaps not every individual is wishing us well, but it's impossible to tell by their faces - so we must assume their support. Often, Mrs Gondwe reminded us, we judge ourselves more than others are judging us, and this can hold us back. We must assume that the audience - and other people in general, I think - are wishing us well. After all, don't we wish others well when they are out there, doing the best they can?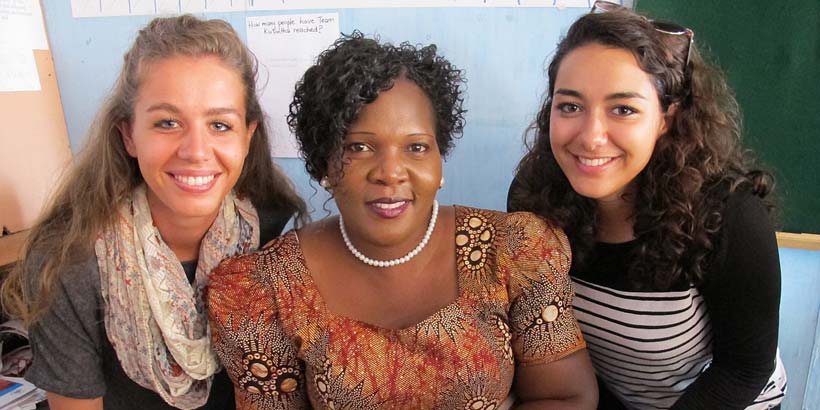 Mrs Gondwe concluded her talk with some motivational encouragement. She reminded us that we should always strive to be the best that we can be, that we should always put our 'good side' forward and work on our positives, rather than focussing on our weaknesses. Keep moving forward, she told us, stop looking for approval from others and let nothing stop you. Well, we all felt sufficiently ready to take on the world!
We are now excited to get out into the field and conduct as many peer education sessions as we can, with as much energy and positivity as Mrs Gondwe. Personally, I am also excited to get out into the world when back at home in the UK, and to approach every challenge I face in the future with equally as much confidence and self-belief.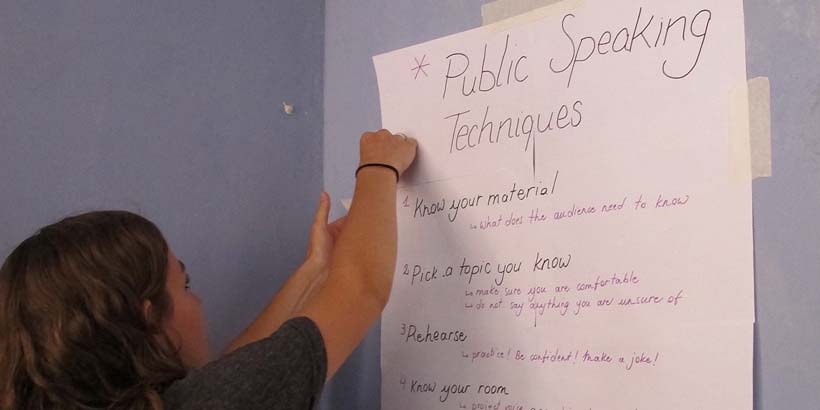 To become an active citizen within our own communities and within the world, we should indeed strive to be the best that we can be. This requires pushing ourselves, challenging ourselves by stepping out of our comfort zone and to ensure that we keep learning; this way, we can develop as individuals and most effectively contribute positively to society. Volunteering on one of Progressio's development projects will make a small, but important, difference within the local community in which we work while on placement. But the biggest difference is within ourselves - and this is not to be taken lightly. We need a future of confident, globally and culturally aware, knowledgeable and determined individuals - and I believe every Progressio ICS volunteer is taking big steps towards achieving this.
Written by ICS Team Leader Ellie Parker