We have been in Rumphi for a long time now and have absolutely loved our work here, we have been embraced by the local people who have all been happy to see us volunteering in the rural communities in the Mzimba district where we work. Within the communities we have engaged in a variety of activities, all with the aim of helping the agricultural work, which many local people rely on for a sustainable income.
We have been engaged in raising awareness in communities regarding climate change and disaster risk reduction, the whole team have found this incredibly enjoyable and our first session on this was a tremendous success. We held a big sports day with a local school where we put on games, such as an 'egg and spoon' race, sack race, netball tournament and a football match. Throughout the fun we educated the children on climate change and we were confident with the success of the day afterwards.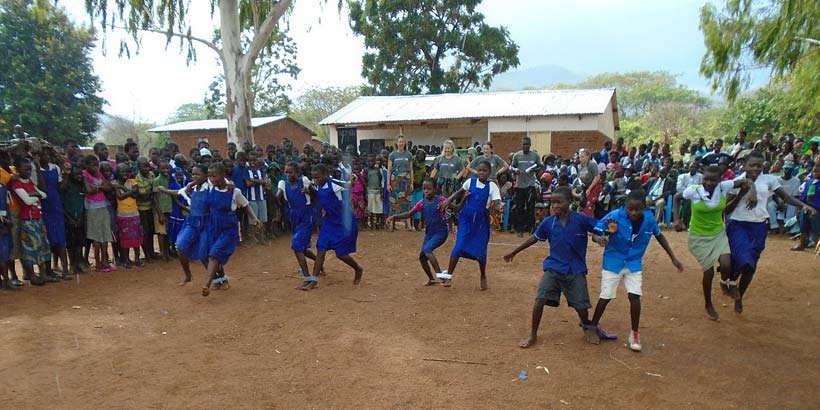 We have also held three awareness workshops on HIV and AIDS in targeted communities, as well as training village savings and loans groups on business management. These activities have been successful, with us all working together as a team to put together informative sessions, with resources provided to us, so that they have a big impact.
One of the activities that the previous team (Team Mapiri) began back in July was building a car park to help a local farming market. Team Mapiri did a great job in laying down just over half the car parks bricks and we had great fun finishing this off, which was finished with weeks to spare. Not only did we finish the work but a member of Team Chinombo also helped redesign the car park making it safer for pedestrians, which involved us adding a footpath. It gives us great satisfaction driving past seeing this car park finally completed and being used by local people.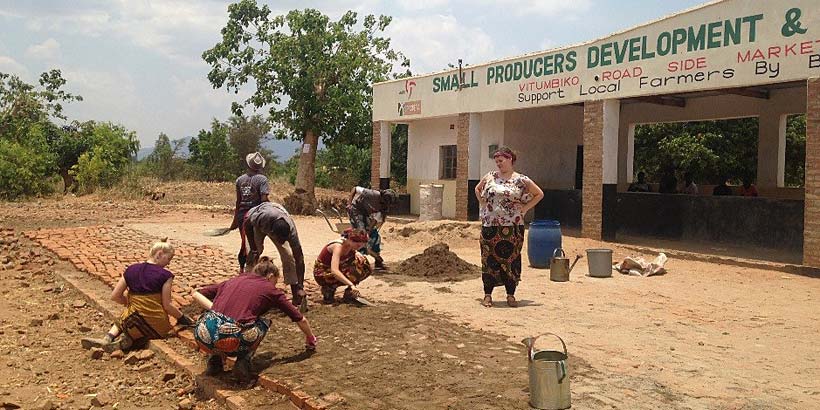 Another activity we have participated in is continuous irrigation. This involves helping local farmers manually water their crops using the local river nearby and watering cans. We often look forward to this as it is great fun and often ends up with everybody very muddy and very wet! The local communities are very appreciative of our work and we often have many conversations with the community members helping us whilst we do our work.
One of the more physically demanding jobs we have had within the local community is the digging of two fish ponds, involving lots of manual labour within the strong Malawian sunshine, which is very tiring but also extremely rewarding. It's a great opportunity to speak to community members and learn about their culture whilst it also does a great job in lifting team spirits with everybody helping each other. Both fish ponds are near completion and we are looking forward to doing our utmost best to help the community finish them just before the rainy season. 
Finally, another activity we have participated in is visiting goat kraals in local communities. During the start of our placement, we monitored many different goat kraals, visiting an average of seven different kraals in 14 different villages and making recommendations where needed on how to improve it to make it more suitable for the goats. Since this, we have started to help in reconstructing the kraals, with the communities often prioritising people who are unable to reconstruct their own kraal such as the elderly or the sick. This has been very educational and also an enjoyable activity, which was rewarding at the end of every visit when we had completed the reconstruction of yet another kraal.
We have another two weeks left in Rumphi and we are determined to make our time together as UK volunteers and national volunteers count, whilst we also look forward to putting in one last big push to help us achieve our remaining targets in this limited time space.
'Thank you very much/Yewo Chomene' for reading.
Written by ICS volunteer Andy Jeffery