This week is Environment Week; a week long global campaign centred on awareness raising and promoting of environmental conservation. We, the Progressio ICS international development squad, would be attending an environment week conference in the Malawian capital city of Lilongwe to represent Progressio and the work that they do to protect our most valuable and most neglected resource.
Humans and the Earth
In scientific circles, the dawn of humanity is often heralded as the most recent of the mass extinctions to have taken place in Earth's ecological history.
For some perspective, remember that mass extinctions are usually caused by things like ice ages and meteor strikes. The graveyard of species we've accidentally slaughtered is growing at an alarming rate; pandas, blue whales, snow leopards and giant tortoises are expected to join the ranks of the dodo by the close of the century. And it's not just our fellow species who are suffering as a result of our collective irresponsibility: climate change has been among the most formidable obstacles mankind has faced in its relatively short time on Earth. Entire fields of crops fail as dry seasons stretch and rains dry up, cities are ravaged by increasingly frequent and ferocious storms, oceans swell as the ice caps shrink; threatening to spill into our low-lying settlements, and disease and vermin fester in the innumerable tonnes of waste we discard every day.
The urgency of fixing the environment is now un-ignorable, so much so that vast quantities of time, energy, resources and research has been focused on the subject. Decades on from the first studies hinting at the existence of changing climate, and we are now all but certain that human activity is a potent catalyst of climate change, and we need to change our ways fast or see the aforementioned innumerable tonnes of waste hit one colossal fan. 
All across the globe, scientists, politicians and various other experts, campaigners and activists have been pulling out all the stops to fight back against the decline of the environment. From 5 to 11 June 2014, they will come together in the event known as global Environment Week to discuss ideas, raise public awareness and promote their own efforts on combatting environmental decay. We, the Progressio volunteers based in Malawi, would be representing Progressio and ICS (who have several fingers in the environment pie) at an Environment Week conference held in the Lilongwe Wildlife Centre.
It was an opportunity not to be scoffed at. 
Green Machine
Before we talk about the conference, let's get some context out of the way.
We, the Malawi volunteers of cycle-2 2014, are split into three teams. There's the UNGWERU team working on community development in Mzuzu in the North of Malawi, the COWLHA (Coalition Of Women Living with HIV and AIDS) team in the central region of Malawi based in Nkhota-kota district, and then there's the WESM team (Wildlife and Environmental Society of Malawi) working in Mulanje in the deep mountainous south. On the day of the launch of Environment Week, we joined forces into one mean, green, environmental machine. 
The WESM guys would be promoting their work in afforestation and refuse management.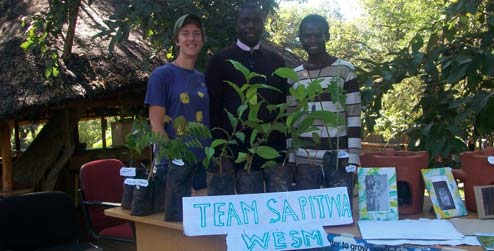 The WESM representatives promoting their work in conservation, afforestation and bio-diversification.
Meanwhile, the lovely COWLHA girls would promote and sell their work, including the environmentally friendly bags made by COWLHA's very own Chibothera HIV support group.
Debbie, Sian and Caroline manning their station.
Alongside COWLHA, the Ungweru team would be promoting and selling clay cook-stoves and briquettes. If you've never heard of clay cook-stoves and briquettes, you can read all about them here. They're basically an ingenious solution to several of Malawi's problems at once.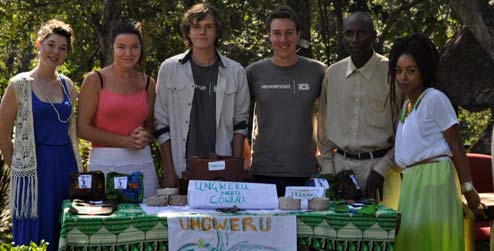 The dream team: Debbie, Caroline, Tom, Dan, Sak and Kisha promoting the work of Progressio on a national level.
About an hour after we finished setting up, the conference commenced with the arrival of the guest of honour and a stream of escorts, all sporting shiny black suits and shiny black sunglasses. At this point, some of us experienced a pinch of nerves (not me of course, don't be absurd!). In fairness, the whole thing was to be televised on national television.
We started the day with a TV interview with our team Captain Kisha De Costa and our Project Coordinator Sypriano Sak.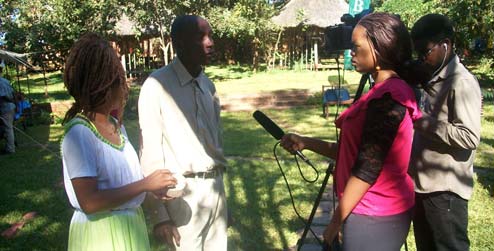 Kisha and Sak speak to the TV crew on the environmental work carried out by Progression ICS and Ungweru
A moment later and the camera moved on to our stalls. Jill, the Captain of Team Sapitwa of WESM, spoke about the work done during their placement, such as reforestation, biodiversity research and conservation, and also their fantastic Special Project; buying and donating a plot of land, seeds and equipment for a local youth group to grow tea.
Then it was Ungweru team's turn. I spoke about the astounding potential for development that clay cook-stoves and briquettes bring in by way of generating carbon credits (a financial incentive for reducing carbon emissions) and also combatting deforestation and eliminating waste-paper and wood-shavings. Dan then took the floor, talking about our own special project in which we bought and donated the equipment for moulding cook-stoves and briquettes to one of our target communities. We also talked about the industrial-sized kiln we built for them, which they can now use to fire the clay cook-stoves so that they are ready for the market, and also the paper bins we are distributing to local business to collect their waste paper for making and selling briquettes.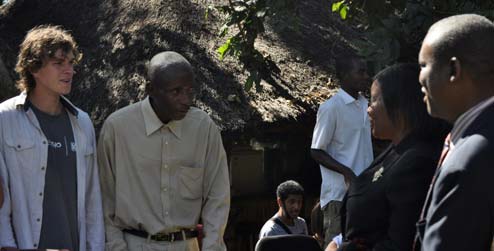 Tom and Sak talk to senior benefactors about the wonders of briquettes and clay cook-stoves.
The COWLHA girls talked about their work in tackling HIV, and even sold a few of their environmentally friendly bags. The esteemed guests complimented us on our work, asked some questions about our homes and our time here, and thanked us for coming. Many polite smiles and handshakes were exchanged.
The Green Colour
As the guests continued to move around each stall, we took a breather to recompose ourselves and prepare for the second half of the day. Of course, nothing in Malawi happens without some form of colourful display of culture, so, after a short break, we moved over to the amphitheatre, where we would break out the theatrics and indulge in some proper Malawian showmanship. 
We, not wishing to miss out, had prepared some contributions. After a welcome by the hosts of the conference, our very own Gospel prodigies Abraham Munthali and Jessie Mwale took to the stage.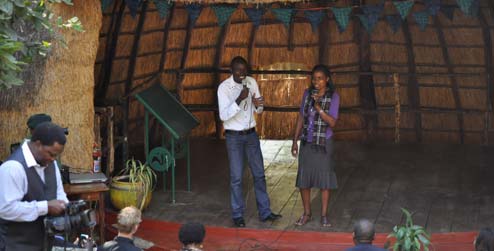 Abraham in his element
They had written a song entitled 'Somebody's Looking for Green'. None of us had heard this song before; they had literally thrown it together the night before. But when they started singing, I for one was utterly blown away. To say that the song was well received would be such an appalling understatement that I refuse to type it. I couldn't even hear my own cheering over everyone else's; and now, three days later as I'm writing this, the words are still in my head.
Once the applause had died down, our budding novelist Tusha took to the stage to read her short story entitled 'The Little Green Planet.' The audience listened in captivated silence as Tusha told the story of humanity from the perspective of planet Earth.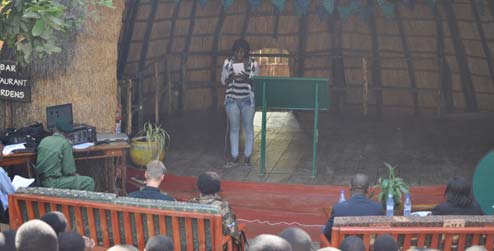 Tusha recites her story. An extract reads: "They built cars and factories and great big fires which filled the air with carbon dioxide. The planet grew sick with fever, and all the plants and animals that lived there began to die…"
When Tusha walked off the stage, she left an audience in deep contemplation. With the close of the story, our role at the conference was over. We watched the rest of the entertainment, sold a few more cook-stoves and hand-bags, and then all of a sudden it was time to pack up. We piled our kit back onto the bus and left as better people, content in the knowledge that we were doing our part to save the world. 
In my team, I know I am not alone in my intentions to return to Malawi at some point. I have faith that the likes of Ungweru, WESM, Progressio ICS and COWLHA will have changed it for the better by the time I come back. Keep up the good work guys!
Written by ICS volunteer Thomas Inglehearn