Malawi is so peaceful and the people are so friendly it's unreal. I did not expect the country to be so welcoming. I have learnt so much by just being here, the culture is so different to mine it's like another world. The kids at the schools pay attention and show a lot of respect. I did not think they would be so good and listen as much as they have. I am grateful they are like this as it is easier to facilitate because I feel more welcome. I enjoyed the session I did on stigma with a local community. They were very nice people and I hope to see them again.  
One of the things I have been learning is a game called Bowa, I like this game it's good to watch although they are very fast at it. There are 32 slots and you have to get all the marbles to your side so the other player cannot take them it's hard to understand at first but it is good fun. They play while we wait for transport to go to the field.
I am half way into my placement now, and I have learnt a lot being here. My confidence has grown, and my attitude to life has changed. The other day I had to do 7 condom demonstrations  at Luvire secondary school. It went well. The students laugh a lot but they also stood up and asked important questions, which I thought was brilliant.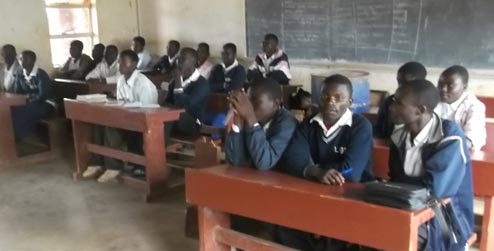 ---
Blog and photos by ICS volunteer Ryma Danver
Photo 1: Ryma and the three village heads
Photo 2: Jackson (left) and Paul (right) playing a bowa
Photo 3: Wezzie (left) Ryma (right) doing a sexual health session at Luvire secondary school. 
Photo 4: Pupils from Luvire secondary school. We did seven different classes on sexual health.