After landing in Lilongwe, we were instantly welcomed with warmth at the airport by our national Progressio colleagues. The drive to our accommodation for the week revealed how green suprisingly Malawi is, which was refreshing.
Our week long in-country orientation kicked off with an introduction to Malawi, followed by stimulating culture lessons. This definitely prepared us for the lifestyle we'd be living for the weeks ahead of us, and for helping us show respect to the villages we're living in.  The week also consisted of language lessons, where most of us learnt Chichewa, the national language. Our teacher was wonderful as he was very laid back, yet managed to teach so much in a short amount of time. It wouldn't have been as successful if we hadn't been paired with the national volunteers though, so many thanks to them.
A week flew by quickly and it was time for the three teams of volunteers to go to their separate placement locations, so off to Blantyre we went, which is in the south of Malawi. One very noticeable thing about the area is how mountainous it is, making the scenery even better to look at. When we arrived at our home for the next 8 weeks, again we were welcomed in so warmly by the partner organisation staff and others. The NGO we will be collaborating with is called People Serving Girls At Risk, whose main work revolves around sexual exploitation, child trafficking, developing a response to HIV/AIDS and educating on sanitation.
A shocking and very unfortunate death of our partner organisation leader's wife occurred the following day. To show our respects to our colleague we attended the funeral.
The difference in tradition of a funeral in Africa compared to Britain was interesting. For example when we arrived, most of the village had attended giving it a community feel. All the women, including us UK female volunteers, wore a colourful patterned Chitenje (traditional African wrap skirt) and the men wore smart suits.
When it was time for the burial, we were walking across a field when suddenly it starting pouring down with rain. We did not expect that at all! As inconvenient as it sounds it was a fun experience walking through the muddiness, and even through little rivers – we would've struggled a lot without the Malawians helping hand (literally) who were all so kind and making sure we were taken care of.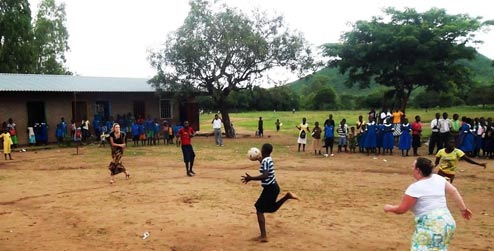 We have also visited the village police station, local health clinic (which only had one doctor) and the chief's house. This made us, the UK volunteers, feel welcomed into the community and allowed us to show our appreciation to them.
We have visited two schools and introduced ourselves to all the teachers and students as well as the work we will be doing with them. The first primary school we went to currently has 1,534 students, and the second has 731, yet not many staff.  However it was very clear that everyone valued education a lot. We are all looking forward to returning next week to hold 'WASH club' which stands for Water And Sanitation, Hygiene, and is around the fundamental practices of preventing disease and 'Life planning skills' sessions on empowerment, early marriages, drug abuse, child abuse, HIV/AIDS. We will also get started on building pit latrines and toilets.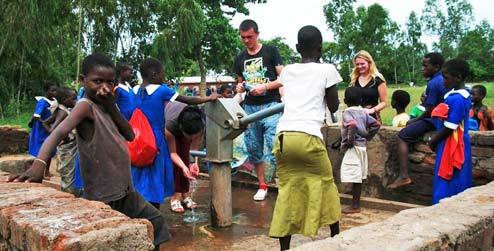 ---
UK Progressio ICS volunteer Kim Nguyen reflects on her first weeks in Malawi
Photo 1: The Blantyre team of volunteers
Photo 2: Volunteers introducing themselves to a school
Photo 3: Bethany and Sarah playing ball
Photo 4: Kim, William and Bethany with school children at the water pump