We, the Umodzi team of COWLHA (Coalition of Women Living with HIV and AIDS), were a little apprehensive when heading to Nkhotakota Radio Station on Wednesday to record a panel show with Edward, the station's Programmes Coordinator. The idea behind this show was to give us a chance to talk about the work we have been doing here in our local area and to give an opportunity to thank the women we had been working with publically for making our project such a success. It was the perfect way to reflect on our activities during the placement and to share what we have done and learnt with a wider audience. 
We have visited a number of support groups during our time here in Nkhotakota and we have learnt a lot from them just as they too have learnt a lot from us. It hasn't been without its challenges of course but I can proudly say we easily solved them together as a team. A couple of the challenges we faced were expectation management and group dynamics within the existing support groups. 
It has been a great experience and I give my respect to the Progressio ICS programme for the good work they do and for being so organised. Our lives will never be the same having participated in the Progressio programme as ICS volunteers and we've done so many activities which positively impacted on our targeted areas. To mention a few, we have created three youth groups which are gradually helping to improve knowledge of good sexual and reproductive health, spread HIV awareness to the wider community, given support groups a different dimension by implementing new, varied and interactive activities and increased youth involvement in COWLHA activities and support groups. 
We are such a fantastic team - we have really helped and learnt a lot from one another. We love and respect each other and we know that everyone of us is unique in his/her own way. I will forever miss this amazing team. 
One of the support groups we bid farewell to is Chanzi. The sadness in our eyes and voices, as well as theirs, explained how well we have bonded with them. The tight embraces we exchanged with them scared me as they reminded me how it will soon be time to say goodbye to the great Umodzi team. These are some of the women at Chanzi CBO we said goodbye to: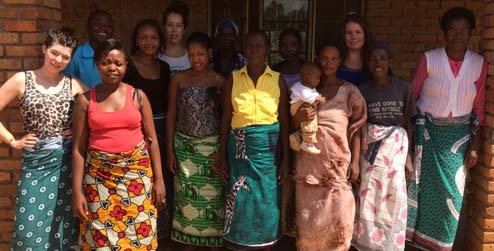 Chanzi CBO and team Umodzi
As the placement draws to an end, the Umodzi team would like to say thanks to God, Progressio ICS, staff of COWLHA, Nkhotakota support groups, Nkhotakota Community Radio Station, the Nkhotakota community at large,  the Traditional Authorities, families and friends and other organisations that we have worked with at various points during the placement. Going further afield, we would also like to thank Blantyre Joy Radio Station, MBC (Malawi Broadcasting Corporation), WOFAD (Women for Fair Development), WUSM (World University Service of Canada - Malawi).  
Written by ICS national volunteer Maggie Dambe