As our cycle starts to draw to an end, I thought this would be the perfect opportunity to reflect on some of the highlights of Team Umodzi's placement. Although we still have a very busy two weeks left with plenty more to report back on, it wouldn't hurt to take a look at some of our best bits so far.
We've been lucky to work on some amazing projects and to meet a host of inspiring people along the way. Our previous blogs have spoken about some of the incredible support group visits we've had and these have definitely been eye-openers for the whole team. Although we've focused on a few support groups in particular, we've also travelled further afield to meet ladies from all over the region of Nkhotakota and have heard so many interesting stories, which really gave us an insight into the lives of women living with HIV and AIDS. 
One visit we had a couple of weeks ago was especially vibrant as it was an official event, organised by the COWLHA (Coalition of Women Living with HIV and AIDS) secretariat in Lilongwe. We accompanied Annie Banda, our partner organisation's Executive Director, so we knew it was going to be a good day. Annie is a very powerful speaker and has done a lot in terms of promoting the rights of women living with HIV and AIDS. She has a no nonsense approach and tackles difficult topics head on without any embarrassment or awkwardness, which is really refreshing. At this group, she reminded the women why it was important to exercise their rights and by the end she had everyone passionately chanting "we have rights too", which is also the name of the project we're working on. As well as speeches, there was – of course – plenty of singing, dancing and even some drumming. Finally we heard from COWLHA's District Coordinator who was diagnosed as HIV-positive in 2004. She really struggled at the time as her husband had died, she was bringing up six children alone and she couldn't understand how she had contracted the virus. But instead of falling further into a pit of despair, she picked herself up and went on to set up 19 support groups across her district. She also runs a very successful business making bags and school uniforms along with 12 other women in her own group. As a unit they all support each other emotionally and financially, so she couldn't be more of an advocate for the support group structure.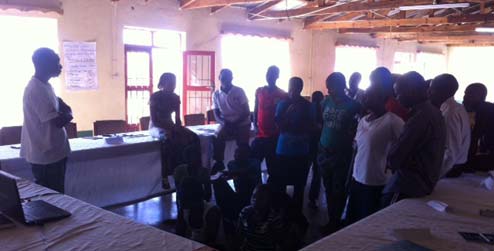 Training held for HIV-positive young people
Another real highlight of this cycle has been our close involvement with youth projects. One of the objectives of the partnership between Progressio and COWLHA was to involve more youth in the partner organisation's activities. The hope was that by having young ICS volunteers on board, an interest would be sparked among the local youth about what COWLHA is all about. We found, through visiting the existing women's support groups, that youth are lacking and those living with HIV often remain closed about their status for fear of the extreme stigma which currently persists. Young people living positively are often deemed walking corpses and are told they will never have relationships or marry. The secrecy which comes about as a result of this stigma means those living with HIV are more likely to spread the virus by not being open with future partners and it can also lead to feelings of serious loneliness and isolation.
We've set up a lot of youth projects in a bid to tackle these issues head on but the one I am personally most proud of is a training we have just held on 'Positive Living'. As ICS volunteers we have the chance to apply for some extra funding for a project which responds to the needs of our target communities and this training was what we used the money for. The last cycle gave a sewing machine but found that tangible gifts can lead to a lot of conflict within communities so this team wanted to impart skills instead of material items.
A group of 16 HIV-positive young people attended the two-day training which taught them how to live a healthy life, how to overcome stigma and how to start their own age-appropriate support groups. The trainer was employed from an external charity and we also asked the District Coordinator to come along and share her experiences with the group. The majority of these young people have never disclosed their status, so it was a huge achievement to attend this session in a public place. And as well as the educational side, we had some great feedback on the night away from home with all the attendees being very excited about having their own room, staying up late with new friends and eating a huge breakfast! As the training came to an end, the young people told how they now feel ready to start their own support groups in their respective areas and will share their knowledge with their peers. The trainer promised us he will monitor these groups and his organisation has even offered to help fund the school fees for those young people who have had to drop out. We've received some amazing feedback that this was the first training of its kind in our district and that previous attempts to do a similar thing have failed due to lack of willing youth so we really couldn't feel happier to have implemented such a necessary initiative. 
Finally, a couple of my personal highlights…  Firstly, there was a 10 kilometre fun run that a couple of us took part in recently. The event was hosted by Nkhotakota Youth Organisation who we've worked very closely with on our community awareness events and various youth projects. When they asked if we'd like to sign up we reluctantly agreed, thinking it would never actually come about. However, before we knew it we found ourselves at the start line and were proud to be sporting posters on our backs promoting our organisation COWLHA, with the aforementioned slogan "We Have Rights Too". As we jogged around town, lots of people were asking about our signs and we were even interviewed by a Norwegian stakeholder about why we were passionate about running for COWLHA. We came a respectable 57th and 58th place (out of 60) but if the winning prize was for sweatiest and least dignified runner, I'm pretty sure I would have knocked my competition out of the water.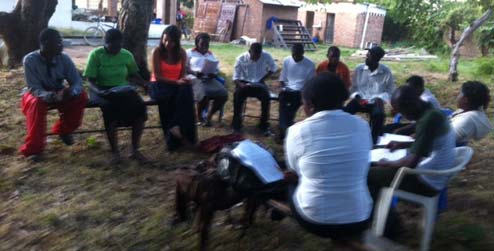 Drama group Step Ahead practising Caroline's radio play
Then there was my radio play. Since arriving in January, I have had the idea to use the radio as a way to reach the youth COWLHA was struggling to engage. Our organisation has its offices at Nkhotakota Community Radio Station and, as a result, we are partners with them. COWLHA actually already has a twice weekly slot for an educational programme about support groups but until now broadcasts have largely tackled issues affecting grown women, not girls. As I recently felt time suddenly start to tick very quickly, I got to work drafting a play about stigma against young people affected by HIV. The story focuses on a teenager called Lucy who is clever, beautiful and has lots of friends. She is selected to take the lead in a school play opposite a boy she really likes. It all seems to be going so well until Lucy starts to struggle at rehearsals and ends up getting sick. She is eventually diagnosed as HIV-positive and sees the boy, her friends and most of the school turn on her. She has just one supporter – the play's Student Director – who puts her in touch with COWLHA to look for help. COWLHA teach her that she is still the very same person she was before and that life doesn't have to end here. After this, she feels inspired to stand up to all those who were against her. 
I approached a vibrant local drama group with my script and they were so enthusiastic, which was really encouraging. They got to work rehearsing straight away and within three days, the play was ready to record. We all went to the studio and the producers there directed the scenes, then edited the material. The play broadcast on Saturday and I joined the drama group to listen to their work. It was a really exciting day and I'm lucky to have been able to work with such a dedicated, talented group of budding actors who are so passionate about current issues, including HIV and AIDS, Gender and Climate Change.
Well, although I could go on, I think I should sign off here. As I said, we've still got a lot in the pipeline which we're very excited about, including our our final support group visits, so we'll make sure we keep you updated on progress made during out final stint in Nkhotakota. 
Tionana (goodbye) for now. 
Written by ICS volunteer Caroline Vann Jones