The sun is still blazing, the rice is still being consumed in incredible quantities and the volunteers are still labouring with insatiable enthusiasm and passion. Our fourth week in Masaya has been action-packed; our time consumed by planning, running workshops and learning more about one another.
'Amigo' is a word now regularly thrown about in conversation. The line between the British and the Nicaraguan is now fully blurred, rendering us a team of enthusiastic, communicative and happy volunteers. Some UK volunteers have even begun to blend in, exchanging Vans and Converse for the locally fashionable pink rubber sandal, donning wide-brimmed wicker hats and munching plantain as a mid-morning snack. Others however are condemned to a life as an unmistakable, highly conspicuous Brit; still, four weeks in, burnt to a nice shade of rojo and refusing to part with their hiking boots. We are all, however, doing our best.
As a mid-week treat we enjoyed a bit of down time with our colleagues in the form of a pizza and movie night. It was at first a challenge to find a film suitable to satisfy the linguistic demands of all volunteers but was ultimately a great success. Friendship Day, the less daunting Nicaraguan alternative to Valentine's Day, was also enjoyed by volunteers this week. A far easier experience than in the UK, we simply exchanged gifts as a group in recognition of our new companionship.
Communication is now improving to the point that we felt ready to organise a learning session aimed at sharing colloquial speech from our respective cultures. We British volunteers were able to add a variety of local words to our repertoire, however, our own attempt to teach unintentionally resulted in a heated debate amongst ourselves as to which words were indeed slang and which were simply strange sounds originating from our various corners of the country.
There has also been a great variety of dynamic games and activities organised; all of which have of course been approached with boundless enthusiasm and vigour.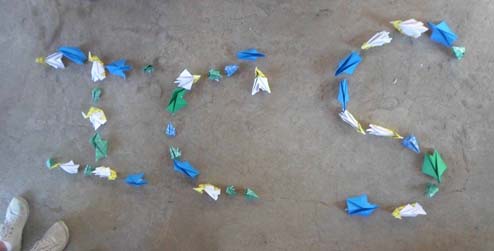 Our fourth week has been focused on building stronger relationships with the community and communicating the importance of our projects. There hasn't been a dull moment. After careful planning, we organised a welcome party in Monimbo School aimed at familiarising the staff and students with Progressio and our work. Throughout the morning we painted the faces of swarms of eager children, read to them and introduced them to some classic British games. All volunteers are now eagerly anticipating the opportunity to teach English to these classes and to work on improving the infrastructure of their site. We intend upon constructing both a playground and a vegetable patch; both of which will be built from recycled materials. It is hoped that these projects will be as rewarding and successful as that of the eco-latrines.
Alongside our main projects we have also engaged in a myriad of complementary activities. On Saturday we organised and partook in a clean-up of local villages El Pochote and El Jocote; its success reflected in the turnout of local residents who came to help. Later that day our 'Rights Group' facilitated a workshop on indigenous rights, allowing for the community to meet and discuss their heritage in a dynamic and stimulating manner. It was a truly exciting experience for the volunteers, too.
As part of our Spanish course we were also able to visit Masaya's traditional handicraft market and its neighbouring museum, Museo del Folklore. Having learned about Masaya and Monimbo's rich culture of legend, craft and music, we browsed the market's stalls in a vain attempt to find local products at a reasonable price. Masaya is renowned for its intricate banana-hammocks, terrifying masks and its delicately woven trinkets, all of which are sold in abundance.
It is difficult to believe that we have been in Nicaragua for four weeks. The evidence, however, lies in the work we have thus far carried out. The eco latrines are ready to be covered, the playground is designed and our workshops are already uniting the community. We look forward to the even greater impact we may have in weeks to come.