Upon first inspection it can be difficult to reconcile the traditional notion of community with what exists in El Pochote. One would typically consider a community to be a collection of households focused around a central location where inhabitants can converge to participate in social events, or buy essential commodities. This format does not exist in El Pochote to any great extent, which poses obvious challenges for a team of volunteers hoping to help local people improve their communal quality of life.
El Pochote essentially comprises of the houses that line several minor unpaved tributary roads before they converge on their way downhill towards Masaya. These houses are sparsely located with reasonably large plots of land, making the distance between each end of the community vast. In quite close proximity on one of the forks in the road are a primary school and a church, which together constitute the closest thing to a communal centre. Fatima and I, responsible for community liaison, met with the church council a few weeks ago in order to establish what community activities take place on a regular basis. Aside from religious congregations and increasing Easter preparations, the council stated that the church did not play host to any groups, organisations or events that Progressio volunteers could actively attend and support. 
This apparent lack of community cohesion has also been evident in how the households of El Pochote obtain their water. Several of the keys to the water supply running downhill are controlled by certain sections of the community which limits the supply to other areas. A solution to this fundamental issue is hindered by a lack of communication and residual tension between community members.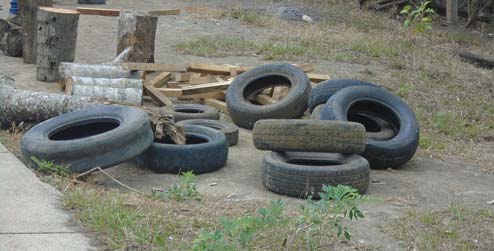 Just some of the materials donated by the community for the playground
The obvious question from a development perspective, then, is how to frame projects with the potential to reconcile a fragmented community and harness its power to improve a common standard of living? Whilst very effective in solving local environmental issues, the provision of eco-latrines for individual family units does little to bring the people of El Pochote together. The building of a school playground made entirely from recycled materials donated by local families on the other hand does, I believe, help to ignite a tentative sense of community spirit. With the help of other volunteers in group one, Fatima and I have this week visited many homes in El Pochote asking for and collecting very useful items for use in this playground. Families have enthusiastically and generously donated large tree trunks, girthy bamboo poles and old vehicle tyres in large quantities. We hope that by doing so, local families will feel a sense of pride and indeed ownership in the end product, which will be visible for all to see in an array of bright colours at the front of Oscar Fuentes school. We are now busy planning a farewell party to take place at the school next week, which will mark the opening of the playground as well as a modified recycling centre that can be used by the community all year round. We hope that our efforts in this ultimate part of the project in El Pochote will be reflected by a strong attendance at the farewell party and a discernible sense of community spirit!
Nicaragua: Conectando con la comunidad - Desafíos y éxitos en el Pochote
Desde la primera visita realizada puede ser difícil conciliar el concepto tradicional de comunidad con lo que existe en El Pochote. Normalmente consideraría una comunidad como un grupo de hogares ubicado alrededor de un lugar central, donde los habitantes pueden convergir para participar en eventos sociales o comprar productos básicos. Este formato no existe en El Pochote en ningún punto, lo cual plantea retos obvios a un grupo de voluntarios quienes esperan ayudar a la gente local para mejorar la calidad de su vida comunitaria. 
Esencialmente El Pochote consta de caminos despavimentados antes de converger en un camino de descenso a Masaya. Estas casas están ubicadas de manera esparcida con terrenos bastante grandes, haciendo una gran distancia entre ellas en el gran vasto de la comunidad. Cerca a una de las bifurcaciones de la calle hay una escuela y una iglesia, que juntos, constituyen lo más cercano a un centro comunal. Hace unas semanas, Fatima y yo, encargados del rol de relaciones con la comunidad, nos reunimos con el consejo de la iglesia para establecer que actividades comunitarias tienen lugar regularmente. Aparte de congregaciones religiosas y preparaciones para la Semana Santa, no hay nada más es elaborado por su parte, en lo que Progressio pudiera formar parte.
Esta aparente falta de cohesión comunitaria ha sido también evidente en como los hogares del Pochote obtienen el agua. Bastantes de las llaves que manejan el control del agua son controladas por ciertos sectores de la comunidad, lo cual limita el abastecimiento a otras áreas. La solución a este problema tan fundamental es obstruida por la falta de comunicación y la tensión entre los miembros de la comunidad.
La pregunta más obvia desde una perspectiva de desarrollo seria entonces, saber cómo elaborar un proyecto con el potencial de reconciliar a una comunidad desfragmentada y unir su poder para mejorar sus estándares de vida. Las eco letrinas están ayudando a un problema medio ambiental a nivel local, pero influencian muy levemente la unión de la comunidad. Mientras que por otro lado, la construcción de una zona de juegos en la escuela, realizada enteramente por material reciclado donado por familias locales, sí que da a entender a mi parecer una cierta tentativa de espíritu comunitario.
Con la ayuda de otros voluntarios del grupo uno, Fátima y yo hemos visitado muchas familias de la comunidad del Pochote preguntando y recolectando material útil para la construcción de la zona de juego. Las familias de forma generosa y entusiasmada han donado largos palos de madera, varas de bambú, llantas y tucos de madera de buena calidad. Esperamos que haciendo esto, las familias de la comunidad puedan sentir orgullo y cierta sensación de propiedad con el producto final, realizado a partir de sus propios materiales, los cuales serán visibles en la parte frontal de la escuela Oscar Fuentes y todos podrán verlos por la variedad brillante de colores. Ahora estamos ocupados planificando la fiesta de despedida que tendrá lugar en la escuela la próxima semana, y que marcará la inauguración de las zonas de juego, así como del centro de reciclaje que podrá ser usado por la comunidad durante todo el año. Esperamos también que nuestros esfuerzos en esta última parte del proyecto del Pochote este reflejado por un fuerte respaldo de la comunidad atendiendo a la fiesta de despedida y con un apreciable espíritu de la comunidad.
Escrito por el voluntario de ICS Martin George