Every afternoon for the past two weeks, our formidable development team has broken off into teams of expertise to contribute to one of the most challenging, but most rewarding, aspects of development. Education.
The process began with a meeting between all the volunteers, British and Nationals. After discussing what classes we would all like to teach we created three extracurricular classes for the local school children, English, IT/computing and guitar/music. Another group broke off to commit their time to an educational radio program to be broadcast to approximately 15,000 people across the Nueva Segovia area.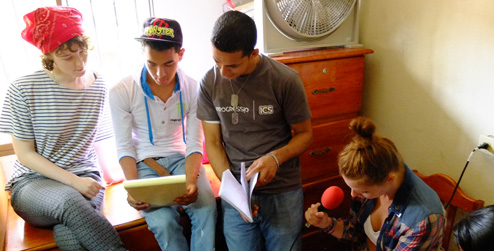 One single morning of promoting our classes in the local schools generated so much interest that we have had to turn some children away. An incredibly difficult decision that we were forced to make due to a lack of resources and time. We only have one set of guitars, one room of computers and one team of English teachers, with so many kids with a thirst for education that we can't even teach half of them. Although this is frustrating, it's also very encouraging that the young people here are so keen to learn. This made us ask ourselves, is this work going to be sustainable? If there aren't currently enough teachers or resources to give the students the education they want and need, what will happen when we are gone? We quickly realised that in Nicaragua, having an English degree does not mean that you can speak the language, let alone teach it, the one person we have met with the ability to teach music has a full time job and the IT teachers seem dependant on us to be able to teach their classes.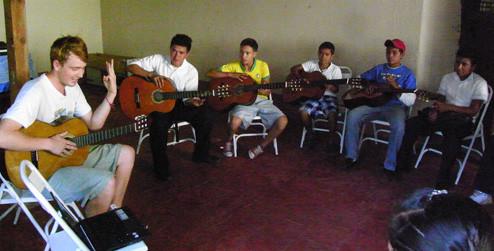 This has inspired a change in direction this week, expanding the horizons of our small educational world. In addition to the children's guitar lesson, we have now started a weekly session for some of the local teachers, providing them with the resources and the musical knowledge to continue our hard work. We have decided that after the half way point of our project we will devote half of our English lessons to teaching the teachers and IT lessons with adults have already begun. On top of this we have branched out to weekly arts and crafts, sports coaching and first aid sessions to include more people and broaden the knowledge base of the local community. 
This week we have made some difficult decisions and some drastic changes but hopefully this will equate to making a more sustainable and consequential development project.
---
Written by Max Martin, photos by Elspeth Shaw