Since being In Nicaragua, I have found that the perception of time is a complex measurement. I have been here now for three weeks, although it is a short period of time, it feels like I have been away from home forever.  As much as time feels like its speeding up, it also feels like it's standing still.
It is currently difficult to see the progress we have made in our time here so far, as a lot of what we have done is planning and organisation which initially takes up a lot of time, but I have learnt that this is an important aspect - as it maintains for more sustainable projects, and now our planning and organising is finally beginning to transform into actions.
We have spent the last few days picking up materials and loading the lorry in order to begin our stove building project which is designed to reduce smoke pollution, and the prevention of respiratory problems. We have selected the families who will receive the stoves through criteria which were designed to determine who required the stoves more. We then had our demonstration on how to construct a stove, which should take on average 2 to 3 days to build each stove.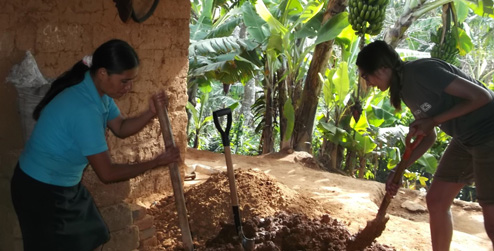 We have also begun classes; we currently have an English class and an art class for young people. The classes are designed to improve skills and knowledge and to empower young people. We aim to give the young people inspiration, to transfer these skills to something that may be beneficial to them and other people in the forthcoming future. The art classes are designed to educate young people on the common issues the local community face. This way we can bring the local community together to be creative and to think about these issues, and come up with solutions which can have an impact within their local community. We constructed a survey for the local area and used anecdotal evidence of what we have experienced here, to identify the most common issues. We have found that violence against women, sexual health, environmental issues, and healthy eating are main topics which need to be addressed within the area.
There are plans to embark on the construction of a playground from recycled materials in the local school, the designs have been completed by the volunteers and we now wait to hear back from the school for the go ahead.  This is part of environmental awareness project to encourage people about recycling materials in ways which can be resourceful.
There has also been action taken with the artisans in the local area, to assist with development and help expand their business. The volunteers constructed a meeting with the local artisans to discuss and find out more about their current situation. There was discussion about the artisans holding regular sewing classes, to teach people new skills in the area, and to have frequent meetings to track the progress of the artisans and to help with assistance they may need.
Early in the project it was difficult to see the progress, as our pre conception and expectations of the project work, was mainly practical and hands on from day one. We have realised that project work takes a lot planning and organising, which seems monotonous at first, however builds to bring stronger, more sustainable projects for the community. With all the enthusiasm from the local community and motivation from the volunteers, we hope to empower them to make a sustainable impact in the community, and realise that we have so far made such a big impact within the community.
---
Written by a Progressio ICS volunteer