We set foot outside Managua's airport after a dizzying 14 hour flight from London Heathrow, and were greeted by the stifling heat of a Nicaraguan summer. With our suitcases strapped to the roof of the minibus that picked us up, we began our journey to the hostel where we would be spending our first four days. Hoping for a lie-in the following morning to recover from our jetlag, a synchronised groan sounded throughout the minibus when we were informed that we would be meeting at 7am the following morning to begin the day's activities.
Nevertheless, each volunteer showed up bright eyed and on-time, and after four days of team building exercises and in-country training with the Nicaraguan volunteers, we were more or less familiar with each other's names and keen to get stuck into the hard work.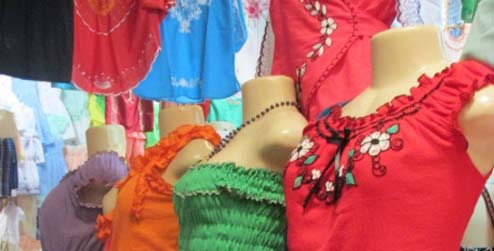 Bright outfits in Masaya's municipal market
The chaos of Managua makes the town of Masaya seem tranquil by comparison, despite the constant stream of cars, motorbikes and bicycles that fill the potholed streets. The first thing that caught my attention in Masaya was the colours. Brightly painted buildings, vibrant flora and fluorescent fruit drinks served in plastic bags. That is not to mention the striking crimson sunsets and multicolours of the vivid artisan market. 
We arrived in Masaya during celebrations for San Lazaro. The main feature of the celebration, which occurs each year during the run up to Semana Santa (Holy Week), is what can only be described as a fancy dress pageant for dogs. Robed in flamboyant costumes made from cardboard, fabric and other materials, the dogs are paraded across a stage, with a prize awarded for the best dressed. The event is in acknowledgement of the wounds of San Lazaro, which according to bible passages, were licked, and thus soothed, by dogs. Aside from this bizarre yet entertaining activity, the people of Masaya also use this day to show thanks, to pray and to request miracles for family and friends.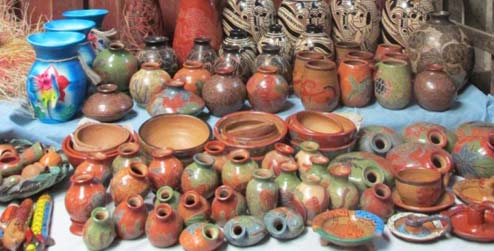 Locally made crafts at the artisan market
After being introduced to our host families and welcomed into the houses that would become our homes for the following ten weeks, we met at the Alcaldia de Vara de Monimbo and were formally welcomed into the barrio of Monimbo by its Mayor and the national volunteers, who had prepared a selection of traditional Nicaraguan dances for us. We felt very welcome and enjoyed watching the traditional dresses twirl in time to the music performed by a brass band. Much to our surprise, after the welcome ceremony was over, we too were paraded through the streets of Masaya, closely followed by the brass band.
The following day we attended a second welcome ceremony at the school in Monimbo, which involved all pupils, a marimba and much more dancing. A very memorable dance, called 'El Viejo y la Vieja', which comprises of a masked woman with over-exaggerated bodily features being followed around a stage by a masked man with a walking stick, particularly caught the attention of the UK volunteers. 
Now, almost a month in, we have made excellent progress in most aspects of the project. Despite the language barrier that posed a few difficulties, particularly at the start, we are now all able to work well together, sharing ideas and listening to one another's opinions. Each volunteer plays an equally significant role in the development and progression of the project, which makes the hard work much more enjoyable and rewarding, for example during the survey work. We set out in small groups to three different rural communities: Jocote, Pochote and Nandayuri, to learn first-hand about people's access to drinking water, the quality of the water, sanitation systems and the possibility of installing eco-latrines.
Firstly we conversed in groups and shared thoughts on the most important subjects to address within the communities, and then we created the surveys, which included a leaflet providing information on eco-latrines. After three days of surveying we had collected data from over 100 houses. We have now collated the results and are ready to conduct further research to determine the logistics of installing ecolatrines.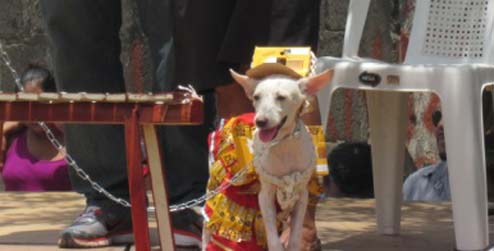 A dog dressed in cardboard is paraded on stage at San Lazero celebrations
Alongside the research on water and latrines, we are also in the process of constructing a new classroom for the school in Monimbo. It is progressing fast and every volunteer is eager to have it finished as soon as possible so we have time to paint a mural on one of its walls.
Aside from the work, we do of course have some time to relax and unwind. During Semana Santa, when the streets were lined with alfombras pasionarias, or passion carpets, and figures of Jesus Christ were carried through the streets each day, we took time to reflect and recuperate. We even managed a day trip to a small island just off Granada, a short distance from the crowds of local people enjoying the beach during their vacations.
We are now looking forward to beginning our supplementary projects that so far include providing classes for children in art, languages and dental hygiene, creating rubbish bins from recycled bottles and starting up a reforestation project, as suggested by the Mayor of Monimbo.
Written by ICS volunteer Fae Krakowska