In a town like the one we are volunteering in, where there are multiple issues including such simple problems as access to a continuous water supply all year round or adequate security from health threats such as Chaga bugs or Dengue fever, I wasn't expecting the environment to be a particularly high on the agenda here.
But then again, saving the environment doesn't have to focus on polar ice caps. For example what about health and the impact burning plastics has on the environment we live in now? Or the financial possibilities presented by reusing and recycling materials? Surely saving money, particularly in the current climate, is a common issue for everyone throughout the world. Or pride in your town, the place you live in and the impression it creates on people coming to visit your community? I have come to understand that it is for reasons like this that we found such enthusiasm and interest in environmental issues here.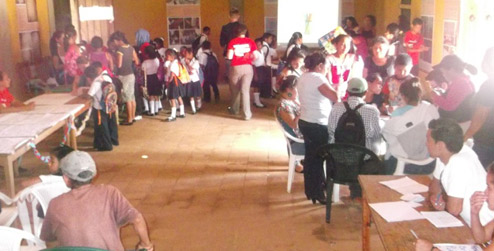 Our first workshop looking at the various types of recycling, the impact on the environment and the possible alternatives went really well. We followed this up a week later with an interactive fair on just some of the millions of possibilities for recycling rubbish.
Stalls included a health information stand, details on recycling facilities in the area, a composting information stand and also an arts and craft area for people to get really stuck in. Over 80 people in the town showed up to participate including two local school groups so it wasn't long before there was plenty of hustle and bustle in the room.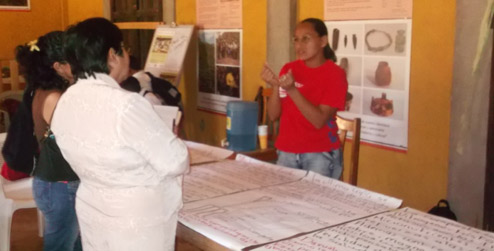 We even had a local enthusiast in the form of Marta, a lady who uses recycled materials to make clothes and during the fair she fashioned a fantastic skirt out of old crisp packets!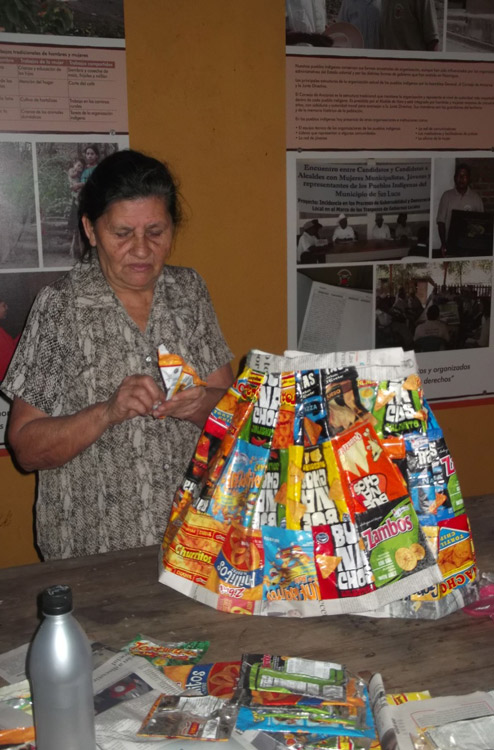 It was a really good event and everyone was incredibly pleased with the turn out and participation from such a broad demographic of people within the town. 
But for me the day was more about the potential for wider impact that events like this have in developing nations. Kids with paint all over their hands, women getting practical tips on composting in their own back garden and guys using old magazines to make wallets – not exactly revolutionary stuff I hear you say but the point is it doesn't need to be! Purely sparking the imagination of the younger generation or providing the information on realistic opportunities to people in the community is essential in changing attitudes, culture and ultimately the actions of people within these communities.
And it was these messages that we wanted to get across during the short workshop….and from the enthusiasm of those who attended and the feedback from people on the day I think I'm fairly confident in saying that we managed it!
---
Progressio ICS volunteer Gemma Blakey blogs from Nicaragua on artisan workshops and the environment