In your final year at university you can be forgiven for thinking that if you don't want to apply for a graduate scheme at a huge accounting company, law firm or insurance company then there's not much else for you. Such is the ubiquity of recruitment fairs put on by these organisations and the constant reminders by staff and university-generated emails that you should be applying for graduate schemes well before you graduate, it can all be a bit depressing if that's not really what you want to do. I've written this blog to provide soon-to-be graduates with an alternative to think about.
Many choose to put off embarking on a career by going on a post-university gap year and travelling the world but that's often not possible considering just how penniless and debt-ridden most students find themselves at the end of 3-5 years of higher education. So, what then? Well if you're keen on seeing a bit more of the world, meeting other young like-minded people, doing something that doesn't cost thousands of pounds and - perhaps most importantly - something worthwhile, why not volunteer? I'm not talking about the misguided and often damaging industry that is voluntourism. What I am suggesting, if you're looking for a challenge a million miles from writing essays or studying tax, is to consider the International Citizen Service (ICS), a government-funded programme aimed at 18-25 year olds. Before I go on, I should make clear that ICS is not for everyone. If you're looking for a nice relaxing holiday abroad after your hard work studying for a degree then you should look elsewhere. But, if you like the sound of spending 2-3 challenging months abroad, working to help improve the lives of some of the poorest people in the world while picking up valuable life skills, then you should certainly give it some thought.
I applied for ICS during my final exams at university, went to the assessment day in the summer, and got on the plane to Honduras in September. It was a very rewarding experience that I'm extremely glad I took part in and, amazingly, it didn't cost me a penny. Since the programme aims not to exclude anybody on grounds of cost, it's completely free to take part for each volunteer. There is a slight catch though; all volunteers must raise at least £800 for the charity they're paired with. Fundraising, however, is an important part of the ICS process, and shows not only that you're committed to the programme but gives you the chance to let your friends and family know what you'll be doing abroad. It can also be fun, you're given a lot of support with it, and it's even an impressive bullet point you can add to your CV.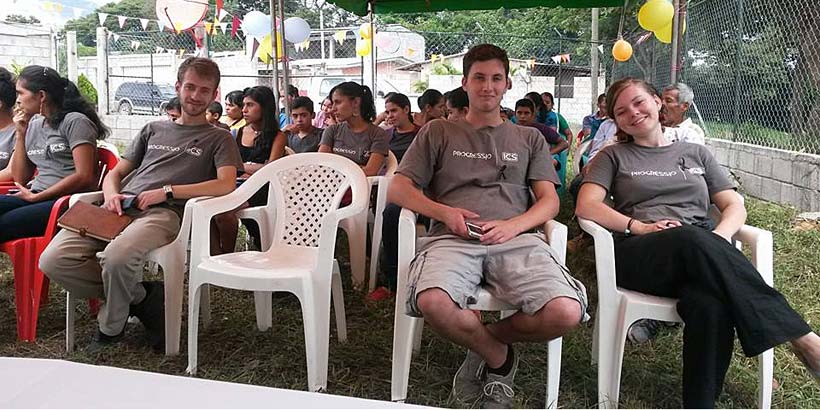 ICS is partnered with several charities that run projects across Latin America, Africa and Asia. In my application I expressed a preference for Latin America (as I studied Spanish at university) and I was paired with the charity Progressio and placed in Honduras, one of the poorest countries in Central America, on a project that focussed on promoting environmental sustainability. Our job was to help encourage and facilitate organic farming and self-sufficiency and warn against contamination and deforestation. Working alongside other young UK and Honduran volunteers and in partnership with local charity Red Comal, which is well established in the area, I found myself farming coffee, producing organic fertilisers for farmers, and raising awareness of environmental issues through painting murals and even a weekly radio show broadcast to thousands of people. The next cycle of ICS volunteers that arrived in our community carried on from where we left off. This continuity enables the projects to have a real, long-lasting effect.
As the 'language speaker' of our group, I was responsible for translating and interpreting between English and Spanish for the group on a daily basis, as well as helping the other UK volunteers to learn Spanish. Of course, knowing a language is not a requirement on any of the ICS's projects but if you want to improve your skills in a certain language or even pick one up from scratch, there are few better ways to do so. If you're ever worried that volunteering abroad might damage your career prospects, I can assure you that the opposite is the case. Leadership, teamwork, initiative and adaptability are just a few of the dozens of requirements you see in job descriptions for graduates and ICS is one of the most rewarding and exciting ways I can think of achieving them. But most importantly, it's an experience you can look back on positively, knowing that your time abroad, however brief, contributed to improving the lives of a small community in a far corner of the world. Or just become an accountant in Reading, up to you.
Written by ICS returned volunteer Jolyon Hedges (Gracias, Honduras, Oct-Dec 2014)