Our two day cultural exchange experience took place in Kariyangwe, a small town 50km outside of Binga central. The lush green covered mountains supported the reality that we are immersed in Zimbabwe as we travelled over bouncy, degraded dirt roads.
Warm smiles and an open hand awaited us as we arrived in the early hours to our home for the next two days. Our host family proudly own a rather modern homestead, with a concrete house, electricity, a tap and also two mud huts.
UK volunteers soon found themselves exchanging cultural practises; whilst the girls were shown how to pound maize, the boys successfully herded cows and chopped fire wood in order to get lunch started. Practical lessons on how to cook Sadza were delivered over the fire inside one of the huts, the smoke escaped through the thatched roof and small window in the rounded wall.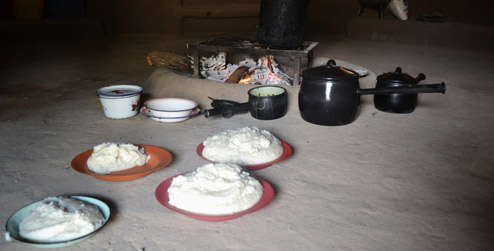 In Tonga culture, men are strictly kept out of the kitchen whilst the women prepare; they wait patiently on small wooden stools for women to serve food on their knees. The women gather on the floor to share food from the same plate, cautious of the hot relish as they dip in their warm sadza using one hand. 
In the afternoon, we made our 5km walk to Kariyangwe High School. The Minister of Education and local volunteers gathered together to meet us and exchange experiences. We walked the school grounds observing the work of painters, builders, carpenters and cleaners, whom were all extremely proud.  With a crowd of 40 young people present, we took this opportunity to educate on HIV/AIDS and implemented team activities to highlight self-respect and to encourage volunteering work. As the sun lowered in the sky, we initiated feedback from the group. We all felt moved to hear that our afternoon involvement with the people of Kariyangwe galvanised and encouraged them to continue their volunteering, despite judgement received from others.
On our return, it was time to collect some water - for Kelly, a UK volunteer, it was just a 2km walk carrying 12 litres on her head; usually the women of Zimbabwe, walk up to 20km a day, often more than once, with a baby strapped to their back, and with 25ltrs balanced on their head.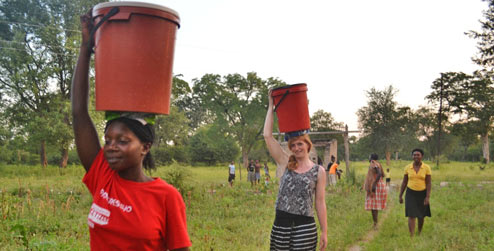 Sunday
An early start ensured a meeting with the Kariyangwe chief before his busy schedule began. We all stood for the entrance of a not-yet middle aged man, smartly dressed in a grey suit, polished shoes with a phone grasped in one hand. Greetings must not commence unless the chief holds his hand out to you, which he gladly did for us all. Pleased of our presence and satisfied with our intentions, he sent us on our way to volunteer at the Kariyangwe Mission Hospital.
For the duration of the morning, split into two groups of boys and girls, we assisted in jobs around the ward. The boys remained outside, slashing vegetation to make way for a new staff housing block, as the girls changed beds, cleaned cupboards and rearranged mosquito nets. The sister of the hospital was very accommodating and seemed pleased with our pace of work.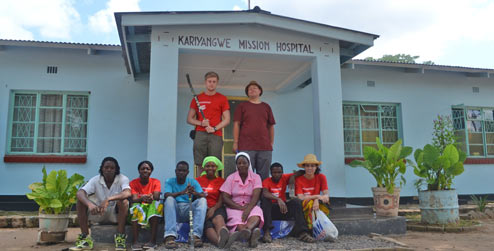 We enjoyed another Zimbabwean lunch before we departed from Kariyangwe, thanking our host family greatly for their hospitality. It is safe to say that we all learnt many new things about the Tonga culture and enjoyed swapping stories on life in general. A phone call from the Chief to the Basilwizi office encouraging our return is both positive and exciting for future volunteer work.
---
By UK volunteer Kelly Diggle
Photo 1: UK volunteer Michael initiating the water bucket game whereby a small group must hold it up with their feet. They take it in turns to put on their shoes; working together to ensure the water does not spill to build teamwork, respect and communication
Photo 2: Freshly cooked Sadza: A Zimbabwean staple food largely made up of Maize, commonly served with Okra, a local green vegetable which is boiled down and used as a relish.
Photo 3: Katrine shows Kelly how to carry water on her head correctly.
Photo 4: The team at the hospital. L-R Richard, Karine, Skinny, Linda, Sister, Fact and Rosanna. Back row: Michael and Aaron.