We arrived in Kariyangwe early on Wednesday morning; it was already over 30 degrees. Our partner organisation had arranged for us to meet two local residents, Enia and Jairos, who were HIV positive. Given it was them who were to be asked questions on how they came to catch the condition and then live with it, I was nervous. This would be the first time I had met anyone who was HIV positive and willing to discuss it – I needn't have worried. The meeting lasted just under an hour and both Enia and Jairos told their stories with dignity, openness and humour.
Enia was tested for HIV in 2006 after her husband fell ill and she noticed what she described as 'pimples' appearing on her cheeks. The results confirmed she was HIV positive. Enia's heartache did not end there, in 2008 her husband of 30 years sadly passed away. When asked on how she thought she contracted the virus, Enia fought back the tears and explained her husband 'worked away in a mining town, where there were lots of women'. Left with four children, thankfully all negative, she struggles to send them to school even though she has retrained in craftwork. Seeking assistance she found her local support group and there she found a sanctuary, a place to feel free. Enia now balances being a full time mother to four children, with the making crafts in order to earn a living. On top of this, she actively manages the treatment of her condition and now plays a key role in her support group in teaching and encouraging people to get tested. 
Jairos lives in Chirungo Village in the remote district of Binga, Zimbabwe. He was tested for HIV in 2006 when he noticed that his wife, pregnant with their first child, was sick. Jairos was diagnosed as HIV positive. Tragically, this is a fairly typical story in Zimbabwe where the prevalence of the deadly condition is around 15% - what isn't typical however, is what Jairos did after his diagnosis. Understandably distraught he sought help, turning to his local support group where, like Enia, he found a sanctuary. Fast-forward to 2012 and Jairos is now Chair of his own support group, where members as young as 24 come to share worries about their treatments, jobs and families.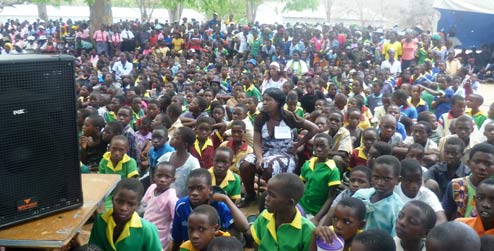 To share their stories with three strangers from the UK takes a strength of character and level of courage I'm not sure I could muster. What Enia and Jairos did next was truly remarkable and something that will remain with me for a long time. They agreed to join us for our presentation surrounding HIV/AIDs at Shangano Arts festival, in front of a mere 3000 people!
We were allocated a slot on stage just after the local Chief had officially opened the festival – no pressure then! This was the largest crowd I had ever spoken in front of and as were walked up onto the stage the butterflies in my stomach were starting to flutter – until I felt a hand rest on my shoulder, it was Jairos. He leant over and whispered, "Don't be nervous, you'll be fine". And he was right, largely due to the passion and skill in which both he and Enia delivered their testimonies.
As I wandered down the steps from the stage after I presentation, I was sure that both Enia and Jairos had the same impact on the crowd that they have made on me.
---
Progressio ICS volunteer Liam Smith writes from Binga, Zimbabwe
Photos 1: UK volunteers Liam, Rachel and Dan with Jairos and Enia
Photo 2: The audience at Shangano Arts Festival