Joining the efforts of DOMCCP, our partner organisation, in reaching marginalised people we have begun a youth group for Out-Of-School youths. This group was formed to engage these youths in positive activities; building their confidence and inspiring them to be active in their communities. Youth unemployment is high throughout the country of Zimbabwe and it is very easy to overlook young people who may have drifted from school and have not achieved much success academically, however it is crucial that these young people are not forgotten. An unemployed young person is particularly vulnerable to becoming demotivated; losing confidence and hope for the future. 
Each week a group of 16 young men come together at Regina Mission to attend a youth group which they self-named 'New Vision'. We have developed sessions to engage the youths in important issues that affect them.  The sessions have covered volunteerism, leadership and drug abuse so far and Sexual Reproductive Health, Waste Management, Income Generating Projects and Conservation Farming are still to come. Already it has been encouraging to see a few of the youth volunteering in the local hospital after our session on volunteerism. Each session has aimed to be interactive and involve teamwork thus building great group dynamics and building confidence within the group.The sessions have also been an opportunity for the young men to meet people in a similar situation to them and to make new friends.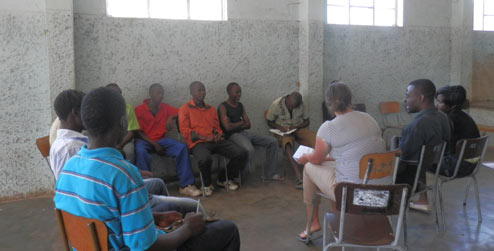 The youth have been fully engaged  throughout the sessions, taking part in discussions, challenges and games. They have been asking questions on anything they do not understand and they are keen to learn more. Each session is held in English and Shona as a group of six volunteers comprised of three international British volunteers and three Zimbabwean national volunteers assisting and discussing with them. This adds to the sessions as the young people gain an insight into culture in the UK and they are able to practice their English and grow in confidence in this area.
Overall, the sessions are making a positive impact and successfully engaging these young men. Ultimately we hope to empower them to come up with their own income-generating project and inspire them to seek out creative ways to generate an income and set themselves goals for their future.
---
Blog written by UK volunteer Esther Jannetta 
Photo 1: Team building exercise
Photo 2: Drug Abuse session