The belated 2012 Binga District WORLD AIDS DAY, Lubimbi, February 28th 2013. Ntengwe, the organisation that we work with here in Binga, Zimbabwe, had a 5 minute slot in the day's timetable, and it was up to us to fill it. The tent was full of stakeholders and was set up on the edge of the sports field, looking across the running track, where perhaps 1000 people sat, knelt and stood in the trees watching the events. 
5 minutes in front of 1000 children, youths and adults - a great platform to present something about HIV/AIDS in front of a lot of people at a prestigious event. Something new, something educational. Something entertaining. Something to discuss the issues of a disease so socially complex, so ingrained in a society and so well-known in a way that will get people to remember it.
It's difficult to present a topic in a new way. HIV/AIDS has been well-documented and well taught in Zimbabwe over the last few years. With one of the highest literacy rates in all of Africa, the information is readily absorbed. The difficulty has been for absorption of the information for use in real contexts - HIV isn't passed on in a classroom; it's passed on by people in real situations - unprotected sex, mostly. So we have to put the information across in a social context. People know how you get the virus but don't know what it can do after contraction - to friends, family and relationships.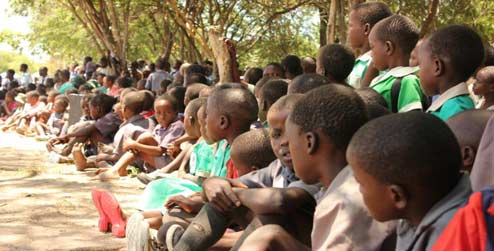 Caitlin, one of the UK volunteer, wrote a poem saga comprised of seven characters. Viola - the lead, character started the poem, as she learned of her new HIV positive status. In turn, different characters spoke of their experience now that Viola had become positive - her brother, her mother, her doctor, her best friend, her boyfriend, her lover. Each character had been impacted by the disease, despite not having the disease themselves, from the anger and betrayal felt by the boyfriend, to the guilt of the lover and the bullying of the younger brother. Viola's situation wasn't about just herself alone; but impacted on everyone in her social network.
By talking to people about the extended social consequences of HIV, people become to respect that the disease is not just a personal one - if they become HIV positive, their loved ones are impacted too. It also brings the disease out of the classroom and into people's lives. We all had a part to play in the poem, like we all have a part in this disease. HIV/AIDS - my responsibility, your responsibility.
---
By Progressio ICS UK volunteer Peter Jones
Photo 1: The volunteers read out Viola's Saga at 
Photo 2: Some of the younger audience members at World AIDS Day