Setting the scene: People begin to arrive at Lubimbi primary school as the stakeholders take their place under the canvas.
Opening event: Students of Lubimbi primary and secondary march the grounds.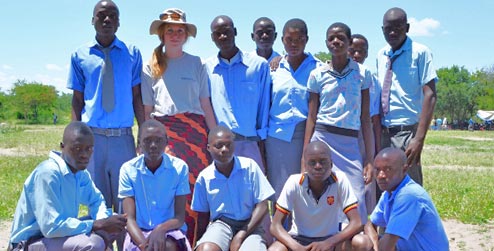 Snap happy: UK volunteer Kelly spends time with Lubimbi high Media club teaching them how to use a digital camera.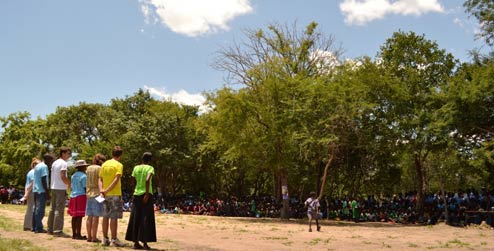 Ntengwe: Banner is displayed as they deliver their HIV based poem to the crowd of around 1,500.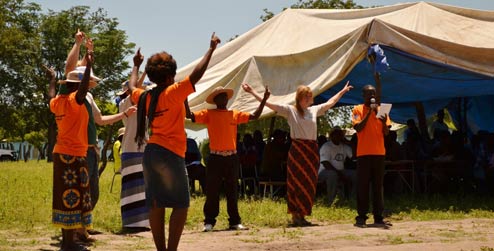 Performance by Basilwizi volunteers:
GET TO ZERO MY RESPONSIBILITY YOUR RESPONSIBILITY
Have you ever heard about GETTING TO ZERO?
If not, getting to zero is all about zero new HIV
Infections, zero related HIV deaths and zero related
HIV discrimination 
To achieve this, is my responsibility and 
Your responsibility
Boys and girls, fathers and mothers
Let's come together and sing the
Song of getting to zero.
Constant use of condoms;
Let it be a norm and value of our daily basis.
Then, view this as my responsibility
And your responsibility
Know your status, get tested now
For the knowhow of your life
If we can, then getting to zero is possible
And there will be no new HIV infections.
Let it be my responsibility and your 
Responsibility
Practise faithfulness to your one beloved partner.
Stay away from the spirit of unsatisfactory,
For zero new HIV infections, this is my responsibility
And your responsibility
Youths and the unmarried ones you are at risk
And you are the calculated victims of this endemic
And pandemic disease, so to stay safe practise
Abstinence to its maximum capacities in order to 
Have no new HIV infection.
Let it be my responsibility and your responsibility.
Socialisation with people living with HIV should
Be part and parcel of our daily lives.
Let us include them in all our community activities.
They are as good as anyone else in the country.
Remember discrimination is a weapon of mass destruction.
Let us fight tirelessly against it, so getting to zero HIV related
Discrimination is my responsibility and your responsibility.
If we can follow the said information, then we will have
Zero HIV related deaths, zero new HIV infections
And zero HIV related discrimination, 
Being engineered by my responsibility and your responsibility.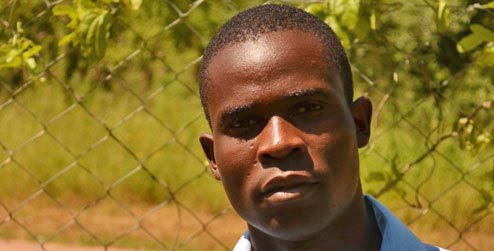 Skinny. V. Mwiinde.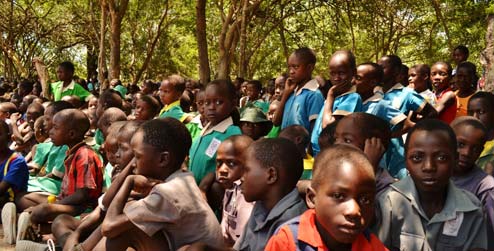 Children watch and listen intently to the entertainment of the day.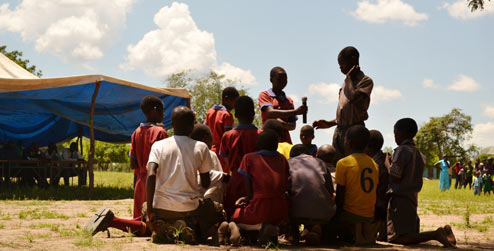 Getting to zero, my responsibility and your responsibility: Students perform a drama to address this very important message (above). Youths use song to deliver the same theme to the stakeholders (below).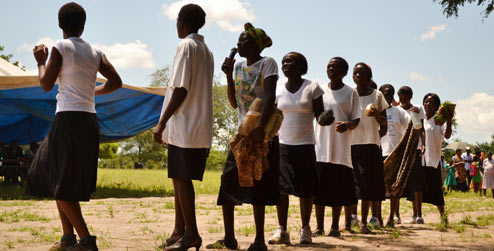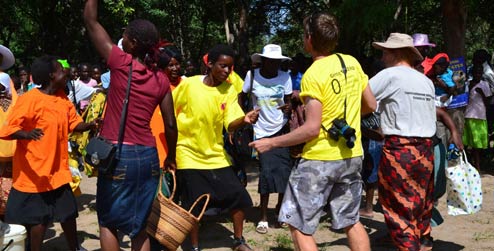 Winding down: Basilwizi volunteer Kelly and Ntengwe volunteer Peter join in the fun, dancing with national women as World AIDS day comes to an end.  
---
By Kelly M Diggle and Skinny Mwiinde