World AIDS Day was an absolute success. The atmosphere and support were incredible. I haven't felt this great since the triumph of our last community event! It went down a storm and we could not be more proud, so now it is time for us to take to our keyboards and tell you all about it. It is a tale of tribulation and triumph that we blush at telling ourselves but, seeing as there's no one else, here we go.
We've had 1 December on our calendar since week one. Many times have we gestured towards the grand 12 week chart on our office wall and made some reference to 'our biggest event'. The formation of cunning plans began weeks in advance and last Tuesday the day finally came. 
We arrived early at the office in the morning and loaded up cars and kombis before driving off to the farm, enjoying the use of the newly repaired road along the way (thank you very much). We were a bit delayed in getting going, so as soon as the car was unloaded, Frank and Carlton went tearing off to town to collect our guest speakers, the mobile testing unit and 200 plates of sadza and chicken or beef. This was eventually accomplished in three trips to and from town, for which we must thank the hard work of our brilliantly persistent and skilful driver!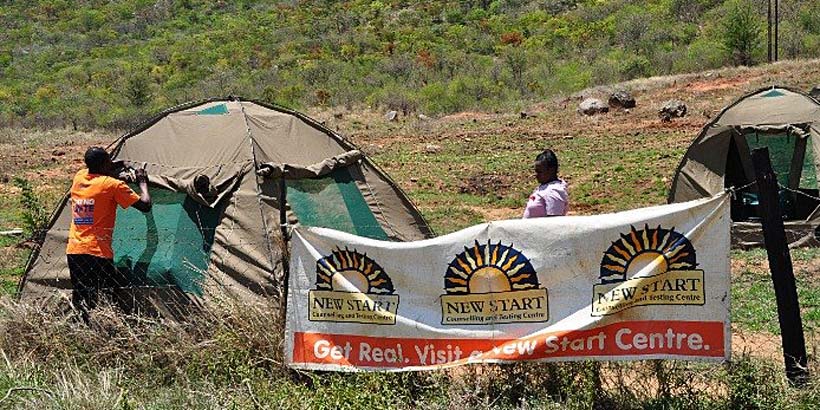 Action stations at the mobile testing unit
The day continued with us getting to site and setting up, making sure everything was ship shaped. A feature of the event with which we were particularly pleased was the mobile testing centre provided for the day by the New Start Centre.  There were also another two guest speakers from the National AIDS Council and the Legal Resources Foundation, who covered topics relating to the HIV sessions we deliver at the farm, such as child protection, gender issues, law and stigma surrounding HIV, etc. 
We spread the speeches out between bouts of singing. After nearly three months out here in Zimbabwe, the passion and enthusiasm with which the locals throw themselves into every song continues to amaze us. We sang for them, they sang for us and then we taught them a traditional English dance… Of course, that isn't - strictly speaking - true as none of us knew any traditional English dances and we used the Cha Cha Slide at our last event, so we settled on that grand old traditional piece that is The Macarena.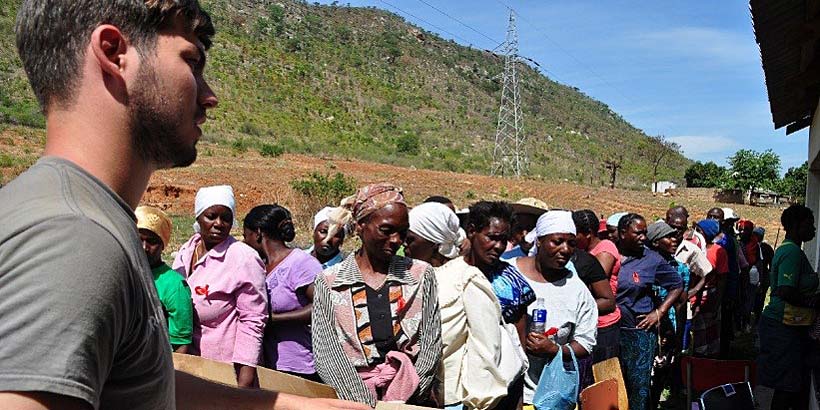 Shaun serves lunch
After the speakers, it was time to serve lunch. After the morning's mixed lessons and festivities, everyone was ready for a hot meal so it was sadza and chicken or beef for everyone! The biggest drain on our budget turned out to be money very well spent. Nothing went to waste and a fine time was had by all.
Then after lunch, the crisis struck. A large crisis. In fact, if you've got a moment, it was a twelve story crisis with a magnificent entrance hall and an enormous sign on the roof saying "This is a large crisis!"… In retrospect, I may have just hyped it up a bit too much. Janel was bitten on her ankle by a dog and had to be taken to hospital to be patched up. But she was up and about by the end of the day, so no serious harm done.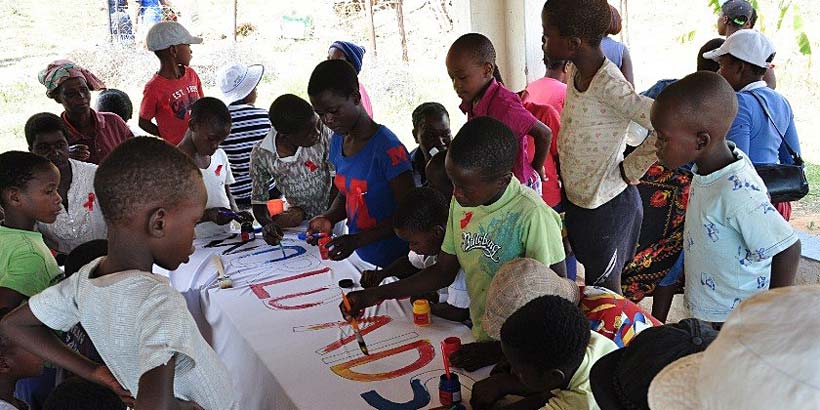 Painters a-painting
So, despite our being a 'man down', we soldiered on. The mobile testing unit opened and we were pleased to see the long queue that formed outside it. We also introduced the 'Ribbon Tree' a small wooden construction onto which everyone was invited to tie messages of memorial and hope, a heart-warming centrepiece for the afternoon. We also got the kids involved painting a huge banner with the words 'World AIDS Day '15'. They were hesitant at first but as soon as we made a start there was no stopping them and soon we found ourselves in possession of the greatest work of art since Mona Lisa sat down and told Leonardo DaVinci she was in a slightly odd mood.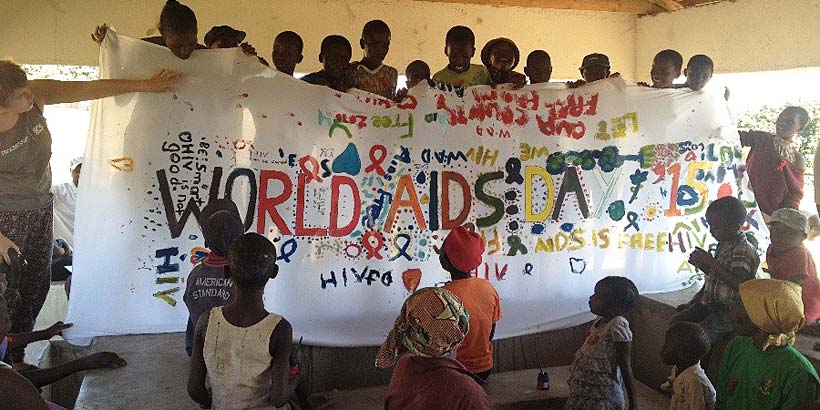 The finished article
The event wound down at about three o'clock as the paints ran out and the queue at the testing unit dwindled. We packed up and head for home, tired, a little sunburnt and full of the feeling of a job well done. This, we all agreed, was what we have came out here to do. To make life better for people, both by singing and dancing with them until our throats are soar, and by striking a sturdy blow against the transmission of HIV. Not bad for a day's work. 
Written by ICS Team Caritas