Progressio's development worker Paloma Martinez works with FUNCAR-Centro Puente in the northern border region of the Dominican Republic. Read her update on how AYIKA are building relationships between Haitians and Dominicans, and raising questions about gender, through dance.  
Since their first performance marking International Women's Day in 2010, dance group AYIKA has grown in numbers and in strength. But you might ask, what has a dance group got to do with development?
AYIKA's debut performance dealt with the question of how men and women share doing the chores at home. The dance struck a chord with its audiences and was so well received that it was decided that the performers would form a group – AYIKA.
The name 'AYIKA' is a mix up of the Creole names of the cultures that the group members belong to and draw on for inspiration – 'AYITI' (Haiti) and 'AFRIKA' (Africa). The group is part of a wider project aimed at promoting Dominican and Haitian women in the northern border regions of Dominican Republic. The project aim is to empower working women in the border region, particularly market sellers and domestic workers. 
"The group has various aims," explains Paloma Martinez, a Progressio development worker and specialist in institutional strengthening working with the Foundation for Cultural Exchange between Caribbean People (FUNCAR-Centro Puente). "One is to promote culture, especially Haitian culture, because through dance it is possible to draw near to this culture, their ways of dressing, their dances, their music… their people. It allows the unknown to become known, become familiarn and at the same time dance can also be used as a way to raise concerns about social issues."
Since its beginnings, AYIKA has taken part in various events, both in Wanament (Haiti) and in the Dominican Republic, and has even made a name for itself at the Dajabón Bi-national Carnival.
Over the past three years, AYIKA have been training and expanding their repertoire to include Haitian dances (compas, vudú, yanvalou), Latin American dances (merengue, bachata, salsa, cha-cha-cha), as well as theatrical and sung acts.
The group started with just 7 people (men and women) of Haitian nationality. It now consists of 26 dancers and instrumentalists (all Haitians).
"AYIKA also aims to deconstruct myths and beliefs that have a negative affect on relationships between Dominicans and Haitians. Having mutual understanding allows us to do this and it is one of the tasks that AYIKA has decided to address," says Paloma.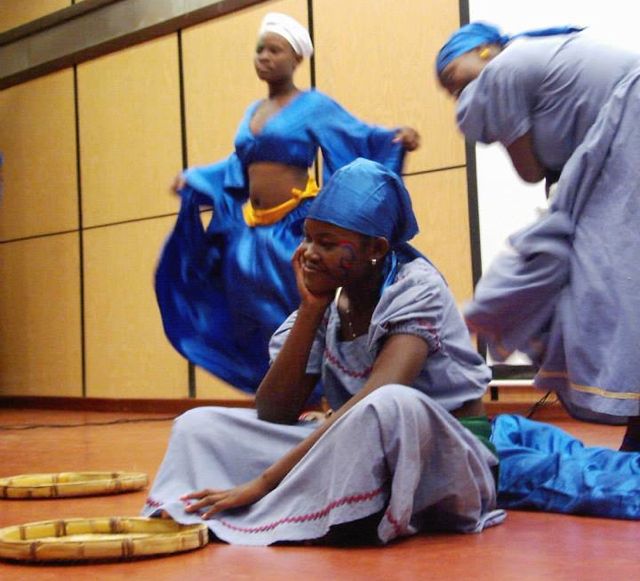 ---
Photos: Members of the AYIKA dance group perform.