"Life can be good living here, but we have many struggles. We depend on farming, but we don't always have good harvests, and our produce does not always sell well. The area is very remote and it is difficult to transport produce to the markets."
So says Ana Rita Abreu, who has been living and farming in Restauración, with her husband Federico de los Santos (known as Victor), for nearly 20 years. But now they are seeing improvements, with help from Progressio development worker Bernardo Lopez, and partner organisation Solidaridad Fronteriza.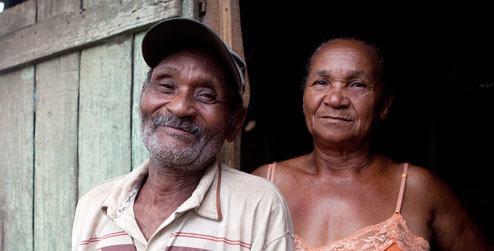 Bernardo and his colleague from Solidaridad Fronteriza, Oscar Recio, have provided training, advice and inputs such as tools and seeds, for Ana Rita and Victor's small food garden on a plot near their home.
"Before we had this technical advice, we used to plant without planning," says Ana Rita. "So before we could harvest the crops, many fruits or vegetables were lost or damaged. But with better technical advice, better use of seeds, better fertiliser, that's not the case now. We've got better food, and we know what to eat to be healthy."
In the home, they have also benefited from an eco-stove, which reduces smoke pollution and uses less firewood. "It allows you to cook more comfortably, and spend less money and time buying or collecting firewood," says Ana Rita.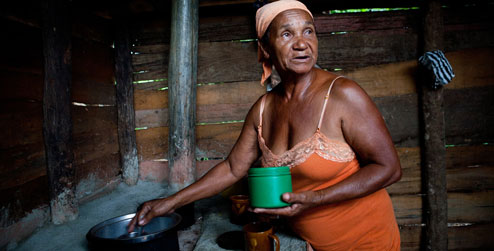 Victor and Ana Rita are also working in the community, as members of UNAPROBOSQUE (the union of forest producer groups). Along with 12 other people from the neighbourhood, they are collectively restoring parcels of land by planting coffee and fruit trees such as lemon and mango, and producing organic fertilisers for shared and individual use. "It is a work of union and solidarity," says Ana Rita.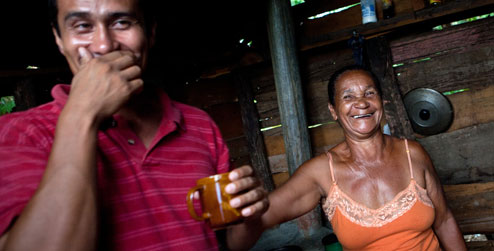 Life is better now, both for individual families, and the community as a whole, says Bernardo (above left): "Our aim is to work alongside people so that they can farm sustainably, achieve food security, increase their income from selling their produce, and improve the quality of life for themselves and their families."
---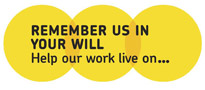 Every days, people do extraordinary things. They share their skills with their community, they overcome poverty and injustice. Ana Rita is one of them, a living legend.
You can be a living legend too. After taking care of loved ones, would you consider leaving a gift to charity in your will so that people like Bernardo can continue to train living legends like Ana Rita? Find out more.
Photos © Fran Afonso/Progressio

Read more stories from our food security project
Return to Food for a better future home page