Getting access to enough water to meet all their needs, from washing and cooking to irrigating land, can be a challenge for many people in the communities of Lamine and Gens de Nantes, on the Haitian side of the border with the Dominican Republic.
Progressio development workers Gabriel, Karina and Bernardo have been working with local families in this area to improve their farming techniques and introduce a wider variety of nutritious food, but water remains a challenge.
Positive improvements
"Later this month," development worker Gabriel Petit-Homme says, "we will begin building a new cistern in Lamine as the next step in the food security project. It will be able to hold 100 cubic metres of rain water and local people will be paid to help install it."
Since working with Gabriel and our partner organisation Solidarite Fwontalye, people living in these communities say they have seen some really positive improvements.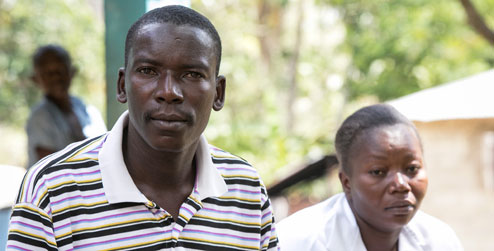 "We have noticed a lot of good changes since Solidarite Fwontalye came to work with us," says Christemene Desrivieres (above right), who lives in Gens des Nantes with her husband (above left) and 4 children.
"Rural development workers give the people a voice and constant support. People have learnt new farming techniques and received tools and seeds to grow more varied crops."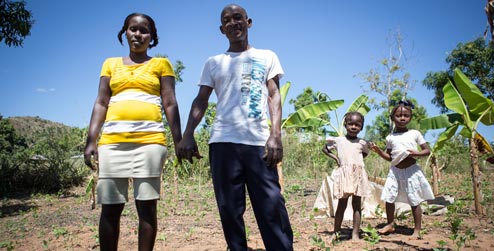 Mimose and Elismar (above with two of their children) who live in Lamine, explain that, "Since working with Solidarite Fwontalye we are able to grow more food as we received seeds, tools and training on new agricultural methods.
"Then we have been able to sell extra crops to the cassava factory to be processed into bread sold in Cap Haitien."
The need for irrigation
These are all important steps toward achieving food security for those living on the border of Haiti and the Dominican Republic, but there is still a lot of work to be done.
"In the future we would like everyone to have well irrigated plots of land, just like our neighbour who is now able to grow a lot of rice," Elismar says, nodding toward a plot of land over the road. "We are happy for her but everyone should have same opportunity."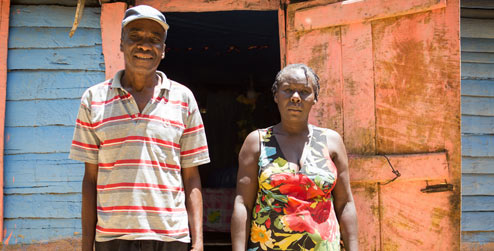 "We are hopeful for the future, with the support of Solidarite Fwontalye and the knowledge, skills and techniques they have shared," says Pierre Magloire (above, with his wife Clairevena), living in Lamine; "but we are still concerned about accessing enough water."
The roads from Ounaminthe, the main border town in the north-east of Haiti, are long, rocky and isolated, crossing through streams and climbing steep hills, but Gabriel smiles all the way, singing along to the radio, and says, "The local people are working so hard, it gives me the motivation I need to make this journey every time."
What we have achieved
The food security project is going from strength to strength and the people living in Gens de Nantes and Lamine are extremely engaged in the work the Progressio team are contributing to. Passing by each house there are examples of healthy vegetable gardens and soil conserving ridges in the larger fields that help to stem the flow of heavy rain water.
---

Read more stories from our food security project
Return to Food for a better future home page
Photo at top: Elismar in his field. All photos © Fran Afonso/Progressio