Our Food for a better future project ended in December 2013. Thank you so much for your support – here's my final report on my work with the communities of Lamine and Gens de Nantes in Haiti.
I believe the people of Lamine and Gens de Nantes are really satisfied with the support they received from Solidarite Fwontalye, Progressio and also through my contributions, which brought many benefits to them.
Improved knowledge
There are benefits at the level of knowledge that can serve as a base for future livelihoods, in order to help their families, such as in the case of monitors and agro-forestry brigades, veterinary promoters and trained beneficiaries in (plant) grafting techniques.
There are other benefits in kind, in terms of improvements of income-generating sources, such as payment for their labour during the construction of retaining walls; creation of the cassava factory, water storage and irrigation systems; forest and fruit tree nurseries; improved goats and vegetable gardens.
Increased income
All these activities provided an opportunity to increase family incomes which contributed to savings or investments in their homes and other expenditure such as for schooling or health.
Although the resources provided were limited, a change can be noticed in these communities, in particular in the attitude and aptitude of the people regarding the implementation of new practices in their daily activities.
Final activities before ending the project
We constructed a water storage system in Lamine (Vosanges). The impluvio has a tank with a capacity of 120 m3, for the storage of rainwater and irrigation of vegetable plots during the dry season. In this activity 189 beneficiaries participated, with benefits for 89 men and 97 women who also received payment for their work during the construction (transport of sand, stones, water, cement and other activities during the construction), providing an additional income for these families.
In addition we constructed an irrigation system fed by the constructed storage system to irrigate about 0.3 ha of arable land. This irrigation system is based on gravity and has 5 water tanks which can be filled for manual irrigation sprinklers. The system is irrigating a demonstration plot for vegetables and other plots in close proximity.
We multiplied the training on the protection and conservation of soil and water and agro-forestry for monitors of the agro-forestry brigades through "Kombits". We conducted 31 multiplication sessions in Lamine and Gens de Nantes with the participation of 15 to 16 people per session. The conservation methods are focused on biomechanical approaches to counter the effects of erosion and also recover and improve the quality of soil and water. Plots have been recovered and preserved with fruit and forest trees according to agroforestry norms; however the irrigation is still made in a rudimentary way, as irrigation systems are missing. In this activity 486 beneficiaries have been involved, 234 in Gens de Nantes (120 women, 114 men) and 252 in Lamine (108 women, 144 men). The total area of preserved plots covers 58001.5 m2 (5.8 has) with an average size of 240 m2 of family plots preserved. For the sustainability of this recovery and conservation work, the trained agroforestry brigades will give support and monitoring to farmers of Gens de Nantes and Lamine, in order to keep implementing agroforestry practices, including soil protection and conservation within agricultural production. This work is done through the traditional "Kombit" based on mutual support and solidarity.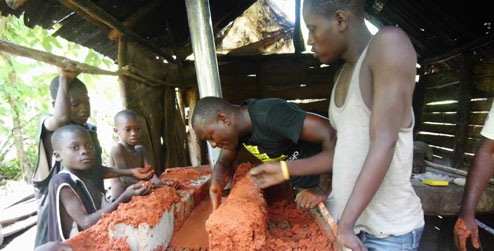 We constructed 12 eco-stoves, 7 in Gens de Nantes and 5 in Lamine as models for the multiplication through trained beneficiaries. This activity unfortunately was not as successful as expected. The difficulties were linked to the mixture of sand, water and mud that does not stick after drying and the constructed stoves had superficial damages in their use. To mitigate this problem, we received support from another team of a local partner organization in the centre of Haiti, which showed us another model of eco-kitchens with a different mixture.
We supported another 24 families with the creation of 24 small family gardens, 15 in Lamine and 9 in Gens de Nantes, with an average size of 200m2 for production of tomato, cabbage, carrot, eggplant, spinach and beets. However, only a small number of beneficiary families also received support with seeds, as not all had prepared the gardens for seeding. Their expectation was that the project team would do all the work. In mitigation, however, it was not the best season to start with vegetable production, as water for irrigation is still a problem in this area and the stored or available water is limited.
We kept accompanying and monitoring the production of cassava bread and starch in the cassava factory in Gens de Nantes. We provided a last reinforcement training workshop of 5 days based on management, accounting, and handling of cassava processing equipment and processing of cassava, as well as marketing of products of the cassava factory. Within this workshop we received support by three external consultants. The training was provided to 13 participants, 10 men and 3 women who are currently managing the cassava factory. This workshop was a strategy to enable the cassava factory to have a fund available to continue activities of buying and selling services. The community and the management structure of the factory achieved to make GHT 100,000.00 available for the production of cassava products. We achieved one of the goals we set ourselves, to make the cassava factory a company for selling and buying services, and the production of manioc increased significantly, contributing in different ways to the development of the community.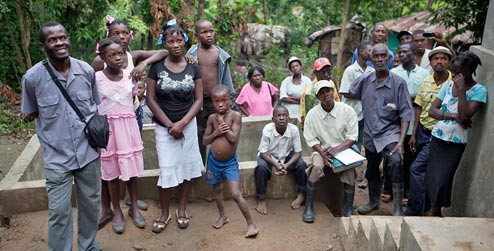 General conclusions on my work as a Progressio development worker in the northern border of Haiti
During my three years at Solidarite Fwontalye, I can see that I have been able to transfer knowledge and skills to the local team of the organization, my direct colleagues and the associated community-based organizations and final beneficiaries. In the course of my second year, I noticed many changes in the way of working and performing certain activities of the organization and certain colleagues. Regarding final beneficiaries, it was very easy to see the changes in terms of the implementation of project activities and the management of their own resources, which increased significantly over the time.
Thanks to my position I have learned to tactfully manage commitments and interests between various stakeholders and beneficiary groups. I've learned to be a mediator in conflict management, and to seek more appropriate solutions for difficulties and obstacles within the job and the implementation of a project.
I have taken several lessons during the three years of my commitment with Progressio and Solidarite Fwontalye. The most important one is that in a project with different partners, each one seeks to guide the project according to its vision and mission, and a different strategy to achieve it. However it's crucial to work together, to put in a part of everyone's experience and opinion, to seek compromises and the best strategy for resolving difficulties and achieving success, in order to achieve the most effective long-term impacts for the beneficiaries. 
At the end what counts is that we are contributing to the improvement of the living conditions and the livelihoods of the most disadvantaged families of the region, while preserving natural resources and showing people how to use them in a sustainable way, guaranteeing a healthy and productive environment for future generations.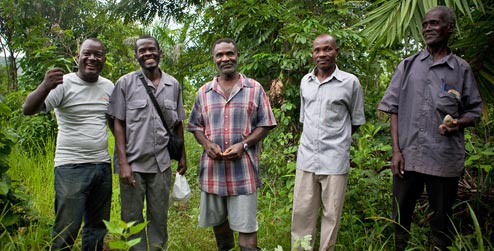 Thank you for your support for this project – we could not have done it without your help. We have similar projects planned for the northern border area in 2014, so please continue to support our work with poor and marginalised people and communities – thank you!
---
Photos (from top):
1) Gabriel Petit-Homme speaking to villagers in Lamine, Haiti
2) Gabriel (centre) with colleagues from partner organizations Solidarite Fwontalye and Kòdinasyon Peyizan Lamin, in Lamine, Haiti
3) Gabriel conducting an eco-stove
4) Villagers in Gens de Nantes outside the newly constructed cassava processing factory
5) Gabriel with colleagues in Gens de Nantes
All photos © Fran Afonso/Progressio