The visit to Nahuaterique with Digicel (read more in my previous blog, Honduras/El Salvador: The town that doesn't exist) was followed by an attempt to visit a plot of land where the work we had been told about was taking place. It was off the beaten track, and the two Digicel cars that were also carrying Marvin, Yasmin and me (Progressio development workers and staff) intrepidly advanced through ever steeper and narrower and bumpier pathways. We got to the end, parked, and it started to rain. 
The plot was still a good ten minutes further on foot, so we would have needed at least a half hour to go, see and return to the car. But Marvin recommended we turn round as the cars may get stuck. The rain is very heavy and the mud roads become just that, very sticky, slippery mud.
So we all piled into the cars again and started well. Then one incline was just too much. We kept driving back to get a better run at it, and finally we could go no further. The first car was at a most peculiar angle across the track. A further move back and it would have rolled into the field.
We all got out. All the men dredged up knowledge and information about how to get unstuck from their combined life experiences. There were echoes of boy scouts, Scott, James Bond, Laurence of Arabia, Superman, you name it, in the tactics that were tried.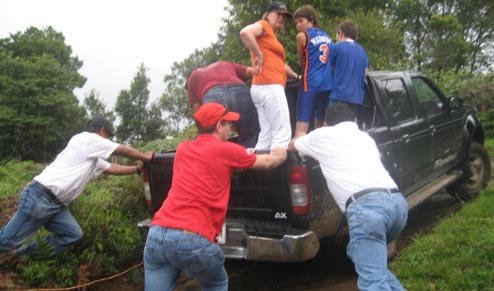 After almost an hour of churning up the mud, getting thoroughly scruffy and realising that we needed help, we called Roger and Eli (Progressio development workers), who by good fortune were not too far away. They had been accompanying Nuria (Communications development worker) and Glenda (also from the Progressio office in Tegucigalpa) to get photos and information about the watershed, the source of the river and other water-related themes. 
Eli the intrepid backed his 4-wheel drive down half a kilometer of what was by now almost impassable terrain. After much further to-do, discussion, head shaking and final agreement, the first of Digicel's vans was attached to Eli's 4 wheel drive and pulled clear.
The second car was even further back, and after several attempts to pull it up a particularly steep slide, the decision to call in the oxen was the only option – apparently not an unusual occurance. So for all our technology and wonderfully powered vehicles and gadgets, it was a couple of animals that got us out of the mess!
Our guests from Digicel (the mobile phone company which is supporting Progressio's work in Honduras) must have been wondering why we went down there in the first place! Luckily they were able to see another plot later, on the way back to Marcala. So all was not lost, and everyone had good fun working together on such a crazy problem. However, on a more serious note, these are the conditions that our development workers have to face regularly, which of course affects how easily the work can be done.
---
Sarah Sandon is Progressio's Head of Fundraising. Our development workers working alongside the people of Nahuaterique include Eli Escoto (agronomist), Roger Diaz (agro-ecologist), Marvin Zavala (agro-ecologist) and Jose Abelardo (governance and advocacy).
Photo at top: Oxen pulling the truck up a dirt road. Second photo: Trying to get a truck up the muddy road. (Photos © Yasmin Reyes/Progressio)