This International Women's Day (8 March 2012), find out how Progressio partners are working with men to improve relationships between men and women and undo a destructive culture of machismo in the Dominican Republic.
"At school, we've been learning about the concept of machismo – that means wanting to control women, go out with many of them at the same time and considering ourselves superior," explains Albin Manigat (below, right), 14, a student at Jimaní Public High School. "Before it didn't occur to me to help out at home, but now I've learnt that it's ok for me to wash the dishes or cook for my younger siblings when my mother's not there. Other boys make fun of me and call me names, but I just ignore them."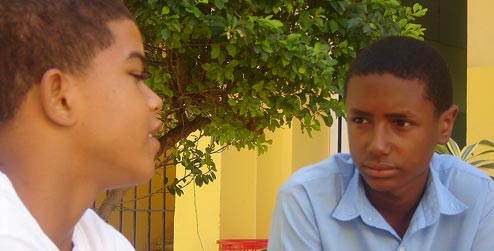 Staff from Jimaní Public High School are taking the New Masculinities approach to the heart of the local community. It's been incorporated into the school syllabus and in the school's parenting classes with promising results. "More fathers are getting involved in school activities and their children's education. They are raising awareness about gender equality," explains Mercedes Novas, Supervisor of the Counselling and Psychology Department of the Ministry of Education in Jimaní.
You have to start with the small things, like doing the dishes...
"I have heard that some boys are now washing their clothes or tidying their bedrooms. Before, if a drink was spilled in the classroom, they wouldn´t even look for a mop to clean it up, they preferred to get a detention," says Nelina Trinidad, Director of Jimaní Public High School.
But changing attitudes is about more than just a redistribution of chores. Abuse starts with a lack of respect and ultimately devastates the whole community. Unlearning the deep-rooted culture of machismo is an urgent challenge facing the whole of Dominican society. In 2011 alone, 229 women were killed by their partners or ex-partners and many of the perpetrators went on to commit suicide themselves.
...to break a cycle of disrespect and abuse.
"New Masculinities work goes hand in hand with dealing with domestic violence. Men have to unlearn what they have learnt and understand that they cannot mistreat women. We need to work with men to stop this cycle of abuse, murder and suicide," explains Surelis Novas, a lawyer based at the regional Department for Women's Affairs. And women are changing their stance on domestic violence too. "People who participated in the course and who have been victims of violence are now approaching us to speak out about their experiences. They now know that we are there to come to when they have a problem."
Although the original project only ran for four months, many of the participants have gone on to share what they've learnt in their communities. The course made such an impression on Salomón Obed (above), President of the Christian Mission Faith and Love, for instance, that he is spreading the concept of New Masculinities through his weekly radio show for young people. "For many years here, men played the role of 'chief' and women were seen almost as slaves," explains Salomón. 
The ripple effect
He describes how the gender course offered by Progressio's partners to schools, churches, military units, government institutions and other diverse sectors has changed people's attitudes. "We learned the difference between influence and manipulation. Before, we talked about men as the dominant ones, now we speak of equality, understanding and mutual support. Personally, I now help at home with the cooking or carrying the children," he says. "It's a process. At first men laugh and reject the ideas, but then they start to understand. We need more support and we need activities like this course."
Miguel Santana, a member of the local lawyer's association, is one of those men who has adopted a different attitude: "It is true that women have to work double," he admits. "There is always work to do at home. Since attending the course I have been washing dishes, cooking or going to the market. It can be hard at times, but where there's a will, there's a way." 
---
Photo at top: Military personnel take part in a New Masculinities course in the border town of Jimani.