"Where?" Was the most common response from friends and family on hearing I was travelling to Timor-Leste to report on women and development, writes Charlotte Maugham, a finalist in the Guardian international development journalism competition.
"You probably know it as East Timor," I'd explain, "yes there was a civil war, and no it's not dangerous anymore."
To say I was excited to learn I would be travelling to this tiny Pacific nation would be an understatement. But I was naïve, too. Having spent time in neighbouring Indonesia and Papua New Guinea, I thought I knew what to expect from this remote corner of the world. I was wrong. Timor-Leste is like nowhere else, and that's what makes it so beguiling.
Flying into the capital Dili, I got my first taste of just how unique this country is – its harsh terrain of treeless, red mountains rising sharply out of the sea bears little resemblance to the white sands of Lombok or the jungle-clad slopes of PNG.
I was met at the airport by Progressio's country rep, Don, who explained further some quirks of Timor-Leste. "The roads are fine in the capital," he says, "but venture 100 yards outside and it's a different story… Oh and there's a great Thai/Lebonese restaurant down by the beach(!)" 
This last point makes sense when you realise quite how entrenched the United Nations is in Dili. The organisation's ubiquitous white land cruisers line the streets and grabbing lunch in a local café I'd routinely share a table with police from Jordan, Portugal and Nigeria. But now the country is stable, the UN mission is set to withdraw at the end of this year, perhaps taking with them the raft of services that have sprung up to support them – like Don's favourite fusion restaurant – we shall see.
What's important is that Timor is now perceived by the international community as a state that can govern itself without outside intervention - it's an exciting time.
A couple of days into my trip I got my first taste of rural Timor – and I see what Don meant by the state of the roads. Impassable in places, even when paved they're in such a state of disrepair they make what should be a half-hour journey take three hours - small wonder then that Timor's rural villages, or sucos, feel so remote.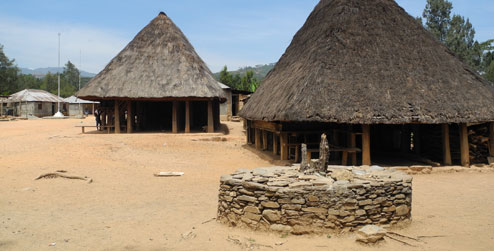 Huts made from palm leaves surround a white-stone Portugese chapel in the fairytale village of Estada (above), where I met with a women's group Progressio issupporting. Pigs and chickens wandered in and out of the village hall as we talked – and I relished the chance to really get a feel for what life is like here.
Like in so much of the world, saying you're writing a piece for the Guardian is like uttering a magic word. All sorts of dreadfully important and busy people fall over themselves to talk to you (in hopes of a glowing report of what they're doing no doubt). But UN statistics and government policy were things I could get by email, by phone, or by Google from my desk in the UK. What I wanted from my trip to Timor was an understanding of the realities of life for women – and it's in the villages that I got it.
The women I encountered in Estada, and in the Northern district of Baucau, were tough, pragmatic, hopeful and ultimately inspirational. The stories they told of growing up under occupation – of never losing belief that one day their country would be free - were humbling. The universal determination they expressed that life would be better for their daughters than it was for them was moving.
And it quickly became clear that this would be my angle – a snapshot of a brave and resolute people, the women of Timor-Leste, at a point in time when their ideas could have lasting impact on the newly independent society they care so fervently about. I hope I did them justice.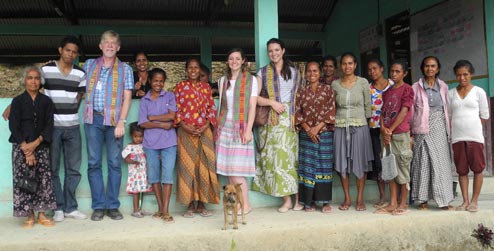 ---
Charlotte Maugham is a finalist in the Guardian international development journalism competition. She visited Timor-Leste with Progressio in September and her article will be published in the Guardian newspaper in November.
Photos: top, Charlotte (left) at a meeting in Baucau with Progressio partner organisation FONGTIL and Rita Freidas (far right), watched by Progressio country rep Donald Goertzen (second from right); bottom, Charlotte (centre, in front of pillar) meets villagers in Lacoliu with Progressio's Lucy Jenkinson (left of Charlotte) and Don Goertzen (third from left). All photos by Lucy Jenkinson (or taken on Lucy's camera!)
Read Lucy Jenkinson's blog about the village of Lacoliu - the village with a woman chief