Mark Lister, Progressio's Chief Executive, writes from Zimbabwe:
Remarkable people
"Kushinga – we are strong – is the name of our organisation. We are a burial society, helping visually and hearing impaired people when they are bereft," explained Amos.
Amos guided me skilfully round the puddles and potholes in the dirt tracks on our walk through what was, for me, a maze of maize plots interspersed with simple houses and the odd mango tree.
Amos couldn't see my surprise – even disbelief – as he walked confidently along with his stick, chatting away to me, laughing and joking and welcoming me to Zimbabwe. Amos is a young blind man. He, like many others of the Kushinga group, lost his sight due to polio.
Obstacles proved, well, no obstacle for this group of 18 remarkable people in the Ebworth community near Harare in Zimbabawe. They survive on very little, having only had some sugary black coffee on this particular day.
Dignity in death
Their first priority is dignity in death, as the Kushinga chairman explained to me: "We started to support our bereaved together. As we are visually impaired most of our families and relatives do not care about us even when bereaved. Some visually impaired people were buried with no coffin or even without being wrapped in cloth. In our burial society we contribute money and share resources so the members can have a proper funeral." 
They clearly enjoyed meeting Marjorie and their other friends from the Zimbabwean NGOs THAMASO and DHAT (Disability HIV and AIDs Trust) including Progressio's Bothwell, a Zimbabwean expert in communications and advocacy. About 14 members of Kushinga had gathered together from the scattered community for the meeting outside their chairman's simple home - fetching out a bench which they insisted we sit on while they laid out some sacking and sat on the ground still damp from the earlier rains.
Thank you for coming back to us
It soon became clear to me why DHAT and THAMASO were so welcome, as Kushinga members stood up and spoke one after the other.
Pindurai, a young woman in a white shirt, stood up to speak: "Thank you for coming back to us. There are some who come but they never come back – but you came back. You have given us knowledge about HIV and AIDs which can help us to prevent it. We look forward to more of your HIV material in braille and other assistance. Our children are our assistance but it is difficult to ask my 5-year-old child can you get a condom for me."
 
Humba, a young man, spoke next: "As disabled people, we are looked down upon and people do not come to our houses. We urge you to keep on coming to help us to be recognised in society. Even though we cannot see that does not mean we cannot get AIDS. Keep on visiting so we might be uplifted. We have no work so we have to beg and are hungry. We are very happy to be given knowledge about HIV and income-generation so we can help our children."
Another mother continued: "At the hospital there is no information for us. They talk to our child – this tablet must be taken three times a day and this one only once a day, but a 5-year old cannot remember when we get home so the ARVs and medicines do not help.  Please advocate with us so we can get information in braille at the hospital."
Keen volunteers
THAMASO's organiser asked for volunteers to be trained in giving out information about HIV and AIDS so they can help others too. Two men and three women immediately volunteered for the training. "We are 'gender balanced'," they laughed.  "We will have the knowledge and spread it around. We will be teachers of others."
 
'Kushinga' (we are strong) they chanted over and over and sang and clapped as the meeting closed.  They are indeed some of the strongest people I have met, strong in their resilience and in their uplifting mutual support for one another.
Amos walked me back to the main road telling me how he had been a business studies student taught, in fact, by Bothwell. Amos is unemployed but hopes to develop some income generating work.  
On the right path
Bothwell, walking alongside us, told me about his new Progressio role which he started four months ago alongside DHAT and Thamaso, providing his expertise and experience from being visually and hearing impaired himself. 
Bothwell will spend two years helping the two Zimbabwean NGOs develop HIV information and other materials in braille – and in a range of other accessible forms as many visually impaired people are illiterate and cannot read braille.
He will also help the NGOs become even more effective by passing on skills and techniques in advocacy. This will help to support Zimbabwe's 4,000 visually and hearing impaired people to articulate their needs so they can empower themselves to prevent HIV and reduce poverty. 
With a little help from Progressio's Bothwell and continuing support from you, our supporters, I feel confident that Kushinga and other groups like them will continue to overcome the obstacles in their path to better health and economic development.
---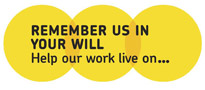 Every days, people do extraordinary things. They share their skills with their community, they overcome poverty and injustice. Bothwell Makumbe is one of them, a living legend.
You can be a living legend too. After taking care of loved ones, would you consider leaving a gift to charity in your will so that people like Bothwell can continue providing their expertise to support the visually- and hearing impaired of Zimbabwe? Find out more.
Photo: A maize plant and hut in the village of Chigondo, Zimbabwe, taken during a previous visit by Progressio staff (photo © Macpherson Photography/Progressio)