Name: Sergio Antonio Rocha Rugama
Age: 23  
Community: El Bramadero, Nicaragua
Role: National Team Leader
About: Sergio attended school in Managua and, at the age of 18, moved to Condega to live with his uncle and work for a tobacco company. It was during this time that Sergio decided he wanted to go to university to study to become a nurse. He is now in his fourth year of study and is currently attending university each Saturday in Estelí, whilst volunteering for Progressio ICS. He has been the national Team Leader in El Bramadero for three cycles. 
Motivations for volunteering: Sergio had not previously had the chance to volunteer and he saw volunteering with Progressio as a great opportunity to learn English and develop new skills. He wanted to be Team Leader because he is very interested in leadership. He hoped to learn how to manage and support a group, help people learn and develop and share his talents with them. 
Learning outcomes: Sergio believes he has learnt a range of new skills whilst volunteering, including responsibility, punctuality, public speaking and problem-solving. His knowledge of climate change and construction has also improved. Before volunteering, he had not constructed eco-stoves but he now feels confident he could build his own from scratch. He has learnt to manage and lead teams, including organising volunteers to carry out the objectives of the project. As the number of Progressio volunteers has increased over the cycles, he has adapted to manage larger groups. Sergio has learnt English from the UK volunteers and he has been impressed and inspired by their motivated attitude towards volunteering.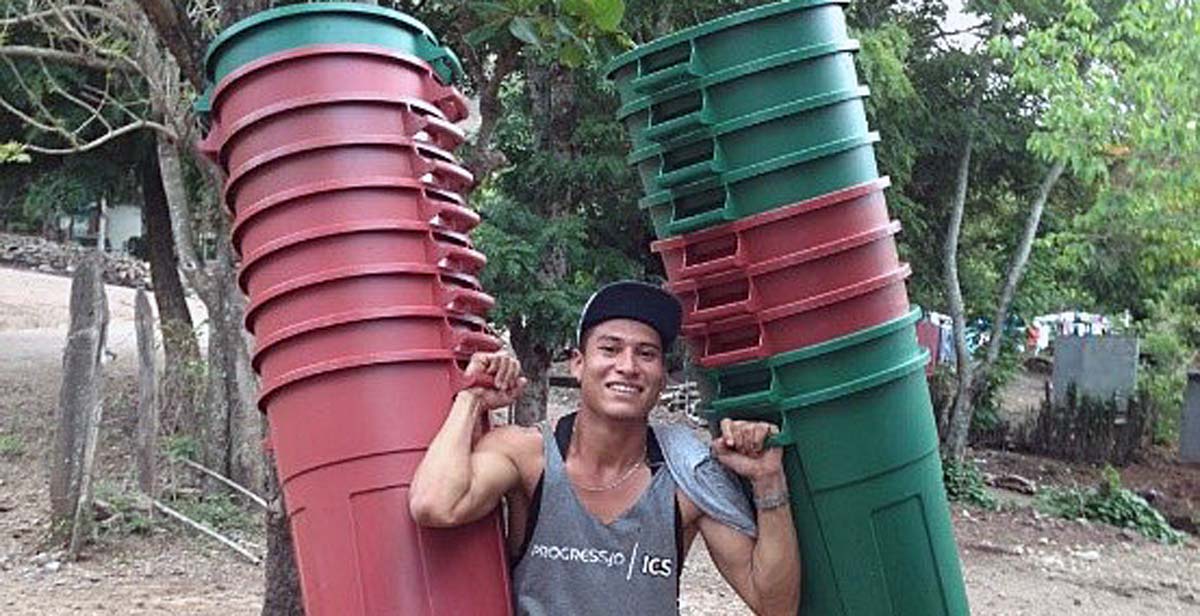 Strengths: 
• Problem-solving: Sergio has learnt when to solve problems as a whole team and when it is necessary to have one-to-one chats with specific volunteers, as he has developed an awareness of how volunteers are feeling and when it is necessary to support and motivate them. He has also had to solve problems with beneficiary families, including when eco-stove beneficiary families have refused to destroy their old stoves. Sergio resolved this problem by explaining the negative impacts the old stoves have on the environment and the families' health. He says it was essential to approach the families in a 'diplomatic way' and to simply explain the positive effects of the eco-stoves and to ask them to destroy their old stoves. When asked which three things he would take to a desert island, he answered "a knife, blanket and boots", highlighting his practicality and problem-solving abilities. 
• Sense of humour: Sergio has a great sense of humour and is able to bring fun and laughter to the group. He is a practical joker but has learnt when he needs to take on his serious role as Team Leader.  
Impacts of Sergio's volunteering: As Sergio has been Team Leader for three cycles and lived in El Bramadero before volunteering, he has seen first-hand the impact his work with Progressio has had on the community. Before Progressio began working in El Bramadero, Sergio estimates that 20% of the community knew about climate change and were aware of some of its effects while the remaining 80% had none or very little knowledge of climate change, and only a handful of people wanted to know more about the subject. Sergio believes that he has seen a "change in awareness in the community" over the cycles due to the talks on climate change and in general the whole community is now aware of the effects on their environment. He believes his work has had a positive impact on the community because "people are happy with the benefits they have received". Sergio explains that before the introduction of water filters, families would be much more likely to become ill from their drinking water and now they have much better health conditions. Families have been provided with fruit trees that they otherwise would not have received and beneficiary families with eco-stoves use far less wood than before (around 50%).
Sergio has also seen changes in the volunteers throughout the cycles. He explains that, "at the beginning the volunteers are very shy and at the end they become different people, they have a lot of empathy and are very motivated". Seeing the changes in the volunteers, the community and the benefits many families have received over the cycles has kept Sergio motivated and maintained his desire to continue volunteering for Progressio for three consecutive cycles.
Challenges: Communicating with the UK volunteers was a challenge to begin with, especially in the first cycle, as Sergio spoke no English. However, coming to the end of the third cycle, Sergio no longer finds it difficult to communicate with the UK volunteers and he feels he has built up good personal relationships with the volunteers as he explains, "simply because you don't know the same language, doesn't mean you can't communicate". He explains that there are many different ways to communicate, for example through body language and facial expressions.
Sergio's biggest personal challenge has been overcoming drinking alcohol, as Progressio operates a dry project. For young people in Nicaragua, it is normal to drink socially with friends and from a young age Sergio has drunk regularly. At the beginning of the first cycle, he found it difficult to stop drinking with his friends and family at social occasions and to explain why he could not drink with them. However, at the end of the third cycle, Sergio now feels that he can make very confident decisions about when he drinks and he can easily say no to alcohol. 
Highlights: The volunteers organised a surprise bonfire for Sergio's birthday during his last cycle. He says it was special because he does not normally spend his birthday at home and he hadn't celebrated his birthday with so many people before. 
Proudest moments: One of Sergio's proudest moments was when he was updating his CV part-way through the project. He thought of all the skills and abilities he had already learnt and he felt extremely proud of everything he had improved and achieved. When Progressio and ASOMUPRO asked Sergio to continue as Team Leader for a third continuous cycle, he also felt very proud of the trust invested in him as Team Leader. 
Dreams for the future: Sergio hopes to complete his nursing degree and become a pediatrician or specialist in anesthesia. He would like to be able to use his profession to work and travel abroad to experience life in other countries. Having worked for Progressio and gained experience of volunteering, he would also like to volunteer for other NGOs and humanitarian projects. He acknowledges that a lot of NGO´s require the skills he has gained and he believes he has valuable knowledge he can use to continue to help others and make our planet a better place. 
Sergio's words of wisdom: Sergio believes volunteering is very important and rewarding because the moment someone decides to volunteer, they create a dream, a goal and a challenge for themselves, and only all three of these together leads to their personal development. If he could impart any words of wisdom for future volunteers, he would advise them to use their initiative, make their own decisions and have patience with their Team Leaders. 
Written by ICS volunteer Rachel Cole