It's week five into our placement and I've learnt a number of things about this place. The most important is that as soon as you forget about bugs, that is when you will put your shorts on and you'll feel that dreaded tickle of eight fat legs dancing on your body… that literally just happened to me before I started writing this. Oh and my very Buddhist views have gone out of the window. Back in the UK, I used to demand all spiders to be removed, but alive. Now I batter them to death with my walking boot (which is now half solid cement due to construction) and grind them into my dirt floor. Moral of the story, always shake out your clothes and tuck in your mozzy net.  
Anyway, onto the main topic of this blog…
With the environment being the main topic running through this 10-week placement in El Bramadero, I'm guessing you're interested in knowing how much climate change is here. Knowing my fair share about environmental science and climate change, you get used to which aspects of the subject have been studied at length and which need more attention and research. It is important that all possible consequences and mitigation of climate change are researched, before they occur. This is a topic, which I personally have not heard about and believe needs research.
As soon as you enter the community, there is obviously an abundance of caterpillars, butterflies and moths. Swarms of the insects can be found around the streets of the village and the farms, which are owned and worked on by the inhabitants. However, none of the volunteers know anything about how the infestations come into being; all people that were interviewed about this topic stated nothing is known about this and that it "definitely needs to be researched".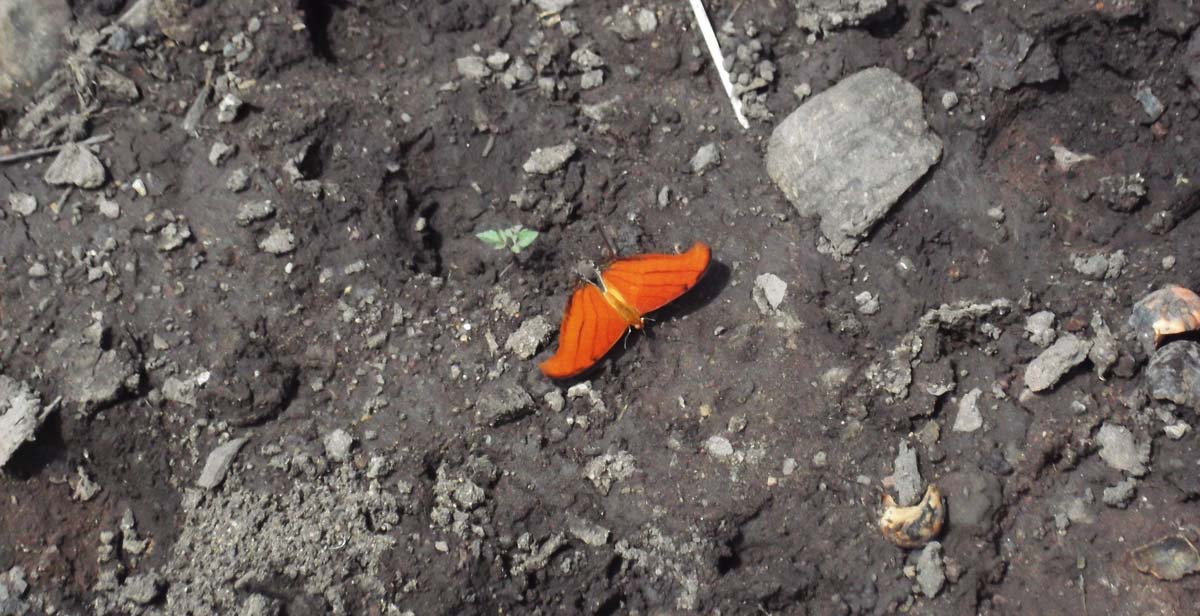 During the interviews, people gave their opinions as to what they believe causes this. Billy believes that plagues are influenced by the climate and monoculture farming. Whereas Chloe thinks that the lack of humans around the area, and the use of pesticides are contributing factors. Pesticides definitely will influence the population of insects, which are attracted to crops that are grown here: beans and corn. 
Another factor to consider about this topic is whether plagues occur in certain regions or all over the globe. For the reason that we only get Wi-Fi here once a week (if we are lucky and not ill), people's thoughts on the matter were recorded. All of which were logical explanations, which may be true. However, there has been a bit of debate about whether they can be found all over the globe or not. Billy stated that plagues occur in "loads of different places around the globe" because different climate influence different biodiversity. On the other hand, Tomi alleged that it only occurs "where there are plants" because where there is an abundance of food for whichever creature, the animals will come. 
Hassan also believes that plagues occur all over the globe, but for different reasons. In rural parts of Nicaragua, he believes "pesticides cause influxes of certain insects, because surely some pesticides have different effects on different bugs", whereas in the UK "plagues must occur because of the differences in weather" for example, flying ants in the summer. 
According to the locals of El Bram, there is a different plague every year. In the past couple of years, El Bram has been infested with grasshoppers and white flies. When Christian was interviewed, he did not have any idea as to why these influxes of certain insects occur, however he is aware of research into the plagues because pesticide companies promote research into them. He also believes that plagues are only found in certain regions. He explains that the city gets fumigated often due to the amount of people there, whereas rural parts not so much, so they become infested.  
Loads of different, but all relevant and intellectual points about this topic. However, it is annoying not being able to Google the answer whenever I want, but then I would have nothing to write about.
Written by ICS volunteer Bethan Goodhead