Progressio's Environment Policy Officer Lis Wallace writes from Budapest:
This week at the Budapest Water Summit, I heard many speakers reference the fact that 70% of water is used for agriculture and that there is an urgent need to make irrigation much more efficient. Indeed in their report, the High Level Panel on the Post-2015 Development Agenda recommended a target to do just that.
But what about the thousands of small-scale farmers around the world who do not even have access to irrigation and instead are dependent on increasingly variable rain-fall in order to grow enough food to eat and sell? Without sustainable access to water their food security and livelihoods are increasingly vulnerable.
Read my first blog from the Budapest Water Summit on the struggle to get water for small-scale farmers - like Elismar and Mimose in Haiti (below) - onto the global agenda.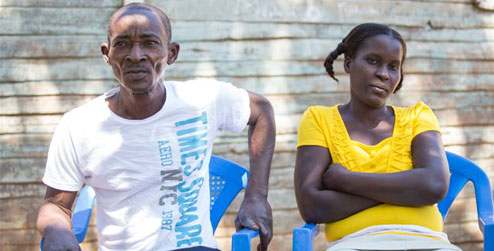 Whilst at this week's overly lavish event I've had Elismar and Mimose in mind. In April I visited them and their family in Lamine, Haiti. They told me:
"Agriculture is our source of income. We are not able to collect a lot of rainwater because we don't have the means to store it.
"It normally rains in May, June and November but we have noticed that the rains don't come when we expect them to anymore and it doesn't rain for as long as it used to.
"This means we don't have as much water and cannot grow enough food to feed our family or to sell for an income.
"We believe we could grow more food for our family if we were able to collect and store the rain that does fall and if we could find a way of getting water from the river to irrigate our land.
"We are concerned that things will only get worse without leadership and intervention."
Forgotten by the water world
Disappointingly, I have not heard the term 'smallholder farmer' be used once by any of the panellists at this week's conference. That's significant given that smallholder farmers feed a third of the world's population.
I'm concerned that their needs for a future development framework that increases smallholder access to small-scale irrigation schemes and promotes techniques that are less water- and energy- intensive, such as rainwater harvesting, are being forgotten by the water world.
Yet the resilience of agriculture-based livelihoods depends on this recognition, especially in the context of climate change.
We must listen to farmers like Mimose and Elismar
Reflecting on a busy four days, it's clear that there is a lot more to do over the next two years to convince governments of the need to explicitly waterproof the future development framework for small-scale farmers and livelihoods, and how it should be done in order to produce results for people like Mimose and Elismar.
In addition, there's an urgent need to reach out beyond the water sector and work with colleagues focusing on food and nutrition security. For this reason it's unfortunate that the Committee on World Food Security (CFS) meeting in Rome coincided with the Budapest Water Summit.
UN Secretary General Ban Ki-moon was very much on message with Progressio when he opened the Budapest Water Summit stating, 'Water is Life'. As the Budapest Water Summit closes and delegates head home, Progressio's work to secure a waterproofed development framework for the poorest and most marginalised continues.
---
Lis Wallace was attending the Budapest Water Summit 8-11 October 2013 on behalf of Progressio. Photos of crops on Mimose and Elismar's farm in Lamine, Haiti; and of Mimose and Elismar; © Fran Afonso/Progressio.