Development Worker Diego Matsvange discusses some of the water issues and challenges facing Zimbabwe and the community he is currently working in as an Agro-ecology, Product Development and Market Linkages Adviser, alongside local partner organisation Environment Africa Zimbabwe.
What does water mean to you?
Water is life. It is an integral component of people's livelihoods both in the rural and urban setting. In the rural areas where most of our programmes are currently implemented and with agriculture as the main source of livelihoods, water remains key in ensuring agricultural productivity.
Is water a human rights issue?
Water is truly a human rights issue and every governing authority at any level has the mandate to ensure its availability and access in appropriate quantity and quality.
According to section 77 of the Constitution of the Republic of Zimbabwe amendment (No.20) Act 2013, subsection (a), every person has the right to safe, clean and portable water and the State must take reasonable legislative and other measures, within the limits of the resources available to it, to achieve the progressive realisation of this right.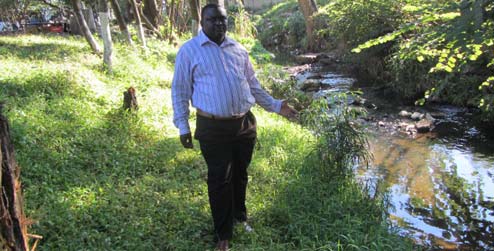 What are the main water issues/challenges facing Zimbabwe? 
- Water is a scarce resource in most parts of Zimbabwe, both rural and urban.
- Lack of water for commercial purposes. This a major issue in rural Zimbabwe and more so in the districts I am working in, where poor water harnessing capacity significantly affects garden irrigation potential. 
- Lack of water for domestic use. Borehole/water to household ratio is very high resulting in a loss of productive time, mainly for women, to engage in other activities due to time spent travelling to water sources.
- Contaminated water as a result of effluent, disposal of hazardous chemicals. Water pollution, due to poor sewerage reticulation systems, results in the country's major cities being constantly at the mercy of diarrhoearial disease outbreaks, such as typhoid and cholera.
- Reduced annual ground water recharge, due to climate change, means reduced water reservoir yields.
- Lack of a well developed water use policy. The implementation of the user-pay principle burdens a few while the rest of the population lacks the capacity to pay for water.
- Politicisation of water resources especially the WASH (Water, Sanitation and Hygiene) projects being implemented by other NGOs. Politicians regard water as key and therefore use any water development initiative to gain political mileage.
Are women and men affected differently by water insecurity in Zimbabwe? If so, in what ways?
Yes, women are affected more and carry the burden of ensuring the availability of water for the household. 66% of our beneficiaries in the project are women and a higher proportion participate in gardening where water shortages are rife. The burden of using the bucket system from distant, unsecure surface wells places an insurmountable load on women, let alone the dangers associated with using unprotected wells.
It is with great regret that I share with you one unfortunate accident that happened in the Guruve district, exposing one young woman to rebuke and unjustified reprimand. An elderly grandmother who was looking after a baby boy took him to a communal garden for watering her vegetable plot. As she carried her watering can from the well to the plot, the baby was left unattended close to the unprotected well. The child then, presumably out of curiosity, crawled and fell into the well and died before the grandmother could rescue him. 
The death of the child was a chilling event for the community and the unnamed young family almost culminating in marriage breakdown, worsening relations with the grandmother and ultimately shunning the garden project. 
The whole process presents challenges for women who then as in this case receive insults and blame from all and sundry.
How are you and your partner organisation working to tackle water-related issues?
Water access has been consistently identified as an advocacy issue. In one district of Zvimba in Zimbabwe, the issue has been taken up by one advocacy group with the local authorities, who, after a lot of persuasion, were granted legal permission to use the dam.
In the Guruve district, the local authority having been presented with challenges of water, pledged to donate a small pump to one our garden projects in order to ease the burden of bucket irrigation.
If you had the power to make a decision tomorrow that would positively impact water security in Zimbabwe, what would it be and why?
Provide irrigation water and infrastructure.
Irrigation has the potential to change the lives of people in rural Zimbabwe whose crop food production potential has significantly been affected by climate change.
What can Progressio's supporters in the UK do to support your work and that of your partner organisation in Zimbabwe? 
They can fundraise for water infrastructure development which is key to unlocking community potential in Zimbabwe. 
What message would you like to leave on World Water Day?
Conserve the environment, secure water for poor communities. Their lives depend on it.