Access to water is vital for people to grow themselves out of poverty.
Water is essential not just for drinking, sanitation and hygiene, but for growing food, sustaining livestock and providing an income for many of the world's most poor and marginalised people. But until now the focus on what we need water for has been too narrow.
So this World Water Day let's look at water differently.
Water for food
Water security and food security are inextricably linked. Without sustainable access to water, smallholder farmers (who produce most of the world's food) cannot grow the food on which their families and communities rely.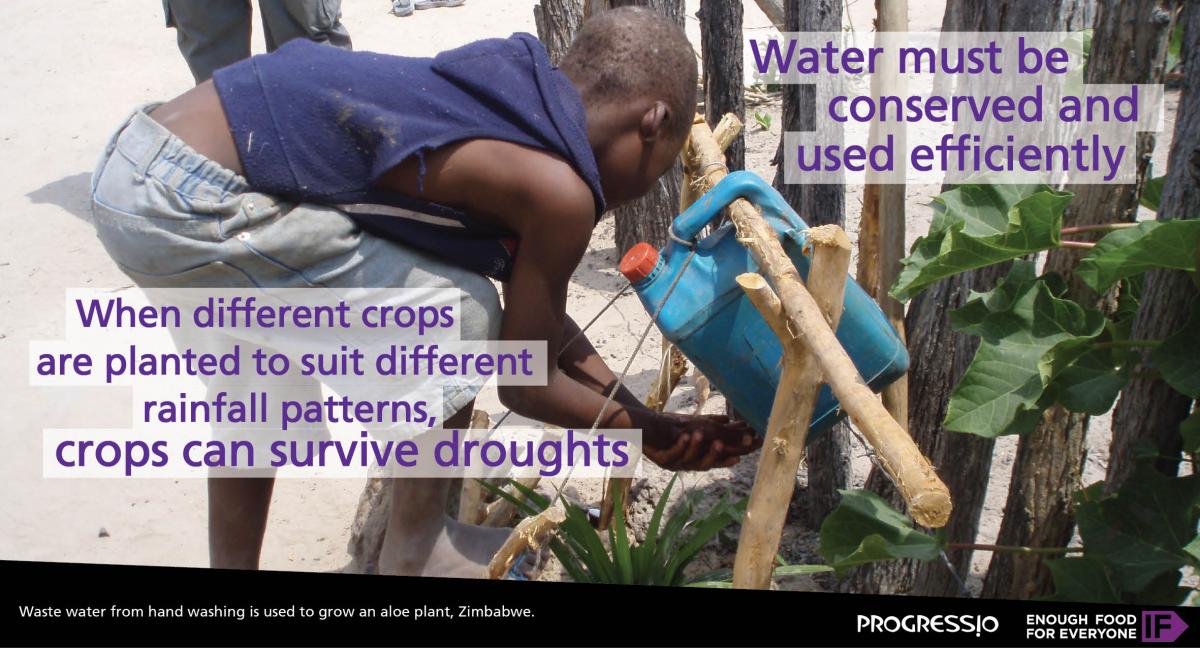 As a brand new position paper on water within the post 2015 development agenda, co-authored by Progressio, highlights: 'To ensure enough water for food and farming, households need equitable access to water and the knowledge and skills to manage water resources efficiently, including improved irrigation and drainage system. Many of the world's poorest people in both rural and urban areas need water to grow crops, sustain livestock, produce goods and provide services in and beyond the household to maintain their livelihoods.'
Too little water is not the problem
At the global level, demand for water continues to increase due to changing patterns of consumption and production, industrialisation, areas of rapid economic growth and changes in population, among others. At the local level, access to water for small-scale farming has become an increased challenge due to changing climate and rainfall variability, weak governance and regulation of water and competing demands from other users including businesses.
Contrary to popular belief, it is rarely the case that there is a lack of available water resources. Instead, over-exploitation and inefficient use of water resources, environmental degradation and contamination of water supplies, poor governance and a lack of transparency around the allocation and management of resources, inequity and exclusion of groups based on gender, age, race and disability, and weak political interest and insufficient investment to improve infrastructure are all factors at play in creating socio-economic water scarcity.
Community participation in decision making
The poorest and most marginalised people, particularly women, are the first to experience water stress so, as seasoned readers of this blog will know, Progressio advocates that the participation of communities, especially women, in the management of water resources is critical to achieving equitable and sustainable access to water.
Experience shows us that when people have a say in decisions that affect them the results are more sustainable.
In Lima, where the national water law established in 2009 has made participatory water management mandatory, Progressio partner organisation Aquafondo is helping to establish the multi-stakeholder forums. As Progressio Development Worker, Sonja Bleeker, has explained these will see smallholder farmers round a table with mining companies and irrigation managers. 'If these water councils function properly, there will be an empowered group of rural stakeholders able to defend their needs, interests and priorities and who can fight for their rights. For the environment and ecosystems the impact will be great.'
Progressio would like to see much more of this.
Demands that must be met
Of course 2013 has thus far been dominated with discussions about the content of the post 2015 development agenda. When it comes to a water goal, Progressio wants to see a goal that looks at water holistically, supports an approach to water resource management that balances the different uses of water, puts the needs of the poorest and most disadvantaged first and requires participatory and transparent water allocation and management.
This is not a simple list of demands but are demands that must be met if, on future World Water Days we are going to be able to celebrate increased access to water for all people and for all human needs, be it for food production, for providing a means of income or for drinking.