In-country training is complete! In these last two weeks we've heard from those whose voices are the least heard in this beautiful but damaged country. These include Madre Guadeloupe, a survivor of the civil war but who lost family members; Manuel, an ex-gang member who has turned his life around; and various women who are fighting for their rights in El Salvador.
International development requires a packed schedule, and it's from this we've been able to learn so much about this country's history and the issues affecting Salvadorans today. Below are two of their stories.
Maudre Guadelupe
"My husband disappeared during the civil war. The National Guard had captured and brutally tortured him. When his body was found, I was asked by the guards if I knew the man. I couldn't admit it through fear that myself and children could be shot. I had to deny my husband.
"I am just one of thousands of woman in El Salvador whose loved ones 'disappeared' during the civil war. There are mothers who have been left without sons and wives without husbands. During the time of the civil war there were a significant number of human right violations. We lived in a state of constant fear. The government would persecute anyone who tried to fight for their rights.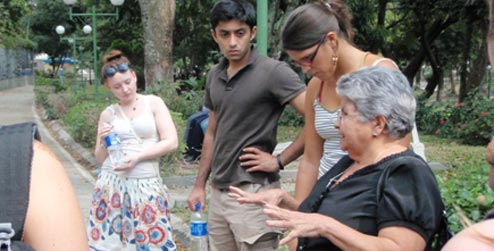 "Over 75,000 were killed or 'disappeared', and in this memorial garden where we now sit, there have been 32,000 names collected and engraved onto the monument. Behind each plaque is a whole family waiting to know what happened.
"I am an active member of the organisation CODEFAM (Committee of Relatives of Victims of Human Rights Violations), which works in El Salvador in the search for missing family members due to politics, corruption and the civil war. I'm currently fighting for the chance to be granted a national holiday on August 30th in order to remember and honour the memories of those who were captured and 'disappeared' during the war.
"The aim of this monument is to create 'historical memory'. After all, we must never forget our history and ensure that it can never be repeated."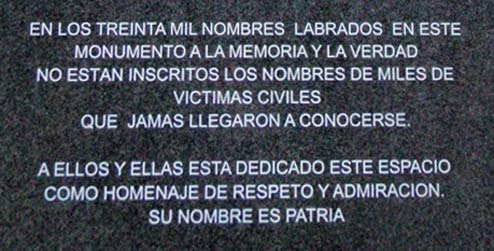 Sofia
It's strange to be writing what is essentially a biography for a 17 year old girl. But listening to Sofia's story was more like the plot of a movie script.
Sofia, now 17, is a Salvadoran whose childhood (if you can call it that) consisted of a broken family, constant abuse and a violent upbringing. From the age of 5 she was living on the streets after having escaped abusive aunts and uncles and a grandfather who would sexually abuse her.
At the age of 8 she was hit by a bus and left in a coma for 7 months, leaving her with a permanent physical disability. After the accident and being desperate for money, she stole $2,000 and splashed out on a swanky hotel for 3 weeks – all at the age of 9.
Sofia then found herself in the middle of a court case over the stolen $2,000 which she miraculously managed to win. By the age of 14 she was married to a guy who left her pregnant and ran off with her best friend. She found a 'family' unit in the form of a gang. To be initiated and accepted into the gang culture she was asked to stab a man in the stomach and skin people in order to remove tattoos which represented a certain gang. All of which she did at the mere age of 17.
Sofia is now imprisoned. She hopes one day that someone will listen to her story and not simply judge her as being a violent, corrupt individual. She wants to be reunited with her son and make sure he is able to get the opportunities in life she never had.
We heard Sofia's story from a young woman named Jenna who works for an organisation funded by USAID. She was an inspirational woman who has committed her life to working with men and woman who are ex-gang members in the prisons. She does creative workshops with them, to allow them to express themselves via art and writing. Below is the poem by Sofia.
For Society, that they can see us not for the errors we committed, but rather for future opportunity.
For the Police, not to be a***holes, your children could be worse. Think before you beat us. 
Be patient, I will get out and be a different person. 
See my qualities and not my defects.

For the judge who sent me down. Don't just think with sentences, give us advice.
For the president, change the 15 year law. 
Adolescents, think of errors that you do, everything has a butterfly effect.
For God, have more mercy, nature forgive us. 
For all you Machista, stop hitting your women, you were all born by a woman, and every time you hit me you are beating your mother. 
To my brother, I always carry you in my heart. 
Father, I know I never knew you but you are in my heart also. 
To my son, I hope one day to hold you in my arms….
To all that have helped, without you nothing would ever have changed.
Ready to begin!
During the weekend we spent a night with host families in Tecoluca, a small rural community which was affected by the flooding of the river Lempa due to a faulty levee system. These people lost everything and had to start from scratch a couple of years ago.
Tamara and I stayed with a family whose home was simple but welcoming. We struggled a little to converse in Spanish but it's all good practice! It was an amazing insight into how many Salvadorans live in today's society.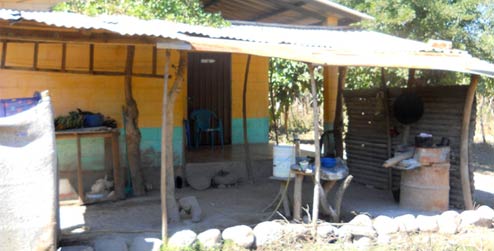 This two-week in country training has been a packed schedule of talks and visits to various places. We've covered the history of El Salvador and the issues affecting the people today. We all feel ready to begin our project placements!  Today we are off to the CBC (Centro Bartolome de las Casas) headquarters in downtown San Salvador which is where our group will be spending the next two weeks working with young people who are targeted by the gangs, promoting peace prevention via art and drama.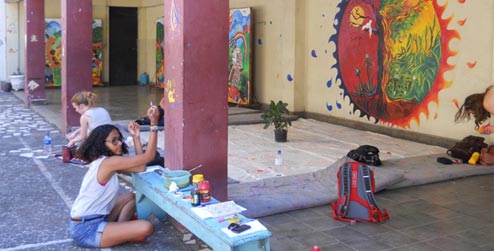 I think we've all found it hard not to fall in love with this country, its colourful culture and the warm hearts of all who live here. Roll on the next 8 weeks!!
---
ICS volunteer Molly Girvan writes from El Salvador. Photo at top: an engraving at the memorial for the anonymous victims of the civil war.