Ten days into our volunteering adventure and it is time for the first point of reflection on why the twelve of us have ventured deep into Latin America and what the project holds for us individually and as a collective. 
Our initial week was based in a small town called Ojojona (just outside of the capital Tegucigalpa) and we were sheltered here first as a form of acclimatisation to the culture, traditions, food, and heat. This preparation came in the form of a series of lectures and presentations on relevant topics affecting contemporary Honduras alongside security and health briefings for our own benefit. These were of course critical to our integration and understanding of the local culture, being taught first hand from professionals, for example, from COPECO (a government disaster and emergency co-ordination agency) and the UN itself. Alongside some basic Spanish and first aid lessons and free time in the evenings to familiarise ourselves with each other, our group of relative strangers began working as a team.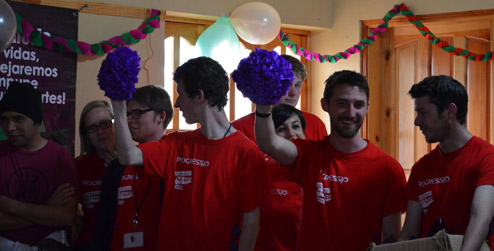 Armed with information, training and a healthy dose of enthusiasm, our first 'hands on' work came with a visit to the children's home in La Paz which we will frequent during our tenure here. Any thoughts we may have had in anticipation could not have prepared us sufficiently for the explosion of energy that greeted us from Sister Edith's seventeen young angels.  After two short hours of catch, piñatas, football, happy birthday songs and hide and seek, we were all played out and had to complete our journey to Marcala in the afternoon heat whilst the kids bounded on with endless grins, giggles and games. We mused over how the Sister had the stamina, patience and hands to care for these angelic children the other 364 and a half days a year with little to no help or funds.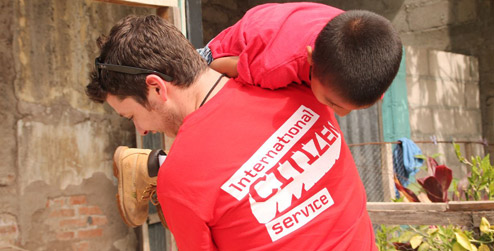 Marcala has brought new beginnings for the group; a place to call home for the next nine weeks as worded by the Mayor himself who had been keen to meet and greet us all. Despite the well documented social issues and levels of violent crime we have been offered the protection of the Chief of Police. After thanking them for the hospitality shown to us we were finally graced with kind words which will aid us in helping to move this town forward for the better.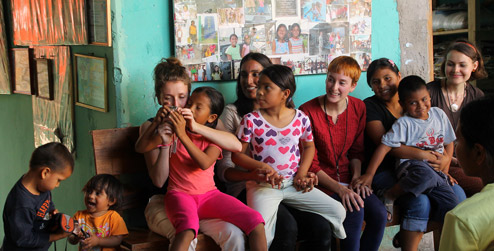 Liberating and empowering its female residents is one of the primary objectives of the two partner organisations that we will be working in tandem with, COMUCAP and COOMUPL. We have now been introduced to the wonderful women (and men) who run both these organisations and been given a full background on why they were founded and what their aims are moving into the future. They have also outlined the work we will be doing during our time here, both lending our physical presence in the fields, and in the offices helping with the learning and development of the local women who are trying to gain an independent livelihood. We are both proud and excited to be helping with the entire production process for their fair trade coffee, while working with oranges, aloe vera, and their natural fertiliser in creating some of the other goods they produce for general sale.
Next week will hold new challenges, but for now we plan workshops and English teaching lessons whilst the townspeople and especially the women of the organisations prepare with eager anticipation for National Women's Day next Friday.
Progressio ICS volunteer James Martin blogs from Honduras, on the groups first 10 days in placement
Photos by Progressio ICS volunteer Lorena Cotza