OUR first official working week began, as our team (from here on out known as Los Fuegos) started digging through our mountain of projects. 
Quite literally digging, we worked on a reforestation project in the Dipilto region of Nicaragua. 
For two days we toiled, learning how to wield barras (long steel spears used for breaking through the harsh Nicaraguan soil) like professionals while enduring sweltering tropical heats of 30 degrees +. 
We weren't just there to perfect our farming skills though, the 700 mandagual trees we planted are part of a project that will benefit almost 30,000 people. 
 The riverside where we were planting is the only source of fresh water in the area, serving both Dipilto and neighbouring Ocotal. 
But after Hurricane Mitch in 1998, when the water was swept across the landscape, diminishing water levels have become a big problem. 
By planting mandagual rain water and moisture is kept in the soil - instead of running straight down the river - and according to our knowledgeable national volunteers this will keep the soil rich for planting and maintain a steady water level in the river. 
In five years time, when our mandaguals grow big and strong, it's hoped the river will rise.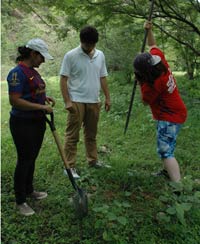 On our second day of planting a group of local students from the nearby high school assisted us, and we got to experience first-hand the machismo we were warned about before coming.
Girls were cast off to the "easier" planting roles because they were girls, while the young boys shouldered spades. 
So in the spirit of challenging machismo, roles were reversed and boys planted the trees while girls broke up the earth. 
The efforts were met with a bit of indifference, changing machismo culture isn't done in a day but like our sapling trees the seeds are sown and one day eventually the roots will firmly entrench themselves throughout society. 
---
Blog by Natalie Deans. Photographs by Sian Moir.