Following the morning rains, the sun beat down upon the local baseball pitch where the festivities were held. Makeshift gazebos and shanty stalls lined the field, selling various local foods, jewelry and of course, plantain. 
The fiesta kicked off with live music and dancing from local groups on an impressive stage built just the day before. The show was well and truly stolen however by the float procession at midday. A spectacular display of vehicles filled the site, illustrating everything from the history of Nicaragua to local environmental issues, all laden with plantain décor. Multi-coloured fruits hung below giant plantain leaves, draped over children dressed head to toe in hand made dresses, shirts and hats of plantain. The trundling jungles made their way one by one to the stage where the children gave speeches addressing the issues their float related to. Our very own volunteers Ben and Katy helped the judging, and our group leader Clare was given the highest honor of judging the cake competition.  
The resourcefulness of the locals really shone through with the variation of plantain related products. The consumables ranged from plantain cakes and stews to plantain milkshakes and wines, the latter of which must certainly take some getting used to.  Complimenting the food was an array of locally made plantain products, the most striking of which were made from dried leaves of the plantain tree, mostly handbags, clothing and baskets. Local housewife Doris, who spends every day cooking and cleaning in her own house, had her own stall at the event, selling wonderful hearty meals of plantain and meat. She remarked that event was "a wonderful excuse to invite the extended family to the town." and that "events like this increase tourism and boost the local economy".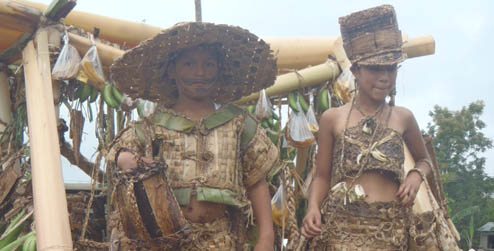 This event may have been a day off for most, but the hard work put in by not only the local government who organise the event but the whole community to run the show and make it a success, was an inspiring insight into the inventiveness and effectiveness of an impoverished community. The ability to create such a beautiful and enjoyable show with a few plants, a lot of hard work and even more community spirit, is a testament to this towns attitude. An attitude that our work here has tried its best to harness. 
---
Written by Max Martin, Photos by Elspeth Shaw